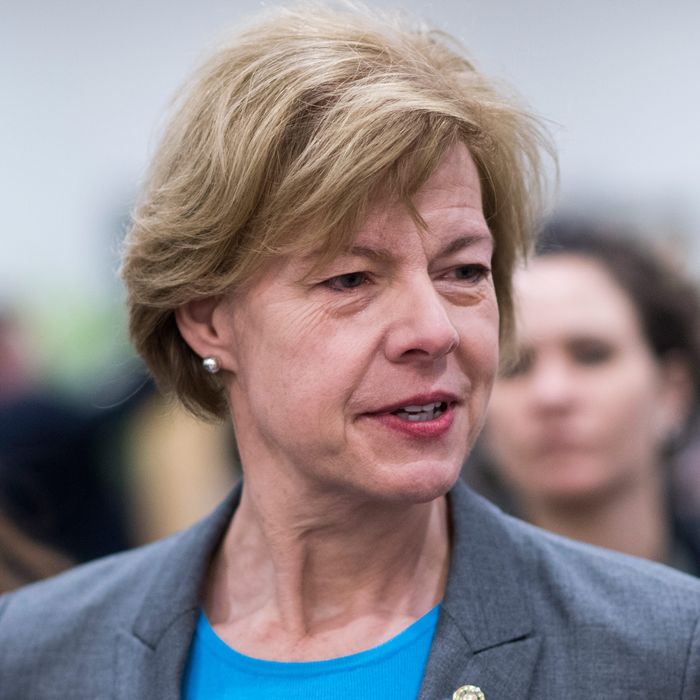 Tammy Baldwin's reelection campaign will have to deal with tons of outside money against her, and the GOP's efforts to consummate a political conquest of her state.
Photo: Bill Clark/CQ-Roll Call,Inc.
At first glance, you might not expect Wisconsin senator Tammy Baldwin to be one of the more endangered of the ten Democratic senators up in 2018 who represent states carried by Donald Trump. After all, Trump carried the state by a whisker, and his approval ratings there have not been great. Nor is she facing some sort of very-well-known, strongly popular GOP opponent.
But she is running for reelection in America's ground zero for partisan polarization. And her numbers show it. According to the usually very reliable Marquette Law School poll of Wisconsin, her favorability ratio has been meh bordering on not-so-hot for a while: 40/35 a year ago, 38/38 in June of 2017, and 37/39 earlier this month. Compare that to the dominant political figure in her state, two-term Republican governor Scott Walker, and you see the problem: He was at 45/51 a year ago, at 48/47 in June of 2017, and 48/48 today. The state's voters are really divided evenly, and Walker — who this year faces voters for the fourth time in eight years — is sucking much of the oxygen out of the room, denying pols like Baldwin much attention (which is probably why so many voters have no opinion of her after five years in the Senate).
In 2012, Baldwin was famous for her successful effort to become the first openly gay U.S. senator. Now, she's just another Democratic woman in a purple state with bad guys coming after her.
Indeed, according to Dylan Scott, political pros are telling her that she might as well campaign against Walker as much as or more than her actual opponent:
"You couldn't have two more different people," Scot Ross, who leads the progressive group One Wisconsin Now, told me. "First thing Walker does in the morning is check the polls, stick his finger in the air, and then figure out how to spend our tax dollars based on the first two. Tammy is just totally different. She gets up in the morning and wants to help people. I don't see how you could have a better contrast."




[A] Republican strategist noted to me that Walker has never won an election with more than 52 percent of the vote. So while he has managed to bend Wisconsin to his will, there is not an overwhelming Walker coalition — and the Democratic base is motivated to beat him this year.
The other reason to make this a straight-on anti-Walker campaign is that his wealthy friends are already hammering Baldwin with negative ads at a pace rarely seen this far out from an election:
By mid-March, outside conservative groups had already spent $8.5 million in Wisconsin, according to a summary provided to Vox …




The money is coming from the usual suspects: groups aligned with the Koch brothers and organizations affiliated with Dick Uihlein, a conservative businessman with longtime Wisconsin ties, plus a little bit from the National Republican Senate Committee, which will surely become more involved once there is an official Republican nominee.
And, yes, however much she focuses on Walker and however small the universe of persuadable swing-voters becomes, Baldwin will have to contend with an actual opponent. The main GOP candidates are conservative State Senator Leah Vukmir, a pretty conventional pol tied to Walker, but who might be attractive to some women who would otherwise lean toward Baldwin, and "outsider" Kevin Nicholson, an Iraq combat vet and business consultant that one observer called a "dream candidate." The above-mentioned Dick Uihlein is backing Nicholson heavily. The primary, however, isn't until August, which gives Baldwin a lot of time to prepare for whatever happens.
Beyond the Walker race and the primary to identify an opponent for Baldwin, there are two other variables that could affect the Wisconsin landscape significantly. First, there will be a special election for the Supreme Court in early April that is technically nonpartisan, but is actually a grudge-match battle for control of the Court between liberal Rebecca Dallet and conservative Michael Screnock. It will test both parties' financial resources and voter-mobilization infrastructure.
And in another Supreme Court, the one in Washington, a decision is expected to come down between now and June in the extremely important cases involving alleged gerrymandering in Wisconsin and Maryland. In 2016, a lower-court panel overturned the 2011 state legislative map engineered by Wisconsin Republicans on the novel grounds that it represented an unconstitutional partisan gerrymander. Oral arguments at SCOTUS last October were inconclusive, though Democrats are optimistic that Justice Kennedy, and hence a Court majority, might be ready to conclude that there's a workable standard for judging excessive partisanship in redistricting.
Even if SCOTUS rules the Wisconsin map as unconstitutional, it is increasingly unlikely with each passing day that it will force the legislature to redraw it before the 2018 elections. But an adverse ruling for the GOP could have all sorts of ripple effects on Republican politics in the state. And in the present environment, even the beating of a butterfly's wings in Washington could make a big difference in the 2018 elections, including Tammy Baldwin's reelection campaign. She and her people have probably already game-planned it out.