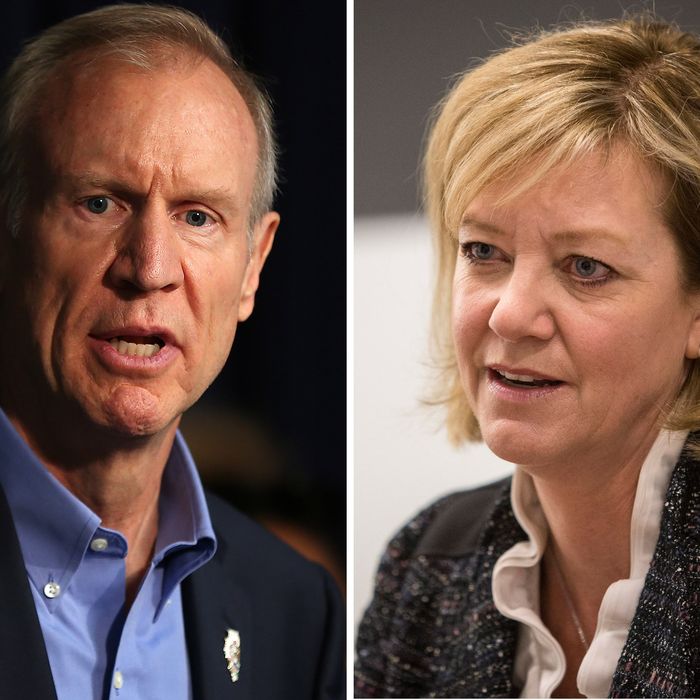 Jeanne Ives' primary challenge to GOP Gov. Bruce Rauner is heavily based on anger about his record on abortion policy.
Photo: Terrence Antonio James/TNS via Getty Images, Rich Hein/Sun Times via AP
There's been a lot of chatter about the liberal challenge to Rep. Dan Lipinski of Illinois in next week's Democratic primary representing an ideological "purge" of the dynastic heir from Chicago. There seems to be particular angst over the possibility that his defeat by Marie Newman might eliminate one of the last reliable anti-abortion Democratic votes in Congress.
But it's worth noting that something similar is happening in the same state on the other side of the partisan barricades: opposition to the renomination of Gov. Bruce Rauner has been heavily based on his status as a rare pro-choice Republican.
Newman's odds of beating Lipinski are higher than Jeanne Ives' odds of beating Rauner, if only because the governor is outspending her on TV ads by better than a 6-1 margin. But Ives is attracting the strong support of both national and local anti-abortion activists, many of whom are accusing Rauner of flip-flopping on public funding of abortion before signing a bill expanding it last September. National Review made the alleged betrayal the main argument in its editorial this week endorsing Ives:
Rauner's duplicity on the issue of abortion should be disqualifying to conservatives. During the election, Rauner — who is pro-choice, had once donated to Planned Parenthood, and whose wife is an abortion-rights activist — insisted that he was merely running to fix the state's coffers. He had, he said, "no social agenda." When a bill to guarantee abortion as a right if the Supreme Court ever overturned Roe v. Wade and provide public money for abortions through all nine months of a woman's pregnancy began circulating in the state legislature, Rauner said he would veto it. In September, he signed it into law.
Ives has also been endorsed by the anti-abortion activists of the Susan B. Anthony List. And the abortion issue has been crucial to support for Ives among her fellow GOP legislators in Illinois, such as House floor leader Peter Breen, who abandoned Rauner the day he signed the funding bill:
State Rep. Peter Breen, the Republican floor leader, said he could no longer support the governor.




"He looked me in the eye, shook my hand and promised to veto it," Breen said. "He literally lied to Cardinal [Blase] Cupich [Catholic Archbishop of Chicago]."




Rauner's action "calls into question" whether he can be trusted to keep his word, said Breen. 




"For me, this is the end of the Rauner experiment," Breen said, adding that he would consider supporting another Republican for governor.
Breen is now on Team Ives.
There are certainly Republican primary voters who have problems with Rauner that have nothing to do with abortion (like Democratic primary voters with other reasons for being annoyed by Dan Lipinski). He is, after all, one of the least popular governors in the country.
But without question, if Ives pulls off the upset next Tuesday (the last major public poll, in late February, showed the incumbent up by a 51/31 margin) the results will be hailed by RTLers from coast-to-coast as the righteous defenestration of a baby-killing heretic who has no place in the Party of Life. If Lipinski loses, too, some of the same people cheering Ives will not pause for a moment before whining about Democrats no longer being a big tent party. One person's "purge" is another's act of conscience.