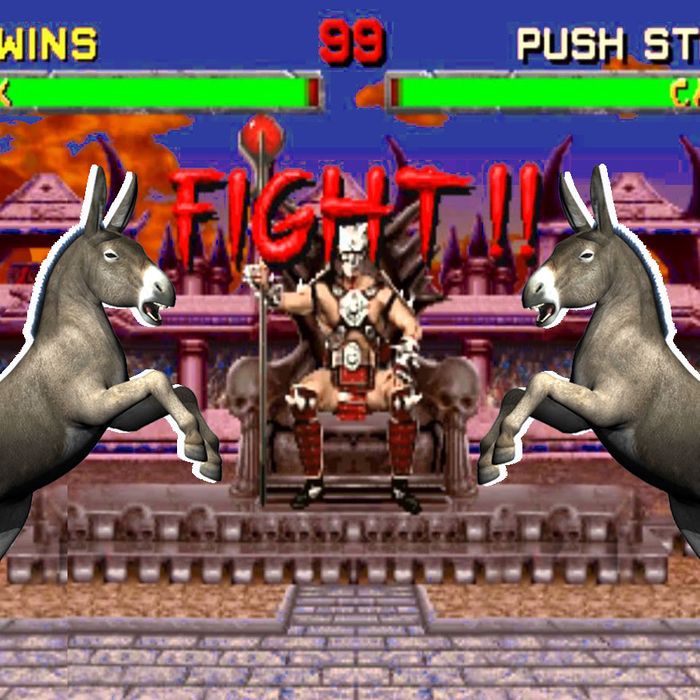 Yes, seems it's time for that perennial story-line, Democrats In Disarray! But is it real?
Photo-Illustration: Daily Intelligencer; Photos: Midway; Getty Images
One of the hardiest story-lines in American political journalism is "Democrats in disarray." So it's not surprising that the idea Democrats could screw up their opportunity to take back control of the U.S. House this November is getting mentioned pretty frequently in coverage of the subject. And California's famously fractious Democrats are increasingly being fingered as sabotage suspects.
Here's a prime example from a Politico piece explaining how Republicans might yet hold onto control of the House thanks to Donkey incompetence centered on the Left Coast:
Trump has re-engineered the laws of candidate supply and demand, leading to Democratic primaries that are teeming with viable prospects. Yet that's also raising the odds of bruising, cash-draining contests before the general election, which could force some candidates to adopt positions that will haunt them in a general election….




In California, the primary problem is acute. Democrats are approaching flop-sweat status over a nightmare scenario: The state's unusual top-two primary system could mean that no Democratic candidate at all appears on November ballots in several key races.
Yes, money-draining and divisive primaries can be a problem, but this does not seem to be a year in which either money or party unity is a disproportionately major concern for Democrats. And Campaign 2018 looks sure to be a polarized and polarizing contest in which candidates taking "positions that will haunt them in a general election" will probably be overshadowed by sheer partisanship.
The notion that California Democrats really hate each other and will take every opportunity to place factional ahead of party interests is also an old meme, though not one without a basis in fact, as anyone who watched the Golden State Bernie Sanders supporters at the 2016 Democratic National Convention can attest. More immediately, tales of pitched battles over state party endorsements of candidates at this weekend's California Democratic Convention overshadowed the common zeal delegates had to smite Trump and the GOP in November.
It's true that California's Top Two Primary system–in which the top two finishers in the June primary, regardless of party and without any percentage threshold, proceed to the November general election–has complicated life for partisans. The only way the party has to "brand" candidates as their favorites is through endorsements that are conveyed to registered voters of their tribe in fliers and other advertisements. A 2012 study indicated that the endorsement might be worth 10 percent of the vote in a low-profile, down-ballot contest. Sometimes the endorsement, or the lack thereof, is mainly symbolic; Sen. Diane Feinstein failing to receive it (and her primary opponent Kevin de Leon nearly getting it) this year were straws in the wind, but hardly dispositive of what will happen in June or November.
In theory, by helping winnow the field a party endorsement could help prevent what Politico called the "nightmare scenario" of so many Democratic candidates splitting up the vote that two Republicans finish first and second, shutting Democrats out of the general election. But most of the big battles over endorsements did not involve those sorts of races. The high-profile nail-biter involved CA-45 candidate David Min, who faces several fellow-Democrats in a competition with highly vulnerable Orange County Republican incumbent Mimi Walters. In recent polling, Walters is drawing over 40 percent of the vote; she will face some Democrat, not another Republican, in November. The same is almost certainly true of other House races where Republican incumbents are running.
The Top Two problem for Democrats really arises in two districts where Republican incumbents are retiring, Ed Royce's CA-39 and Darrell Issa's CA-49. There are indeed a large number of potentially viable Democrats in both races. But there are a goodly number of Republicans, too. For the "nightmare" scenario to occur, Republican voters will have to apportion their votes in a way that creates not just one but two strong candidacies. That's much less easier said than done.
There's another aspect of Top Two that's not being discussed as much as the Democratic "nightmare scenario": the much more likely Republican "nightmare scenario" of two Democrats going to the general election in the top two races on the ballot, for the Senate and the governorship. It seems almost certain in the Senate race, and a good bet in the gubernatorial contest where two Republicans are struggling for oxygen in a field dominated by three heavily financed Democrats (though a third Republican did usefully drop out earlier this week). If it happens, an all-Democratic roster in these races could discourage Republican turnout in November, affecting all the close House contests as well.
The bottom line is that there's really no evidence Democrats nationally are suffering from too many primaries or too much infighting. And in California specifically, the Top Two problem for Democrats seems limited to two House districts, and in those it's totally unclear whether the problem will actually arise.
It's probably time to give the Democrats-in-disarray story-line a rest for a while.