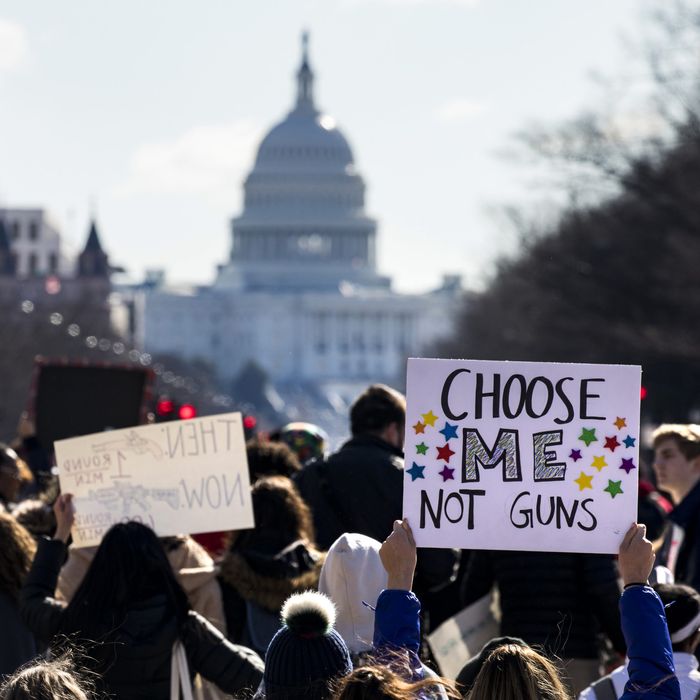 Students outside the U.S. Capitol Wednesday.
Photo: Samuel Corum/Anadolu Agency/Getty Images
The U.S. House on Wednesday passed its first piece of legislation aimed at preventing massacres like the one that took place last month in Parkland, Florida — and it included nothing about guns.
Approved by a 407–10 vote, the Stop School Violence Act provides up to $75 million each year for the next decade to increase school safety measures, including metal detectors, locks, and training programs to help teachers spot potential problems. This is not what the students marching around the country on Wednesday were asking for.
Representative John Rutherford, a Florida Republican and the bill's author, called it "an important first step forward in protecting our children, our teachers and other administrators within our schools."
"It is going to not only harden the target through technology but most importantly I believe it's actually going to provide the tools and education needed by those in our schools to recognize those individuals who have the propensity to become active shooters," he said. "That's what this bill does."
The White House has come out in support of the bill, though it would like it amended so that it funds programs to arm teachers. It's still unclear what the bill's fate will be in the Senate, where lawmakers have been even slower to act in the aftermath of the massacre at Marjory Stoneman Douglas High School.
While Democrats overwhelmingly voted in favor of the bill, they also criticized it as being too narrow. "This bill, on its own, is not the kind of meaningful congressional action needed to address this crisis of gun violence," House Minority Whip Steny Hoyer said in a statement.
"This must be a first step and it must be followed by a serious effort to pass legislation that expands background checks and ban military-style assault weapons."
Florida Democrat Representative Ted Deutch agreed on CNN Thursday morning, saying "we can't allow the gun lobby or anyone else to let us — let anyone — believe that this is the response to the shooting."
Meanwhile, the Parkland shooting has sparked some states to act in much more dramatic ways. Among them are Florida and Vermont, where Republican governor Phil Scott is pushing for legislation that would make it easier to seize guns from people deemed dangerous.