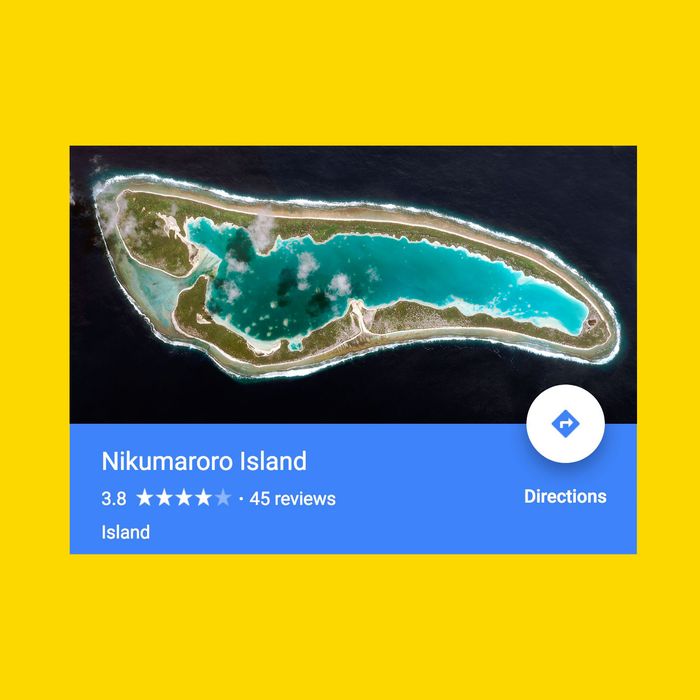 On my commute this morning, reading news on my phone, I came across a story about new forensic analysis indicating bones found on Nikumaroro Island in the Pacific Ocean are likely those of Amelia Earhart. Curious about the geography of the legendary pilot's final resting place, I immediately opened Google Maps to give the island a little virtual tour, and learned a few eye-opening things about this remote island. To start with, "remote" is somewhat of an understatement: Nikumaroro Island is roughly 2,000 miles away from the closest continents (Australia and New Zealand) and hundreds of miles away from neighboring islands. (Earhart never stood a chance.) It's about six kilometers long and two kilometers wide, and has no permanent inhabitants.
Another fact about Nikumaroro Island is that it has a 3.8-star review on Google. "Just heard about Earhart," reads the first review, by an "SM shariff." "Now I want to go there. Looks like a good place to live free. Grow your on [sic] food & do some fishing. No taxes or other stuff to worry about… who's [sic] in. We must colonize the place." A slightly more upbeat "Henry Kreiser" gives the island five stars and writes, "Came here for the Justin Bieber concert official after-party, at which the man himself was schedule to DJ. Apparently, he got stuck in traffic. Nonetheless, we had a fantastic time. The locally sourced bone broth is to die for." Good one, Henry.
You know what else has a 3.8-star review on Google Maps? The Bermuda Triangle! The Bermuda Triangle, which, as of writing this had a whopping 5,157 reviews, seems to be home to a lot of nice aliens and poor Wi-Fi. "Great place," writes Domenic Ellis, giving the place five stars. "When my plane crashed there the radiation made my balls 10lbs bigger. Highly suggest bringing your son [or] your grandson here!" Less generously, Aiden Nichols gives the triangle three stars, writing, "I feared for my life and that of my pet cuckoo bird named Pablo."
What possesses someone to write a review of the Bermuda Triangle? Boredom? Confusion? A technological error? I don't know that I can answer that, but in the meantime, here's how other natural phenomena rank among Google Maps users:
Mid-Atlantic Ridge, 3.1 Stars, 49 Reviews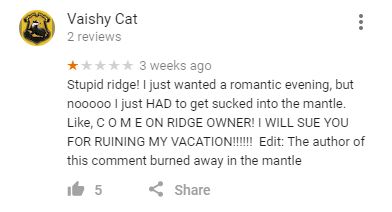 Ross Ice Shelf, 4.4 Stars, 14 Reviews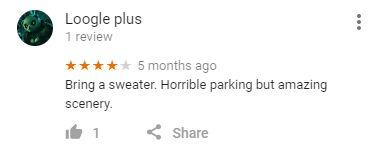 Chicxulub Crater, 3.8 Stars, 20 Reviews

Bering Strait, 4 Stars, 173 Reviews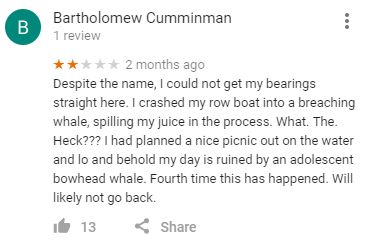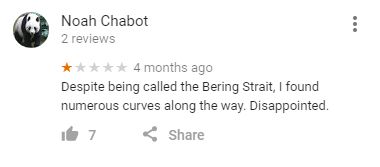 Filed under: how to waste an entire Friday. Lauren (my boss), if you're reading this: please forgive me.