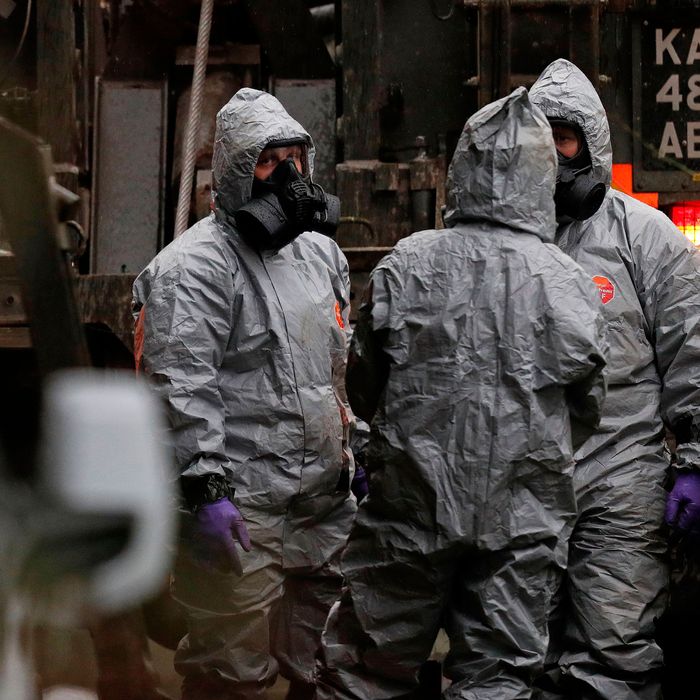 Military personnel investigating the incident.
Photo: Adrian Dennis/AFP/Getty Images
British prime minister Theresa May said on Monday that it was "highly likely" that Russia was behind behind the dramatic poisoning of an ex-spy and his daughter in the English town of Salisbury last week. She also announced that British scientists had discovered what was used to poison the man, Sergei Skripal, and his daughter Yulia: a military-grade substance from a series of nerve agents called Novichok.
Speaking before Parliament, May said that "either this was a direct act by the Russian state against our country, or the Russian government lost control of its potentially catastrophically damaging nerve agent, and allowed it to get into the hands of others."
On March 4, Skripal and his daughter, who was visiting from Russia, were found unconscious and slumped on a bench in the town of Salisbury, which is about 90 miles southwest of London. The two remain in critical but stable condition.
Skripal is an ex-double agent who once worked for British intelligence services. Imprisoned by Russia in the 2000s, he was moved to the U.S., then the U.K., as part of a prisoner exchange in 2010.
As a measure of how powerful the substance used to incapacitate him is, the British government has asked that people who patronized a restaurant and pub that the Skripals visited before they were discovered to wash their possessions as a precaution.
Last week, Foreign Secretary Boris Johnson warned Russia that it would face consequences if the country was found to be responsible for the poisonings. Now that May has pointed the finger at Vladimir Putin's regime, some sort of retaliation is expected — though it's unclear what. May said that she had summoned the Russian ambassador to the U.K., and expected an official Russian government response by the end of Tuesday.
"Should there be no credible response, we will conclude that this action amounts to an unlawful use of force by the Russian state against the United Kingdom, and I will come back to this House and set out the full range of measures we will take in response," Mrs. May added.
Russia has denied any responsibility.
The attack in Salisbury brought to mind the 2006 poisoning death of Alexander Litvinenko, a prominent critic of Vladimir Putin, in London. The British government was criticized for not acting aggressively enough after that brazen killing, a stance that perhaps inspired Russia to duplicate it. Buzzfeed reported last year that Russia is the suspect behind 14 killings on British soil in recent years, but that British police had shut down every one of those cases.
But with Russian aggression now seen as a worldwide menace, and with Skripal's poisoning such a a public spectacle, that was not an option in this case. Instead, May seems eager to confront Putin, with uncertain results.
May's forceful condemnation also raises the question of what President Trump, who is generally loath to criticize Putin on any matter, will say about the incident, if anything.
At a press conference Monday afternoon, White House Press Secretary Sarah Huckabee Sanders said the attack was "reckless," but conspicuously didn't mention Russia.