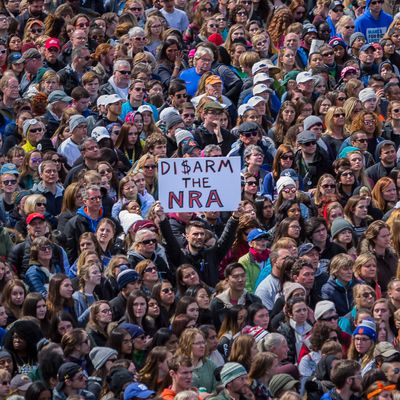 Some of the hundreds of the thousands of people who attended the March for Our Lives rally in Washington on Saturday.
Photo: Michael Nigro/Pacific Press/LightRocket via Getty Image
Earlier this month, Michael Schulman and Linda Beigel Schulman received a letter. Their son, Scott Beigel, was a geography teacher at Marjory Stoneman Douglas High School in Parkland, Florida, and on February 14, he reportedly unlocked the door to his classroom as an active shooter roamed the halls, allowing students to run inside and take cover. Before he could lock the door again, he was killed, along with 14 students and two other faculty members. He was 35 years old.
"Your son seemed like an extraordinary young man, and Michelle and I grieve alongside you," the letter to Michael and Linda read. "We can only imagine the hardship you are going through; hopefully all the wonderful memories can help ease the pain. We'll get the details about your fund in his honor. In the meantime, you are in our thoughts and prayers." It was handwritten, and it was signed Barack Obama.
"Scott is a hero. Scott was a hero way before February 14," Linda told me on Saturday afternoon in Washington, D.C. "What Scott did — saving his students — doesn't surprise me. I'm proud of him. Obviously, I wish he wasn't murdered doing it, but I wouldn't expect anything less of Scott."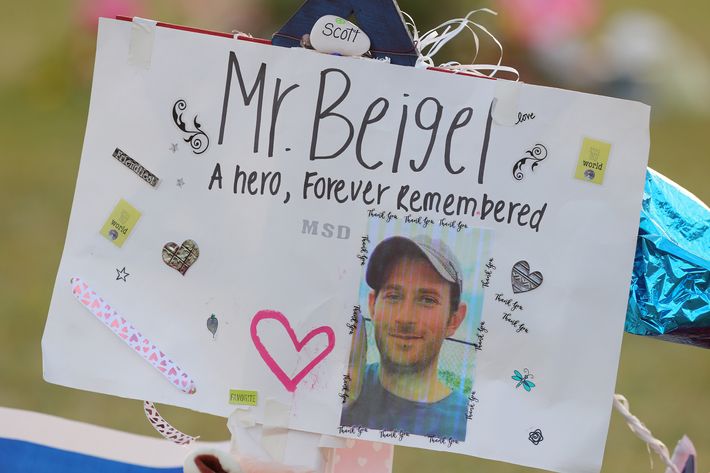 Linda said she was moved to receive the letter from Obama, but, "even if he wasn't the president," she would've been moved by what he wrote. I asked her if she'd heard from the current president, Donald Trump, or from anyone in the White House. "I received no correspondence whatsoever. I received nothing from the White House. I got a beautiful letter from Marco Rubio," she said. "I've gotten letters from other congressmen. But no, nothing from the president."
While hundreds of thousands descended on the nation's capital for the March for Our Lives, Trump was 990 miles away at Mar-a-Lago, his private Palm Beach club. From 9 a.m. until 2 p.m. — enough time for a round of golf and lunch — he was at the Trump International Golf Club.
The president was uncharacteristically silent on Saturday, but the White House released a statement that said, "we applaud the many courageous young Americans exercising their first amendment rights today." The statement added that Trump "urged Congress to pass the Fix NICS and Stop School Violence Acts," two pieces of legislation which improve background checks and fund campus safety training and enforcement, respectively.
Of course, Trump's position on guns has been all over the place — during the campaign, he bragged about having received the National Rifle Association's endorsement before the end of the Republican primary. After Parkland, he suggested several solutions to mass shootings, including arming teachers and denying potentially mental ill Americans due process.
Linda said she didn't want to hear from the president, but she believed she should have. "I think he should've reached out," she said. "Am I disappointed? No. Because I didn't expect it. I have realistic expectations."
Linda said she believed her expectations for the effectiveness of the march — that is, the effectiveness of the political movement that has sprouted from her pain and the pain of everyone else touched by Parkland, or by Las Vegas, or by Orlando, or by Sandy Hook, or by Charleston, or by San Bernardino, or by Aurora, or by Virginia Tech, or by Columbine, and that's off the top of my head — were realistic, even if history suggested something different.
"This is not red and this is not blue. This is human," she said. "No more fear of the NRA. The government officials are going to have to fear. Not that they're not going to be reelected because they can't get their money, but they're not going to get our votes."
When I asked Linda about Americans who support the NRA, and who appear unwilling to grapple with what bullets do to bodies — what they did to her son — she said, "they don't care."
"Unless you're standing in our shoes, you can't understand. In a make-believe world, if their children or grandchildren were massacred, maybe they would open their eyes. Maybe. Some of the senators who are so far right, some of them, I believe, after being in Tallahassee and speaking to [the survivors], maybe realize: I do have a wife and I do have kids. And maybe a little piece of them realizes: whoa."
She added, "How many times has this gone on? Oh, another school shooting. This one's different. This isn't another school shooting. This is the school shooting that's going to make the difference."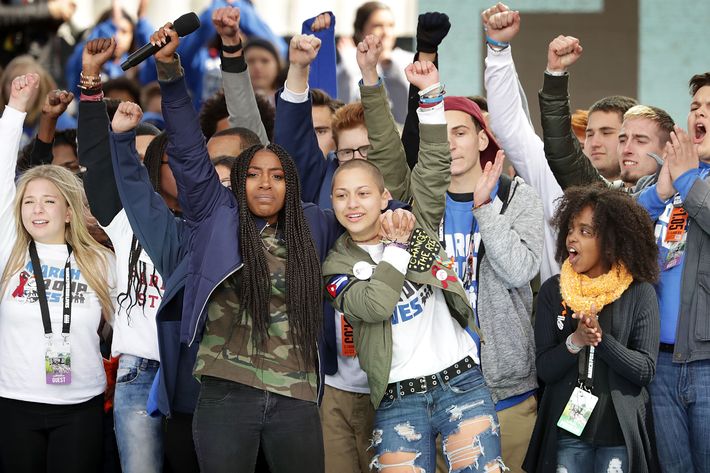 There are signs that Linda might be right. It's been over a month since the shooting — a month that had no shortage of news to be distracted by — but Saturday's event in D.C. drew wall-to-wall coverage on the news with the families of victims and survivors; 200 students from Parkland, including some as speakers, like Emma González, David Hogg, and Delaney Tarr; and celebrities — from Kim and Kanye to George Clooney — as funders, performers, and attendees. By 4 p.m., 334,000 trips had been reported by Metro officials, according to the Washington Post, a number comparable to the 2017 presidential inauguration which, according to the White House, was the biggest crowd of all time anywhere on earth.
But in the middle of that crowd, there remained signs that even when it seems like something might be done — like it has to be done — nothing can truly change in Washington. With the Capitol behind him, a man stood with his arms outstretched, holding a black and white poster underneath his chin. It read: "IRONY: HERE YOU ARE PROTECTED BY GUNS." The media snapped his photo.