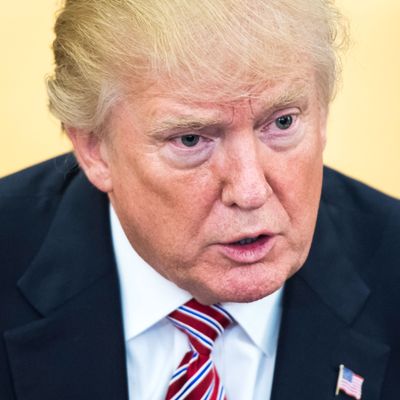 President Trump.
Photo: Jabin Botsford/The Washington Post/Getty Images
Since Donald Trump took office, the moneyed interests of the Republican Party have held firm control of Donald Trump's policy agenda, if not his mouth or his Twitter thumbs. And so, the wild populist promises he offered in a given moment might trigger some momentary panic among his backers, but would predictably vaporize. Now Trump is imposing, or at least threatening to impose, tariffs on steel and aluminum. And he now insists not only that the tariffs will help, but that the ensuing trade war he has been warned about will also help:
Markets have responded to this outburst with genuine fear. That Trump is seized with such a terrifyingly simplistic and obviously wrong mental model of international trade is hardly surprising. But there are several reasons to believe it is at least plausible that the president will follow through on his threats.
First, Trump has a long-standing belief that trade is a zero-sum proposition. He has been expressing versions of this idea since the 1980s, when Japan, not China or Mexico, was the target of his protectionist ire. It may be the only thing he has maintained with complete consistency throughout his career. And he has reportedly demanded tariff proposals from his advisers since the early stages of his presidency. "Tariffs. I want tariffs … China is laughing at us. Laughing," Trump raged last August in a staff meeting. "Yes sir, I understand, you want tariffs," replied Chief of Staff John Kelly.
Second, the White House staff has evolved in such a way as to enable rather than stymie this impulse. Departed staff secretary Rob Porter had the duty of managing Trump's paper flow, a key mechanism by which Establishment figures controlled the agenda. Porter left last month after reports of his serial domestic abuse. Trump has promoted Peter Navarro, a protectionist whom Kelly has sidelined in the past. Gary Cohn, who has stayed in his job mainly to prevent the tariffs, is reportedly planning to depart. And Kelly himself, a key figure in derailing the tariffs, has lost significant favor with Trump. A loose coalition of original Trump loyalists, ranging from Jared Kushner to Anthony Scaramucci, is waging a feud to discredit Kelly, and Trump is openly shopping for a new chief of staff.
Third, Trump actually has the power to do something on tariffs. This makes the issue very unlike other episodes when he has wandered off the party reservation, like DACA and gun control. In those cases, Trump held televised meetings with members of both parties, and alarmed his supporters (and excited Democrats) by repudiating his own positions repeatedly. Both times he quickly reeled it back.
But in those cases, Trump was attempting to build a legislative coalition in Congress, making Mitch McConnell and Paul Ryan key figures in any action he needed to take. On trade, Trump has executive authority to impose tariffs for national security reasons. McConnell and Ryan can plead with him, but Trump doesn't need them to bring a bill to a vote.
None of this is to say Trump actually will follow through. Trump's party has bent in the face of his demands many times. They have allowed him to profit from office, conceal his tax returns, fire the FBI director for refusing to halt an investigation of his aides, and brutalize immigrants. On everything it cared about, the party's elite has gotten its way. Now they face a novel situation: Trump is lashing out on an issue where he possesses the authority to act, and it is not mere abstractions like good government or the lives of socially marginal communities but their own money at stake.