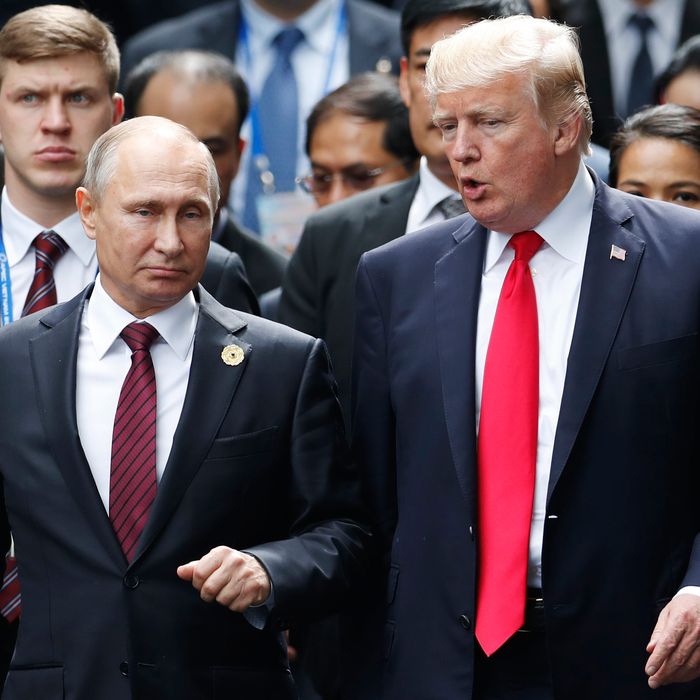 Trump and Putin before the sanctions.
Photo: Jorge Silva/AFP/Getty Images
On Thursday, the Trump administration announced a raft of long-anticipated sanctions against Russia for meddling in the 2016 presidential election and other cyberattacks the country has launched against the United States.
Treasury Secretary Steven Mnuchin said the sanctions demonstrate that the U.S. is "confronting and countering malign Russian cyberactivity, including their attempted interference in U.S. elections, destructive cyberattacks, and intrusions targeting critical infrastructure." The announcement comes more than seven months after Trump reluctantly signed a bill calling for the sanctions and 45 days after the deadline to impose them passed.
Among the entities and individuals targeted are the Internet Research Agency, a Kremlin-linked "troll farm" that Special Counsel Robert Mueller indicted last month, and Yevgeny Prigozhin, a Russian oligarch known as "Putin's chef." In total, the new sanctions target 19 individuals and five entities involved in what Mnuchin called "the ongoing nefarious attacks emanating from Russia." Those sanctioned will no longer be allowed to travel to the U.S. or do business with American companies or individuals. Assets they hold in America will also be frozen.
In addition to Russia's election meddling, the U.S. justified the sanctions by citing the NotPetya cyberattack, which targeted computers in Ukraine before going global, and a previously undisclosed attempt to attack the U.S. power grid.
The sanctions announcement comes on the same day that President Trump joined leaders from the U.K, France, and Germany to make his most forceful public statement against Russia, which is accused of orchestrating a nerve agent attack on a former spy living in England.