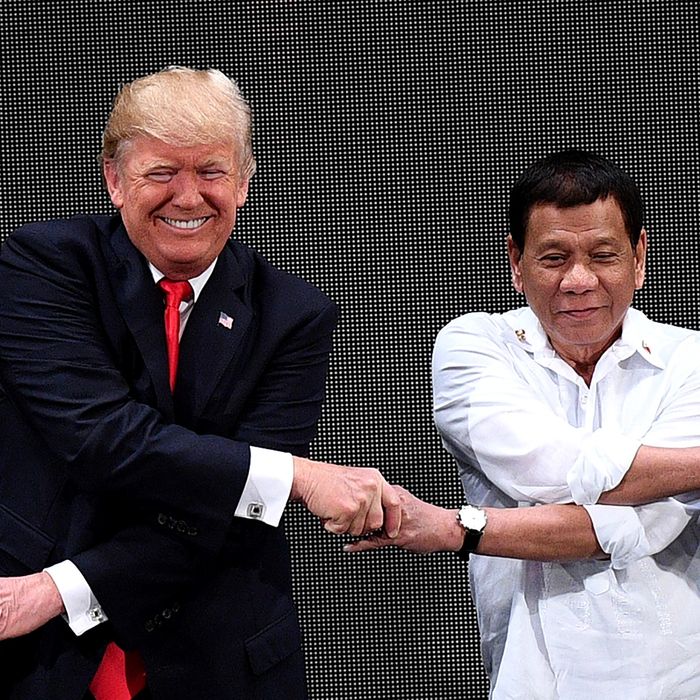 President Trump and Philippine President Rodrigo Duterte.
Photo: Noel Celis/AFP/Getty Images
Since President Trump has repeatedly expressed his desire to execute U.S. drug dealers, his administration is looking into a new policy allowing just that, according to the Washington Post.
The potential policy, which is being studied by the Department of Justice and the White House Domestic Policy Council, could include making the trafficking of large quantities of fentanyl a capital crime, as well as other ultra-severe penalties for drug offenders.
Last week, the president promised "strong" policies to tackle the opioid crisis, and suggested that capital punishment might be the best solution to accomplish that.
"Some countries have a very tough penalty, the ultimate penalty, and they have much less of a drug problem than we do," he explained during a White House summit on March 1. And Trump "often jokes about killing drug dealers," a senior administration told Axios last month. "He'll say, 'You know the Chinese and Filipinos don't have a drug problem. They just kill them.' "
The same report alleged that Trump "often leaps into a passionate speech about how drug dealers are as bad as serial killers and should all get the death penalty," since he believes showing sympathy to drug offenders will never work. And the president has long expressed admiration for how Philippine President Rodrigo Duterte has encouraged the extrajudicial murder of anyone suspected of dealing drugs. An estimated 12,000 people have been killed by police and vigilantes in the Philippines after having been suspected of drug offenses.
Trump has privately endorsed Singapore's policy of executing dealers, as well, and according to the Post, "Singaporean representatives have briefed senior White House officials on their country's drug policies, which include treatment and education, but also the death penalty, and they provided a PowerPoint presentation on that country's laws."
It might be legally possible to make more drug-related offenses capital crimes in the U.S., but critics of harsher penalties for drug offenders point out that such a policy could backfire and worsen the epidemic. If users subsequently become afraid of any contact with authorities, including medical personnel, they may not seek addiction treatment or emergency assistance in the event of an overdose.
Almost 64,000 Americans died from drug overdoses in 2016, two thirds of which were linked to opioids, and opioid-related deaths were likely undercounted. The number of U.S. opioid overdoses likely went up last year, and a 2017 forecast by STAT news predicted that 500,000 to 650,000 Americans could die from the epidemic over the next decade, particularly if the rapid spread of powerful synthetic opioids like fentanyl and carfentanil continues and treatment efforts aren't improved and expanded.
Many experts have recommended addressing the demand, rather than the supply, of opioids, prioritizing interdiction over enforcement, but the president and administration officials like Attorney General Jeff Sessions have had other ideas. In addition to wanting to kill drug dealers, Trump has sought tougher law enforcement and harsher sentences, including mandatory minimum ones, and Sessions has instructed federal prosecutors to seek the most severe penalties for drug offenses. The president has also said that he believes the government should do a better job scaring kids about the dangers of drug use to prevent them from ever trying them — an approach which already failed with the "Just Say No" campaign three decades ago.
The president and his administration seem to believe that the best way to prevent more people from dying as a result of the opioid crisis is to make them more afraid of dying. It's just a matter of who is administering the lethal injection.
This post originally said that almost 64,000 Americans died of opioid overdoses in 2016, but that was actually the number of overdose deaths from all drugs. About two thirds of those deaths were linked to opioids. We regret the error.