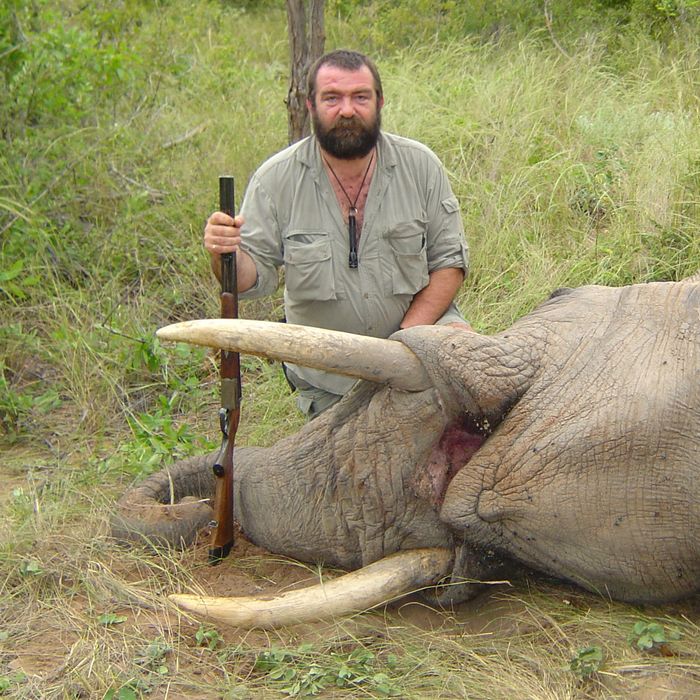 Barbarousness.
Photo: Barcroft Media via Getty Images
Back in November, the Trump administration sparked outrage (even more than usual) when it decided to lift the ban on importing the body parts of hunted elephants from Zambia and Zimbabwe, a policy put in place by President Obama.
In response to the fury, Trump, in a rare move, denounced his own administration's actions, and the whole thing was put on ice.
The episode won Trump some praise, since, at the very least, it made him seem sympathetic to animals (if not humans).
But even that couldn't last.
A letter put out by the U.S. Fish and Wildlife Service last week stated that elephant imports would now be considered on a "case by case" basis.
The letter cites a lawsuit challenging the Obama-era ban, which was filed by Safari Club International, a group close to Interior Secretary Ryan Zinke, as well as the lobbying arm of the National Rifle Association. In December a federal appeals court ruled that the Obama administration had not implemented its rule with the proper procedures.
What "case by case" means is unclear; the new guidelines have not been made public.
Conservationists were understandably disappointed.
"The Trump administration is trying to keep these crucial trophy import decisions behind closed doors, and that's totally unacceptable," said Tanya Sanerib, international legal director at the Center for Biological Diversity, told the Associated Press. "Elephants aren't meant to be trophies, they're meant to roam free."
But the decision was likely to please at least one important constituent: