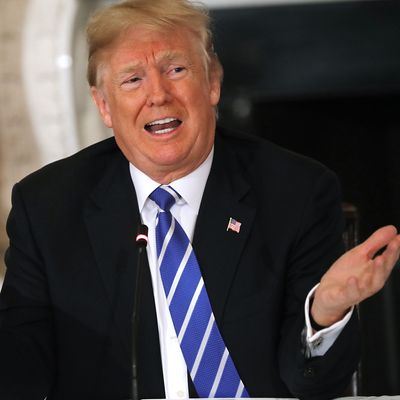 Lie, forget, who can keep track?
Photo: Chip Somodevilla/Getty Images
At this point, everyone should know that the man who went on TV days after firing the FBI director and suggested he did it because of the Russia probe does not have a sharp legal mind. Therefore, the New York Times' report that Trump asked two staffers about their testimony to Special Counsel Robert Mueller, against the advice of his legal team, does not come as a surprise.
Trump reportedly asked his former chief of staff Reince Priebus if Mueller's investigators had been "nice," and privately disputed a Times report from January that said White House counsel Don McGahn testified that Trump had once asked him to fire Mueller. Experts say that probably doesn't rise to the level of witness tampering, though the president shouldn't be adding anything to his long list of potential attempts to obstruct justice.
The McGahn episode raises some other troubling questions. The January Times report said Trump ordered Mueller's firing, but McGahn threatened to quit rather than conveying the directive to the Justice Department, and the president backed down. Now the paper reports that after the story was published, then–White House staff secretary Rob Porter told McGahn that the president wanted him to release a statement saying it was false:
Mr. Porter, who resigned last month amid a domestic abuse scandal, told Mr. McGahn the president had suggested he might "get rid of" Mr. McGahn if he chose not to challenge the article, the people briefed on the conversation said.
So Trump might have threatened to fire McGahn if he didn't publicly lie about his failed attempt at a Saturday Night Massacre. But there's another possibility: Trump thought he was demanding that McGahn release a truthful statement, because he didn't recall ordering Mueller's firing. The Times continues:
Mr. McGahn did not publicly deny the article, and the president later confronted him in the Oval Office in front of the White House chief of staff, John F. Kelly, according to the people.




The president said he had never ordered Mr. McGahn to fire the special counsel. Mr. McGahn replied that the president was wrong and that he had in fact asked Mr. McGahn in June to call the deputy attorney general, Rod J. Rosenstein, to tell him that the special counsel had a series of conflicts that disqualified him for overseeing the investigation and that he had to be dismissed. The president told Mr. McGahn that he did not remember the discussion that way.




Mr. Trump moved on, pointing out that Mr. McGahn had never told him that he was going to resign over the order to fire the special counsel. Mr. McGahn acknowledged that that was true but said that he had told senior White House officials at the time that he was going to quit.
So Trump tried to fire Mueller then forgot about it, or did such a poor job of conveying his instructions that McGahn thought he wanted him to initiate the special counsel's dismissal. Choose your own frightening tale of White House dysfunction.