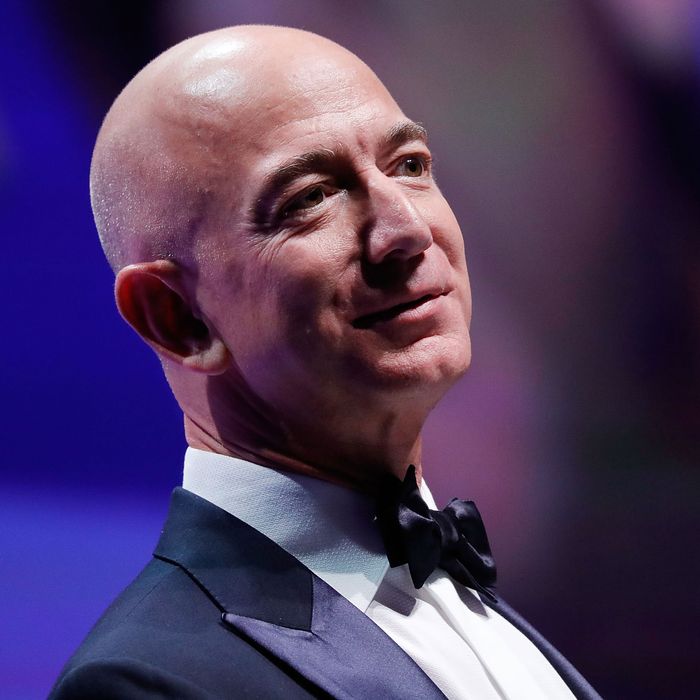 One of Trump's many nemeses.
Photo: Paul Morigi/Getty Images
On his way from Mar-a-Lago to Trump International Golf Club Saturday morning, President Trump took some time from his pre-golf routine to go after Amazon for the second time in a week. This time, he accused the Washington Post, which is owned by Amazon founder Jeff Bezos, of acting as a lobbyist for the internet giant, an assertion that is, shockingly, not true.
Earlier this week, Trump had harshly criticized Amazon for skirting sales taxes and damaging the U.S. Postal Service, two criticisms that make little sense. In fact, after years of avoiding sales tax, Amazon has paid them in every applicable state since 2012. And it has likely been a boon, not a drag, for the struggling Postal Service.
Trump has been reported to be "obsessed" with Amazon, raging to advisers about how the internet giant is killing mom-and-pop retailers. These arguments do align with the president's fact-free, nostalgia-heavy view of retail, real estate, and the world in general. But the bulk of the reason for his disgust likely boils down to something much more personal and obvious: he loathes the Washington Post's unflattering coverage of him.
On Saturday, the Post ran a story that must have hit particularly close to home: a rundown of how Trump's presidency has ramped up legal scrutiny of his business empire.
Trump seems to be spoiling for a fight with Bezos, the world's richest man. But while the president's salvos against Amazon may dent the company in the short term, taking on a hugely popular and powerful company will be a very tough war to win.