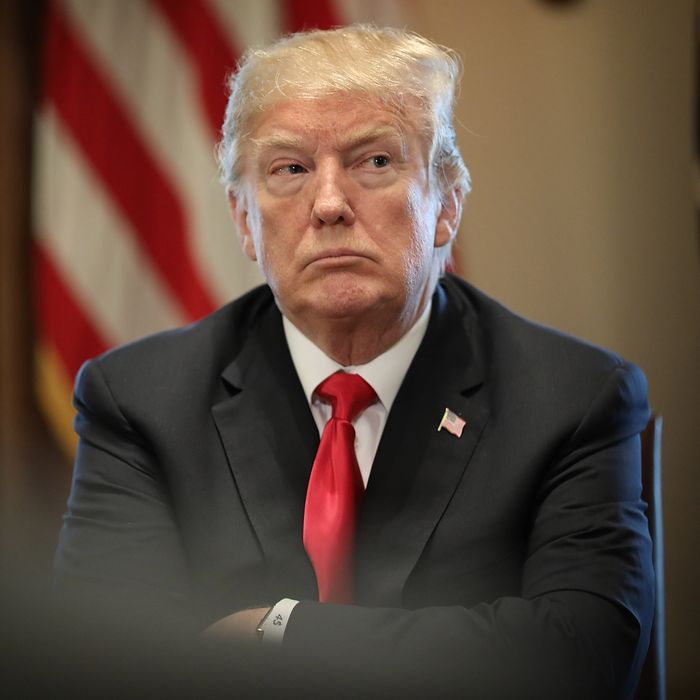 In a constitutional crisis kind of mood.
Photo: Win McNamee/Getty Images
President Trump is no longer shy about about condemning Special Counsel Robert Mueller by name.
On Saturday night and Sunday morning, he sent two apoplectic tweets, slamming Mueller and his investigation, and labeling his team as "hardened Democrats," before being spirited away to a golf course by aides.
While it's true that some investigators working for Mueller have donated to Democrats, Mueller himself is a Republican, as are former FBI Director James Comey and former FBI Deputy Director Andrew McCabe, both of whom the president also went after on Sunday:
Throughout most of Saturday, Trump had reserved his ire for McCabe, who was fired by Attorney General Jeff Sessions Friday night, much to the president's glee.
But in the evening, Trump invoked Mueller by name on Twitter for the first time. This is one arena in which he has historically shown a modicum of restraint. Trump's lawyers have likely counseled him not to attack the special counsel personally for fear of harming his standing in the investigation.
On Saturday, though, Trump's personal lawyer John Dowd told the Daily Beast that Mueller should end his investigation, and claimed he was speaking for the president before backtracking (rather unconvincingly) on that assertion.
The New York Times revealed one possible reason for Trump's especially intense wrath of late: the special counsel's office has sent over a list of questions to the White House to set up a possible interview with the president. Last week, Mueller also subpoenaed documents relating to the Trump Foundation, crossing a "red line" the president had set dictating that Mueller not delve into Trump and his family's personal finances.
The investigation, in other words, appears to be drawing ever closer to the president and he's responding the only way he knows how: by preparing to take out his enemy, no matter the consequences.