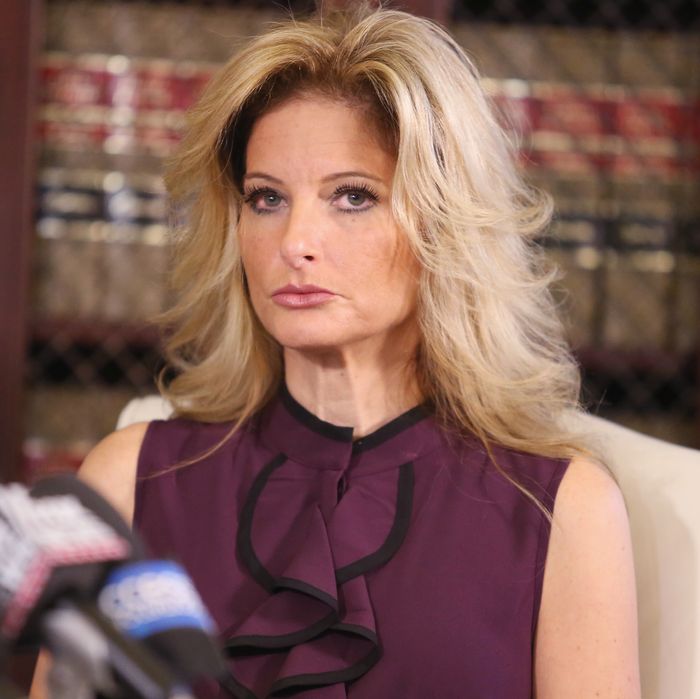 Summer Zervos.
Photo: Frederick M. Brown/Getty Images
One maxim of constitutional law is that what's good for the goose is good for the gander. And in the case of Donald Trump, it turns out that a legal precedent set by a small, dedicated group of Republicans who had it out for President Bill Clinton now applies fully to him. Among them: George Conway, a lawyer in private practice who, as life's twists would have it, happens to be married to Kellyanne Conway.
A judge in New York ruled on Tuesday that Clinton v. Jones, a unanimous Supreme Court ruling that established that a sitting president was not "absolutely immune" from civil lawsuits over actions he took before he was president, applies with equal force to a case brought by Summer Zervos, a former Apprentice contestant who is accusing Trump of defaming her during the presidential campaign. "No one is above the law," wrote Judge Jennifer Schecter in a brisk, 18-page ruling in which she declined to dismiss the lawsuit.
Trump's lawyers had argued that because the 1997 decision applied only to lawsuits against the president over unofficial conduct brought in federal court, that a similar case brought in state court, like Zervos's, should be thrown out. No dice, said Schecter. "Nothing in the Supremacy Clause of the United States Constitution even suggests that the President cannot be called to account before a state court for wrongful conduct that bears no relationship to any federal executive responsibility," the judge wrote.
In practical terms, this means that Zervos's lawsuit is alive and well and that her lawyers may now want to substantiate her claims by seeking discovery — the exchange of materials prior to trial that may even include a deposition of Trump himself. Because he is not known to be reliable under oath, Zervos v. Trump ought to get really interesting real soon. Alternatively, Trump may choose to fight today's decision and appeal it all the way to the Supreme Court if he'd like. Far more likely, as he has done with other private suits since winning the presidency, he will just settle this one out of court and call it a day. Unless what he really wants is to set a new precedent for whichever Democrat succeeds him in the Oval Office.