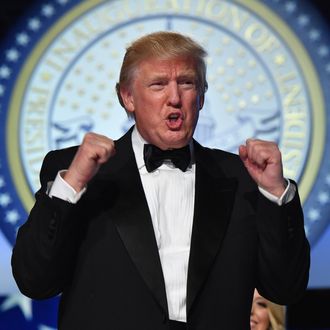 President Trump confused by too many Koreas.
Photo: Kevin Dietsch/Getty Images
Saturday night, in the middle of a comic speech at the Gridiron Club, President Trump wandered into a completely serious riff about North Korea. "It was headed for disaster and now we're talking," he announced. "They, by the way, called up a couple of days ago; they said, 'We would like to talk,'" Trump said. "And I said, 'So would we, but you have to denuke.'"
The claim that Trump had spoken with North Korea confounded foreign policy observers. "It was not clear whether Trump was describing a direct conversation or messages sent through diplomatic channels," reported the Washington Post.
The answer turns out to be: neither. Trump was describing a conversation with South Korea. An official from the National Security Council tells Yonhap News Agency, a South Korean publication, that Trump "was referring to his March 1 phone call with South Korean President Moon Jae-in." So Trump was close, geographically, but instead of describing a breakthrough exchange with the totalitarian enemy that is developing nukes and threatening to kill us, he was describing the democratic ally that has no nukes and is trying not to be killed.
Trump was right that it was a Korea, but he had the wrong one. There are so many Koreas these days, it is hard to keep track.