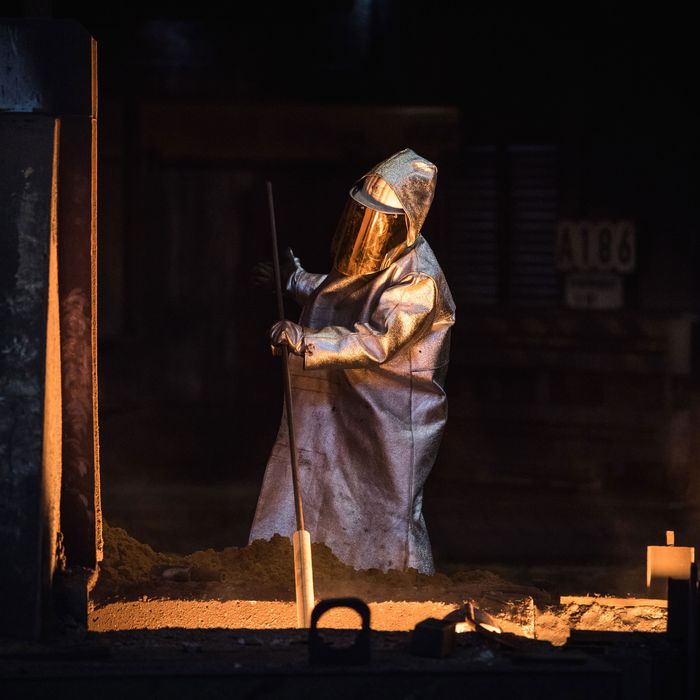 Steeling our jobs.
Photo: Lukas Schulze/Getty Images
Up to this point, corporate Republicans' deal with the Donald has paid off, handsomely: For its complicity in the ascent of reactionary (white) nationalism, the business wing of the GOP has received a pliant federal bureaucracy, a looming neo-Lochner era in American jurisprudence, a booming stock market, and a giant tax cut for corporations and the wealthy.
Since taking office, Trump has stayed true to his campaign's caustic anti-globalism when doing so would hurt vulnerable minority groups. But when adherence to right-wing nationalism would afflict the powerful, the president has generally told the White House's economic nationalists to go cuck themselves.
And for a moment Thursday morning, it looked like Trump was about to do so yet again. On Wednesday night, the White House had announced that a dozen executives from the steel and aluminum industry would gather at 1600 Pennsylvania Avenue the following day, for a special, tariff-themed announcement from the president. But as the hour of that summit drew close, senior White House officials began telling reporters that no trade announcement would be forthcoming — and that Trump had merely summoned the executives for a "listening session."
As it turned out, these anonymous sources weren't describing the president's position so much as trying (in vain) to change it: Just after noon Thursday, Trump informed the White House press corps that he would impose tariffs of 25 percent on steel and 10 percent on aluminum — without specifying whether these charges would be applied to all such imports, or merely to those from a select list of countries.
Regardless, the move proved that the White House's resident Goldman Sachs globalists had lost their grip on the president's leash — and this, combined with the risks inherent to any tariff policy, got the stock market spooked.
Ultimately, Trump's new trade policy may be less alarming than the manner in which he reached it. It is hardly unprecedented for a Republican president to sacrifice free market principles on the altar of the steel industry — in fact, it would have been a violation of precedent if Trump hadn't done so. In 2002, George W. Bush slapped tariffs on foreign steel that topped out at 30 percent.
That said, the White House's trade hawks might not want to dwell on this precedent, for reasons outlined by Business Insider's Linette Lopez:
In 2002 the EU, especially, was ready to put a hurt on the US economy. It was promising to put up tariffs worth $2.2 billion that would hit critical swing states. The retaliation that it's promising now looks much the same. According to the Financial Times, EU officials are considering tariffs on everything from orange juice to whiskey to dairy, if the tariff is enacted.




China has already said in no uncertain terms that it has a plan for retaliation as well. Now, given the growth and importance of China's economy, that threat is more real than it was in 2002.




And we are in a different climate politically than we were then too. Trump and his administration have shown zero respect for the processes of the WTO … his will not be a fight between friends, it will be a fight between frenemies — and in that case the EU and others may be more swift to act against an administration that they believe does not respect the rule of international law.




… Meanwhile, in the United States, Bush's experience shows us that the tariff ultimately has mixed results. Manufacturers that depend on cheap steel for their supply chains get hurt. When all was said and done, the Institute for International Economics (IIE) estimated that as many as 26,000 jobs were lost in steel-using industries (like the auto industry, for example).
On the other hand, there is a rational basis for worrying about the state of America's steel industry. Steel production remains a significant source of employment in the United States, and one that serves a national-security function: Relying on cheap metal from China is all well and good while the U.S. is still the dominant superpower, and Washington and Beijing are at peace; but it would be nice to keep some industrial capacity on the shelf, just in case those conditions change. If you want a quick outline of the case for Trump's tariffs, here's an excerpt from a report the left-leaning Economic Policy Institute released in January:
Surging imports and price suppression of unfairly traded steel and aluminum are decimating U.S. producers.




•Annual steel production in the U.S. fell 23.0 percent between 2000 and 2016. From January 2000 to November 2017, more than 49,000 domestic jobs were lost in steel mills alone—and the losses rise to more than 64,000 when adding downstream producers of steel products from purchased steel, such as pipe and rails. Surging steel imports, which increased 17.1 percent from 2016 to 2017 (comparing January–November of 2016 with January–November of 2017) have resulted in additional announced layoffs in the steel industry.




… Strong domestic steel and aluminum industries are vital to U.S. national defense and infrastructure. But if current trends persist, in time of war or other national emergency, the United States would find itself dependent on unstable import sources.




•There is now only one domestic aluminum smelter that can make the high-purity aluminum needed for fighter jets and other military aircraft and vehicles and to make rocket fuel.




•There is only one domestic manufacturer that can make high-quality, grain-oriented electrical steel needed for transmission and distribution transformers for electricity distribution. In the wake of Superstorm Sandy, there were unnecessary delays in restoring power to areas in the Northeast because the United States no longer produced the needed electrical transformers.
So, reasonable people can disagree about the wisdom of Trump's trade action. The way he went about delivering it, though, is a bit harder to defend.
The president has been thirsting for tariffs from the moment he took office — and he almost imposed them last summer. But lobbying from multinational companies, the Pentagon, and their friends in the West Wing convinced Trump that, at the very least, it would be a mistake to take such a divisive action while Obamacare repeal and tax reform were still pending before Congress.
Since then, these "globalist" advisers have battled the White House's nationalists for the neophyte president's heart and mind, producing a stalemate that preserved the status quo – until the Daily Mail (of all things) shifted the balance of power. As the New York Times reports:
Gary D. Cohn, the director of the National Economic Council, had been lobbying for months alongside others, including Defense Secretary James Mattis and Rob Porter, the staff secretary who recently resigned under pressure from the White House, to kill, postpone, or at least narrow the scope of the measures, people familiar with the discussions said.




But in recent weeks, a group of White House advisers who advocate a tougher posture on trade has been in ascendance, including Robert Lighthizer, the country's top trade negotiator, and Peter Navarro, a trade skeptic who had been sidelined but is now in line for a promotion.




The departure of Mr. Porter, who organized weekly trade meetings and coordinated the trade advisers, and the breakdown of the typical trade advisory process has helped create a chaotic situation in which those opposing factions are no longer kept in check. The situation had descended into utter chaos and an all-out war between various trade factions, people close to the White House said.
Thus, rattled by a deluge of administrative crises and unflattering headlines — and anxious for action — the president bucked his most senior advisers and unveiled an economic policy with vast, international consequences, without offering the press or world any specific details about the measure or his intentions for it.
The fact that Trump took such an impulsive action — in defiance of (most of) corporate America's interests — provides Wall Street with a harrowing reminder that, on occasion, a reality-show demagogue really is the president of the United States, not just nominally but functionally. That does not portend well for NAFTA's future, and should make us all nervous for the Korean Peninsula's.
In all probability, corporate America's Faustian bargain will still pay off massively — Trump would have to do a lot of damage to U.S. trade relations to offset the benefits his tax bill showered on big business. Nevertheless, Thursday's announcement gives the business wing of the GOP some cause to fear that seeking power by riding the back of a tiger might come with downsides.