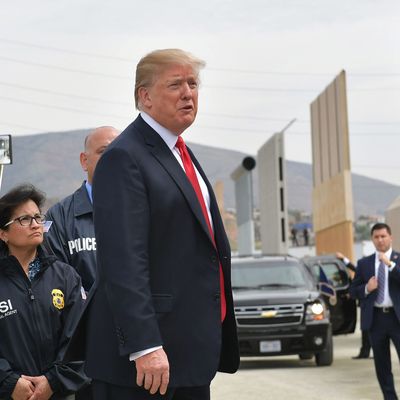 Can't deal.
Photo: Mandel Ngan/AFP/Getty Images
For most of last year, lawmakers on both sides of the aisle saw Donald Trump's border wall as a joke. The policy lacked support from any major lobby or D.C. think tank. Democrats and Republicans from border areas — where voters weren't crazy about the government screwing with their land — hated the proposal. Fiscal conservatives weren't anxious to blow money on the boondoggle, and even immigration hardliners weren't nearly as invested in the idea as they were in denying "amnesty" to "illegals" and restricting legal immigration.
But by January 2018, Trump had achieved the politically impossible: By strengthening his grip on the GOP base — and taking 800,000 American-raised, undocumented immigrants hostage — the president had gotten Senate Democrats to offer him $25 billion in border-wall funding, in exchange for permanent protections for former DACA recipients.
And Trump turned them down.
Despite the fact that Trump officially supported legal status for Dreamers and had made a border wall the centerpiece of his 2016 campaign, the president refused to accept Chuck Schumer's proposal. Instead, the great deal-maker insisted that Democrats also agree to support cutting legal immigration in half, even though such a measure did not even have enough Republican support to pass the Senate, and thus, was never going to happen.
Now, as Congress prepares to pass its last major spending bill before the November midterms, Trump has apparently realized his mistake. To pass an omnibus bill, Republicans need Democratic support in the Senate — and Democrats won't vote for border-wall funding unless its paired with relief for Dreamers. And if wall money isn't included in this bill, it's quite possible that it will never be appropriated in any legislation: At the moment, it appears highly likely that Democrats will retake the House this November.
To this point, the strongest opposition to legal status for Dreamers has been concentrated in the House GOP's right wing. It's quite possible that, in the wake of a wave election, a Republican Senate would be willing to work with a Democratic House on a conventional Dream Act — i.e., amnesty for some subset of Dreamers combined with a bit of border-security funding. And then, there is even an outside chance that Schumer could be Majority Leader next year. Regardless, the chances that a Democratic House would vote for border-wall funding in 2019 are exceedingly slim.
Thus, Trump is desperately trying to get back to the negotiating table. As the Washington Post reports:
White House officials have told key Republican leaders on Capitol Hill that President Trump is open to cutting a deal in an upcoming spending bill to protect young immigrants from deportation in exchange for border wall funding, according to four GOP officials briefed on the talks.




One idea under consideration is a three-year extension of the DACA program in exchange for three years of wall funding, a GOP official said. This official said the talks, which are being led by senior policy adviser Stephen Miller and legislative affairs head Marc Short, were fluid.
But the Republican leadership would rather leave Dreamers in limbo than alienate their right flank ahead of a must-pass spending bill. As Politico notes:
"I don't get the sense it's getting serious traction," said Sen. Steve Daines (R-Mont.), who said there was no talk of it during a party meeting on Wednesday.




In fact, conservative House Republicans said that such a move could threaten House Speaker Paul Ryan's standing among the party's right flank. Ryan is under pressure to pass a conservative immigration bill written by Rep. Bob Goodlatte (R-Va.), not punt.




"It would jeopardize the stability of leadership," said Rep. Steve King (R-Iowa), an immigration hard-liner. "Forcing amnesty into a must-pass bill? That's beyond the toleration level [of] conservatives in this conference."
And while Democrats would like to give Dreamers some protection from deportation, they're surely both conscious of the fact that they're likely to have more leverage on the issue next year — and ambivalent about the prospect of legislating a new category of second-class citizenship (which is what transforming DACA from an administrative policy to a written law would entail).
It's possible that the White House will be able to bring Congress around on a short-term "DACA for wall money" deal. But for the moment, it sure looks like the deal-maker-in-chief negotiated his way out of fulfilling his No. 1 campaign promise.