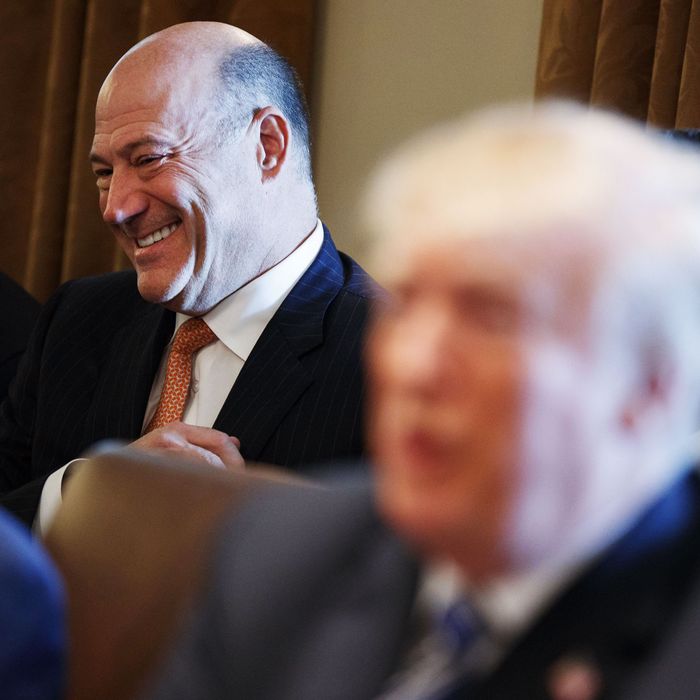 Happy trails.
Photo: Evan Vucci/AP/REX/Shutterstock
President Trump bid farewell to Gary Cohn at a Cabinet meeting Thursday, telling his outgoing chief economic adviser that he still likes him, even though he's a "globalist."
"I mean seriously a globalist, there's no question," Trump said. "But you know in his own way he's a nationalist because he loves our country."
Trump's use of the word globalist, a common anti-Semitic dog whistle, to describe Cohn, who is Jewish, comes after his OMB Director Mick Mulvaney hit Cohn with the same label.
Cohn's departure from the White House was announced earlier this week as it became clear that Trump is set on imposing tariffs on steel and aluminum. The Goldman Sachs veteran was one of the White House's most prominent opponents of the tariffs.
Despite the disagreement, Trump predicted that Cohn, who he said will leave the White House and "make a couple hundred million," may one day rejoin the administration.
"We'll be here another seven years hopefully and that's a long time, but I have a feeling you'll be back," he said. "I don't know if I could put him in the same position. He's not quite as strong on those tariffs as we want him to be."