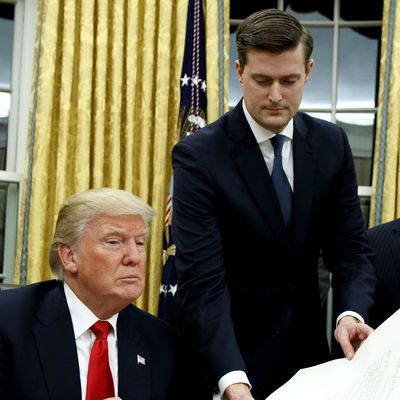 The good old days.
Photo: Evan Vucci/AP/REX/Shutterstock/Evan Vucci/AP/REX/Shutterstock
In the past few weeks, President Trump reportedly decided that he's done listening to his legal and policy advisers, and "now I'm fucking doing it my way." This new, less inhibited Trump proceeded to attack Special Counsel Robert Mueller by name on Twitter, start a trade war, and replace much of his team with people he's seen on cable news. But apparently Trump still feels shackled by certain social norms, like the idea that the president shouldn't work with a man who's been accused of domestic violence by multiple women.
When Rob Porter, the former White House staff secretary, departed in early February, Trump made it clear that he was sorry to see him go, and emphasized that he'd denied his two ex-wives' abuse allegations. "We certainly wish him well. It's obviously a very tough time for him. He did a very good job while he was in the White House," Trump said. "We hope that he will have a wonderful career."
If it were up to Trump, that career would continue in the West Wing. According to the New York Times, Trump has been consulting with Porter via phone, and told some advisers that he'd like to rehire him:
The president has told the advisers he has talked with that he knows he probably cannot bring Mr. Porter back. But he has made clear that he misses the staff structure that Mr. Porter had helped build and implement, a White House official said, speaking on background because advisers were not authorized to discuss the matter publicly. Mr. Porter also served as a de facto deputy chief of staff for policy, playing a key role on issues like tariffs, and Mr. Trump spent as much as two hours a day with him.




It was not immediately clear how many conversations Mr. Porter has had with the president since leaving, but one person familiar with the discussions said they have talked about trade and how to navigate granting exemptions to the tariffs Mr. Trump announced last week.
Obviously it's not great that we've reached the point where the president is longing for the days when he had a man accused of domestic violence by his side. However, it is slightly encouraging that Trump isn't willing to revisit the Porter scandal — for now, at least.