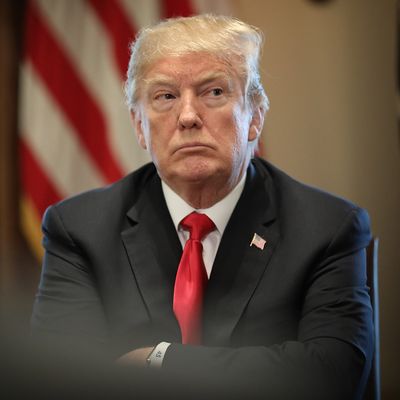 A brilliant economic theorist.
Photo: Win McNamee/Getty Images
President Trump revealed a little more about his trade-war strategy (such as it is) Monday morning, threatening to saddle Canada and Mexico with the punitive steel and aluminum tariffs he ordered last week until the countries take steps on NAFTA and drug trafficking.
There had been a question of whether Trump would exempt allies from the restrictions, which consist of a 25 percent tariff on steel imports and a 10 percent tariff on aluminum imports, and are likely to be put into effect this week. But comments by hard-line adviser Peter Navarro over the weekend had seemed to rule out leaving any country off the list. Canada is the U.S.'s second-biggest trading partner, after China. Mexico is the third-biggest.
Unlike his positions on almost all other issues, Trump's antideluvian notions of trade have remained consistent over decades. As Axios reports, Trump had been held back from taking drastic action on the issue thus far by free-trade advocates, but when staff secretary Rob Porter left the White House, their voices were overshadowed by those of Navarro and Commerce Secretary Wilbur Ross.
Trump's obsession with viewing trade as a zero-sum game — and one in which America is inevitably getting screwed — has led many to fear that he would walk away from NAFTA, which he often complains is a terrible deal for America. Trump's trade representative Robert Lighthizer, who shares the president's views, compounded that impression throughout much of 2017 by issuing unrealistic renegotiation demands that Mexico and Canada were in no mood to accede to. Recently, the conventional wisdom had been that Trump was less likely to abandon the pact altogether than to grudgingly agree to some changes. But with the surprise tariff announcement, the fate of the agreement is very much up in the air.
Republicans in Congress, who are happy neither about the possible end of NAFTA or the new tariffs, have the power to rein the president in on both matters. Whether they'll actually do anything is an open question.
Mexico's secretary of Foreign Relations was quick to respond to Trump's threat on Monday: