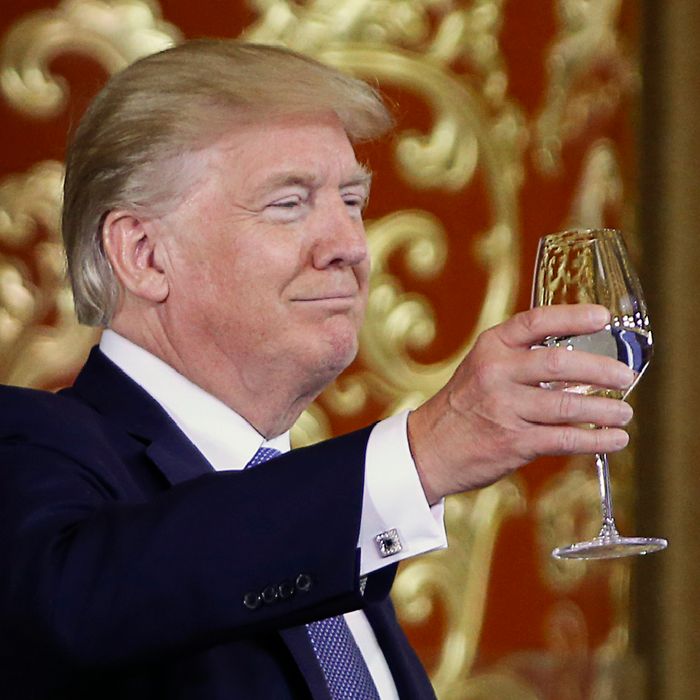 The dictator-lover in chief.
Photo: Thomas Peter/AFP/Getty Images
President Trump praised China's president for his recent consolidation of indefinite power and joked that he might like to serve as president for life too, according to a recording of a closed-door fundraiser which was obtained by CNN.
President Xi Jinping has been expanding his power in China in recent years, and last week, China's Communist Party announced plans to abolish presidential term limits, meaning Xi will now be able to rule the country for as long as he wants.
"He's now president for life. President for life," Trump told GOP donors in Mar-a-Lago's Donald J. Trump Grand Ballroom on Friday afternoon. "No, he's great. And look, he was able to do that. I think it's great. Maybe we'll have to give that a shot some day."
In the same speech, Trump also repeated his self-refuting claim that America's electoral system was "rigged" against him. "It's a rigged system folks," he explained, adding that "we don't have the right people in there yet — we have a lot of great people — but certain things, we don't have the right people."
Presumably, Trump means to suggest that installing his own loyalists in the government will help him un-rig the system for him and his supporters, but his administration hasn't been able to finish doing that yet. Not incidentally, that is one of the ways Xi has tightened his grip on power in China. He has systematically removed political obstacles within China's one-party government, arrested or transferred power away from rivals, and even had his own political philosophy enshrined in the country's constitution — the first leader to do that since Mao.
Those strongman moves, culminating in a grab for indefinite rule, are exactly what Trump — whose wannabe authoritarianism is well established at this point — admitted he admires. And Trump doesn't just look up to Xi.
When Turkish president Recep Tayyip Erdogan acquired vast new powers — including his own shot at indefinite rule — in a possibly rigged election last April, Trump called the leader to congratulate him, while the State Department decried the breakdown of democracy in the country.
Last week, Trump reiterated his interest in killing drug dealers in a clear hat-tip to Philippine leader Rodrigo Duterte, whose drug war has led to the extrajudicial murder of thousands. Trump has praised Duterte for that campaign, and has offered him the honor of an official White House visit. General Abdel-Fattah el-Sissi, who took control of Egypt in a bloody coup over a democratically elected leader, then cracked down on political opponents and dissent, has "done a fantastic job in a very difficult situation, according to Trump. Even North Korea's brutally repressive dictator, Kim Jong-un, who had his own brother assassinated, has gotten "credit" from Trump for how he took over his country.
And then, of course, there is President Trump's routine praise for Russian president Vladimir Putin, whose strength the dominance-obsessed Trump seems to fetishize. Trump has said Putin was a better leader than President Obama, and has saluted Putin's "very strong control" over Russia, as well as his impossibly high approval rating. Trump has also publicly defended Putin from the accusation that he has had people killed, thanked him for forcing the U.S. to cut hundreds of embassy staffers in Russia, and last summer publicly supported Putin's ridiculous assertion that Russia didn't interfere in the 2016 U.S. election.
Trump was clearly joking about being president for life on Friday, and even if he wasn't, he'll never get that constitutionally blocked opportunity. But Trump clearly is, and always will be, a dictator-phile, and it remains very reasonable to worry that he will be inspired by the Xi's and Putin's of the world to attempt whatever authoritarianism he can get away with here.