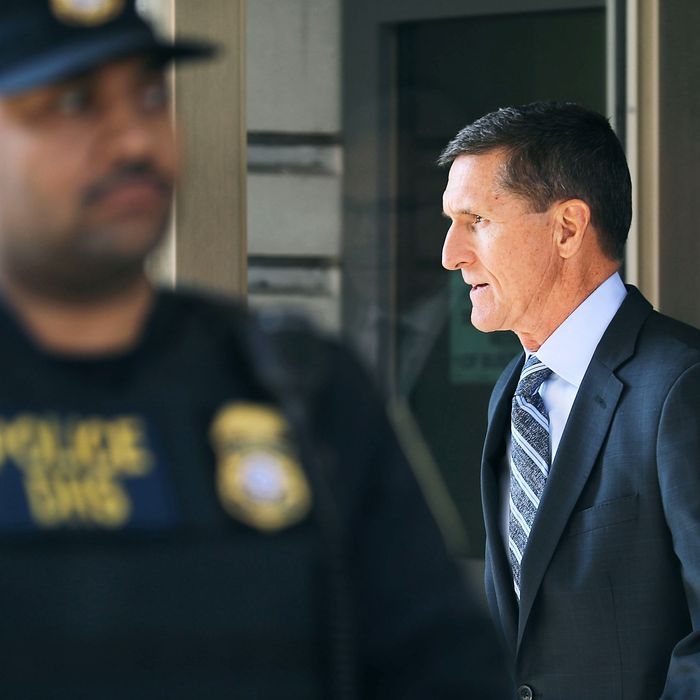 Flynn.
Photo: Chip Somodevilla/Getty Images
Last summer, as the special counsel's office was asking a grand jury to indict Michael Flynn on a variety of charges — while simultaneously imploring the former national security adviser to cooperate with investigators — Donald Trump's lawyer decided to have a word with Flynn's attorney about the president's pardon powers.
Specifically, according to a new report from the New York Times, the president's (now-former) attorney John Dowd told Flynn's lawyer that Trump believed the case against his client was bogus, and that he was prepared to pardon Flynn, should he be found guilty. Shortly thereafter, when Robert Mueller turned his sights on Paul Manafort, Dowd had a similar discussion about the special authorities our Constitution bestows on the Executive branch with Manafort's attorney.
Months later, Flynn pleaded guilty to lying to the FBI, and agreed to cooperate with investigators in exchange for a lenient sentence. Manafort, meanwhile, has insisted that he is innocent of the many, many financial crimes he's been indicted for, even as his longtime business partner Rick Gates has pleaded guilty to related offenses, and turned state's witness.
Since then, Dowd has privately expressed bafflement at Flynn's decision to take that plea, according to the Times.
Many legal scholars believe that the president's authority to pardon those convicted of federal crimes is absolute — and thus, that even if Trump had explicitly offered to pardon Flynn and Manafort in exchange for their silence, such a proposal would not constitute obstruction of justice.
But the fact that Dowd (reportedly) tried to assure both Flynn and Manafort that they would be able to avoid prison time — even if they didn't cooperate with Mueller — suggests that they might know things that Trump does not wish the special counsel to learn. Which is a bit odd, since the president has assured us that the entire investigation into his campaign's ties to Russia is a "WITCH HUNT."