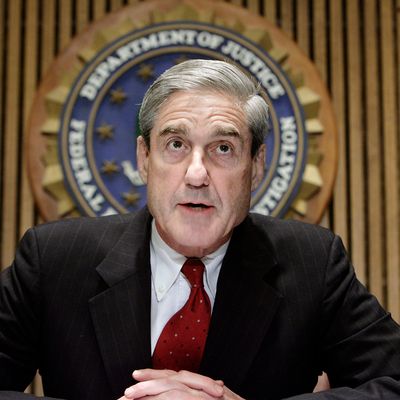 Not the world's greatest job security.
Photo: Chip Somodevilla/Getty Images
John Dowd, President Trump's personal lawyer, told The Daily Beast on Saturday that he thinks Deputy Attorney General Rod Rosenstein should fire Special Counsel Robert Mueller. But while he initially claimed that he was speaking on behalf of President Trump, he quickly walked back that assertion.
In an email commenting on Jeff Sessions's firing of Deputy Director Andrew McCabe Friday night, Dowd said that Rosenstein should follow suit in his own department.
"I pray that Acting Attorney General Rosenstein will follow the brilliant and courageous example of the FBI Office of Professional Responsibility and Attorney General Jeff Sessions and bring an end to alleged Russia Collusion investigation manufactured by McCabe's boss James Comey based upon a fraudulent and corrupt Dossier," Dowd wrote.
The 77-year-old lawyer, who has been advising Trump since June and apparently has a flair for the dramatic, also included the following annotated paragraph from the Tennessee Williams play Cat on a Hot Tin Roof, in an effort to prove his point about the Russia investigation:
"What's that smell in this room[Bureau}? Didn't you notice it, Brick [Jim]? Didn't you notice a powerful and obnoxious odor of mendacity in this room[Bureau}? … There ain't nothin' more powerful than the odor of mendacity[corruption] … You can smell it. It smells like death."
Responding to a Daily Beast question, Dowd initially said that he was speaking for Trump "as his counsel." But he then emailed the outlet back to clarify that he was opining in a personal capacity.
This week, the New York Times reported that Mueller had subpoenaed the Trump organization, demanding documents related to Russia. Trump had previously warned that any investigation into his family's finances would cross a "red line," and he was reportedly furious about Mueller's maneuver. With the Russia investigation showing no signs of slowing down, Trump may revive his aborted effort to fire the special counsel.
But Rosenstein, who has overseen the Russia probe since Jeff Sessions recused himself last year, does not appear inclined to follow Dowd's advice. In December, he told Republicans on the House Judiciary Committee that he saw no cause to fire Mueller, and that "the special counsel's investigation is not a witch hunt." And just five days ago, he redoubled his support for Mueller in an interview with USA Today.
But if Rosenstein doesn't give in to political pressure, there's always the possibility of simply replacing him with a Trump toady who would gladly dispatch the special counsel  — a path the president has already considered. Sessions, Rosenstein's boss, may be in danger of losing his job, too, one reason he may have chosen to fire McCabe.
Given all the instability in the White House and surrounding the Russia investigation, some Democrats are mounting a public campaign to save Mueller's job:
Don't hold your breath, Senator Warner.