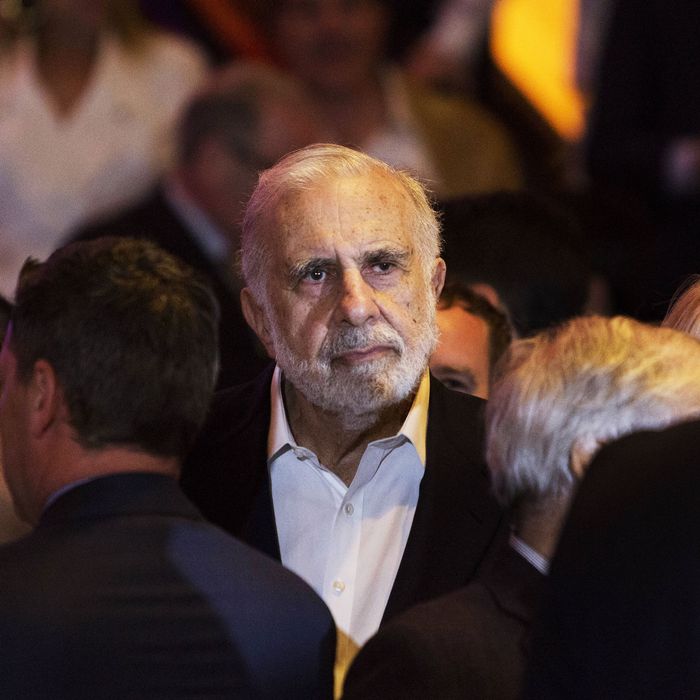 Carl Icahn at Trump's Election Night party.
Photo: Victor J. Blue/Bloomberg via Getty Images
Carl Icahn, a billionaire financier and longtime pal of Donald Trump's, sold more than $30 million of stock in a steel-dependent company days before new tariffs on steel imports were announced, Think Progress reports.
Icahn's dumping of close to 1 million shares of Manitowoc Company Inc. was revealed in an SEC filing submitted on February 22, seven days before Trump said he would impose tariffs of 25 percent on steel and 10 percent on aluminum. After Trump's announcement, shares in Manitowoc dropped by 6 percent, Reuters reported in a piece that describes the company as one of the country's "major consumers of steel."
As Think Progress notes, Icahn had not bought or sold shares in Manitowoc between January 2015 and February 2018, making the timing of the most recent sell-off look even more suspicious than it already did.
Icahn, who lasted around eight months as Trump's special adviser for regulatory affairs, has previously been accused of profiting off of his relationship with the president. In November, it was reported that federal investigators are probing Icahn's role advising Trump and regulatory changes he attempted to push through in order to benefit his energy company.