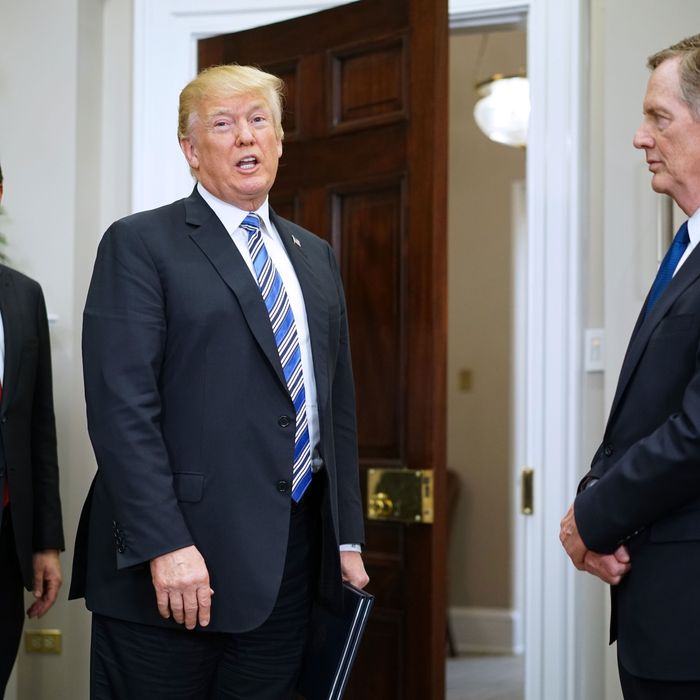 Unchained.
Photo: Mandel Ngan/AFP/Getty Images
Donald Trump is no longer afraid of being president. After 14 months on the job, he believes he's finally got a handle on this "leader of the free world" thing. And so he's ready to start running the White House like it's the Trump Organization — and to cease allowing the "adults" in the West Wing to overrule his instincts.
Reporting from administration insiders like Jim VandeHei and Mike Allen predicted this turn months ago. And now, it's finally coming to fruition: Over the past two weeks, Trump has unilaterally announced steep tariffs on steel and aluminum imports to the United States; agreed to an unprecedented face-to-face meeting with the leader of North Korea; and fired his secretary of State over Twitter. In all of these cases, the president either acted over the objections of senior advisers, or without bothering to consult them at all.
"I'm really at a point where we're getting very close to having the Cabinet and other things that I want," Trump told reporters Tuesday.
And he'll get even closer in the coming weeks, when he plans to hit China with the most aggressive trade action of his presidency — one that won't just offend the sensibilities of the administration's "globalists," but also (almost certainly) violate America's commitments to the World Trade Organization. As Politico reports:
Trump told Cabinet secretaries and top advisers during a meeting at the White House last week that he wanted to soon hit China with steep tariffs and investment restrictions in response to allegations of intellectual property theft, according to three people familiar with the internal discussions.




During the meeting, which hasn't been previously been reported, U.S. Trade Representative Robert Lighthizer presented Trump with a package of tariffs that would target the equivalent of $30 billion a year in Chinese imports. In response, Trump urged Lighthizer to aim for an even bigger number – and he instructed administration officials to be ready for a formal announcement in the coming weeks, according to two people involved in the administration's trade deliberations.




That sent senior officials at the White House, Treasury Department, State Department, Justice Department, the Office of the U.S. Trade Representative and other key agencies scrambling this week to finalize the proposal. While the details were still in flux, aides said the administration is considering tariffs on more than 100 Chinese products ranging from electronics and telecommunications equipment to furniture and toys.
Cracking down on Chinese IP theft is likely to attract more congressional sympathy than Trump's decision to slap steep tariffs on our European allies. But the former is also likely to have much more far-reaching economic consequences. Beyond the first-order effect of a potential increase in the price of China-made products, the move would likely lead Beijing to retaliate against U.S. exporters. American farmers — many of whom have built whole business models around supplying soybeans, pork, and other staples to the Chinese market — will be especially vulnerable to retaliatory tariffs.
Trump's case for these tariffs, under U.S. law, is stronger than the one he made for his steel and aluminum ones. In the latter case, the president argued (implausibly) that imposing duties on foreign steel was an urgent necessity for national security. With the former, he's invoking his authority under Section 301 of the Trade Act of 1974 to protect the intellectual property rights of U.S. firms. And there is significant evidence that the Chinese government has infringed upon such rights. As Politico notes:
A U.S. International Trade Commission investigation from 2011 found that IP theft cost U.S. producers nearly $26 billion in losses in 2009 on copyrighted material alone. Another study from the U.S. software industry in 2011 put software theft losses as high as $60 billion.



But if Trump's position is justified under American law, it would likely contravene international trade law. This has frustrated the administration's efforts to get core allies on board with a sudden, coordinated attack on Beijing. As Nikkei Asian Review reports:
The USTR is also urging allied countries to take similar measures against China. The office has asked nations such as Japan, which has long opposed China's intellectual property practices, to synchronize their policies.




But Tokyo rejected the proposal, saying hard-line policies will be difficult to adopt since Japan has no law resembling Section 301, according to a U.S. trade official. Japan instead proposed filing a joint suit against China within the World Trade Organization framework…




…The U.S. used the threat of Section 301, adopted in 1974, during a trade dispute with Japan in the 1980s to extract concessions. But Washington has refrained from using this law since the WTO was established in 1995, since it conflicts with international rules prohibiting unilateral action on trade restrictions.
None of this has given the administration pause — according to one official who spoke with Politico, the White House seems "seems hell-bent on going it alone."
In 2016, Trump promised America that he, alone, could fix it. If the past two weeks are any guide, the president is just now starting to believe that.