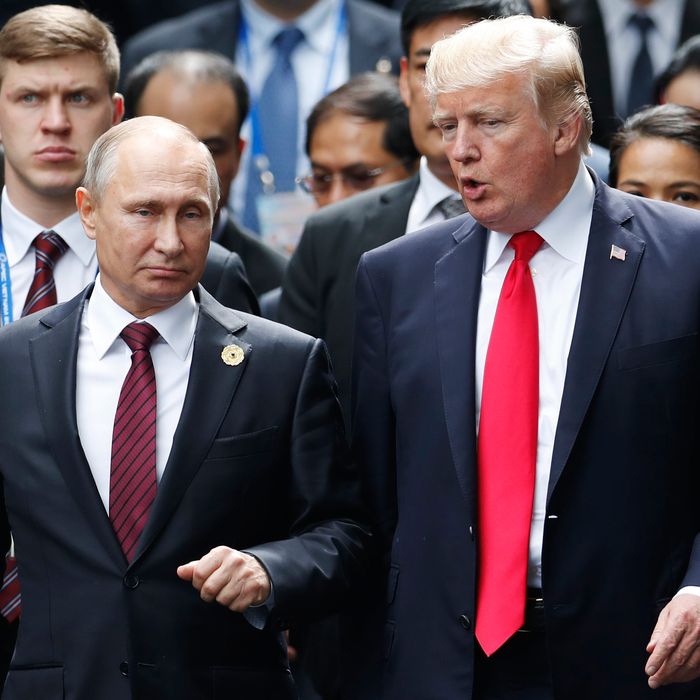 "Just swing by Trump Tower sometime. We have a killer taco bowl."
Photo: Jorge Silva/AFP/Getty Images
If any foreign leaders are itching for a summit with the U.S., they should just give President Trump a ring. Earlier this month, South Korean officials summoned to the Oval Office mentioned that Kim Jong-un would like to meet with the president (which has been North Korea's stance for years). Trump said yes immediately, stunning both South Korean and American officials, who thought he might want to discuss the matter with his advisers first.
Since then, it seems Trump has grown increasingly disinterested in his staffers' advice (and maybe the written word in general). Though Trump's advisers reportedly wrote "DO NOT CONGRATULATE" in his briefing materials for his phone call with Vladimir Putin on Tuesday, he went ahead an commended the Russian president on his reelection (in a sham election). Trump's advisers were also taken aback when he told reporters that "probably we'll be seeing President Putin in the not-too-distant future," as the two leaders are not scheduled to see each other again until November, when they are both expected to attend the Group of 20 summit in Argentina.
The Washington Post reports that prior to the call there was no discussion of a meeting with Putin, and senior White House officials have previously argued against holding a bilateral meeting with the Russian leader. It appears they tried to keep the invitation private, but both Trump and Moscow made that impossible:
Hours before the White House even acknowledged that Trump had spoken to Putin, the Kremlin put its own spin on the call, saying that Trump had called to congratulate Putin and that "special attention was paid to making progress on the question of holding a possible meeting at the highest level."




The Russian statement forced the hand of the White House, where advisers had disagreed on whether to include Trump's congratulations in the official U.S. account, two people familiar with the conversation said. When the official White House readout of the call emerged several hours later, it said Trump had congratulated Putin but made no mention of a discussion of a meeting.
It's understood that Trump often extends meaningless invitations to foreign leaders, and senior administration officials told the paper that they haven't been instructed to move ahead with plans to see Putin. White House officials may have to deal with a president who doesn't plan out what he's going to say, but at least they can bet that he doesn't mean what he says either.