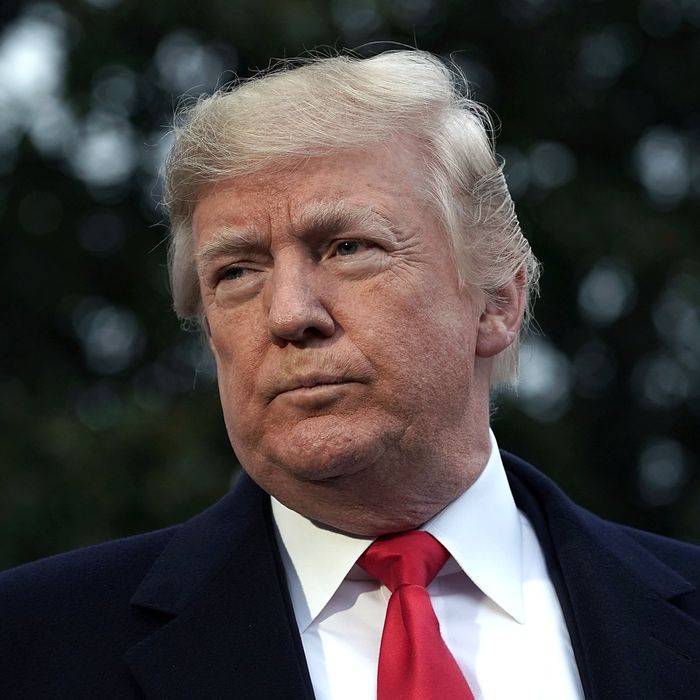 Not well-liked.
Photo: Alex Wong/Getty Images
On Sunday, President Trump made some ludicrous comments on Twitter. In other news, the sun rose in the east.
Ranking the president's Sunday tweets in terms of importance, his claim that the New York Times was lying about his efforts to hire a new lawyer to defend against Robert Mueller's special investigation — which the paper vigorously denied — took the cake.
But in terms of sheer absurdity, it was a toss-up between Trump's claim that Republicans are 5-0 in congressional races since he became president (which conveniently ignores a certain Alabama Senate race and a California congressional seat) and his contention that the lying media is ignoring how popular he actually is.
The latter assertion is so easy to disprove that it's the Twitter equivalent of Trump complaining at a rally that CNN won't show his crowds, followed by a camera shot of an empty arena.
Taking a broader view, multiple websites track Trump's aggregate approval rating day by day, and none of them have registered anywhere near 50 percent approval since … ever. FiveThirtyEight has him at 40.7 percent — well under President Obama's 49.1 percent rating at the same juncture in his presidency — while RealClearPolitics has him at 40.9 percent. These ratings are actually on the high side of Trump's persistently low ratings, which have usually hovered in the high 30s since last summer.
Even Trump's beloved Rasmussen, a polling outfit that shows higher approval ratings for the president than other surveys, has mixed-at-best news for the president. The last time Rasmussen had Trump at 50 percent was on February 27. He hit the number on February 23, too, but before then he hadn't reached those lofty heights since all the way back in June.
Trump's Rasmussen cherry-picking isn't new, nor is the specific sentiment he voiced on Sunday. In June, he tweeted a very similar statement, including the obligatory comparison to President Obama:
His proclamation was almost as wrong back then.
The president has been deeply unpopular for a long time. But Trump lies so much to inflate his wealth, importance, and popularity that it's sometimes hard to remember just how disliked he really is.