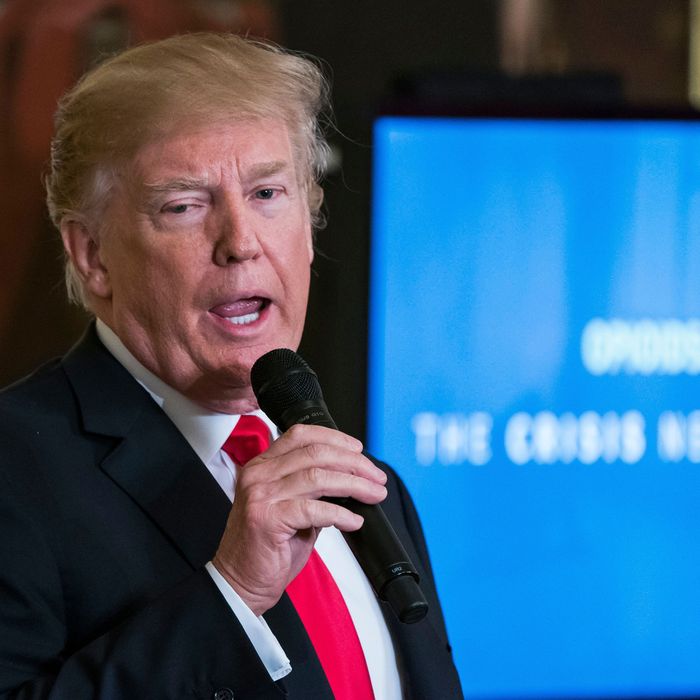 Trump speaks at White House opioid summit.
Photo: JIM LO SCALZO/EPA-EFE/REX/Shutterstock
President Trump on Thursday came closer than ever to publicly endorsing the death penalty for drug dealers, a policy he has reportedly advocated for in private.
"Some countries have a very, very tough penalty — the ultimate penalty," Trump said at a White House summit on the opioid crisis. "And, by the way, they have much less of a problem."
"If you shoot one person, you get life in prison," he added. "These people kill 1,000, 2,000 people and nothing happens to them."
Among the countries that execute drug traffickers are Singapore and the Philippines, whose authoritarian president, Rodrigo Duterte, has earned Trump's admiration. "I just wanted to congratulate you because I am hearing of the unbelievable job on the drug problem," Trump said to Duterte on a phone call last year. "Many countries have the problem, we have a problem, but what a great job you are doing and I just wanted to call and tell you that."
Under Duterte's rule, 12,000 suspected drug users and dealers have been killed in the Philippines, some by police and some by vigilantes, according to Human Rights Watch.
Trump's interest in executing drug dealers fits a pattern that's seen him advocate for law enforcement solutions to the opioid crisis, without giving equal attention to treatment and prevention efforts. As he said in his first State of the Union address, "We must get much tougher on drug dealers and pushers if we are going to succeed in stopping this scourge."