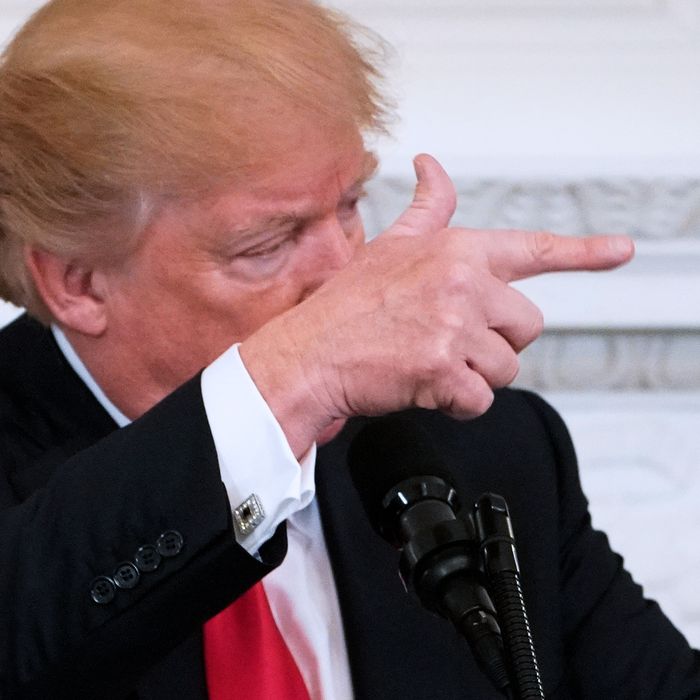 The trade warrior-in-chief.
Photo: Mandel Ngan/AFP/Getty Images
President Trump threatened on Saturday to impose a tax on imported European cars if the European Union retaliates against his newly announced trade war.
"If the E.U. wants to further increase their already massive tariffs and barriers on U.S. companies doing business there, we will simply apply a Tax on their Cars which freely pour into the U.S.," the president warned in a tweet on Saturday. He also claimed that the European Union makes it "impossible for our cars (and more) to sell there."
European leaders have responded to President Trump's promise to impose high tariffs on steel and aluminum imports by threatening to impose their own tariffs on U.S.-made goods like bourbon, blue jeans, and Harley Davidson motorcycles. On Friday, Trump insisted that "trade wars are good" and "easy to win."
Foreign-made cars currently face a 2.5 percent U.S. tariff, and President Trump has previously suggested increasing that to 35 percent, taking particular aim at Germany. In 2016, German automakers exported $23 billion in cars to the U.S., but Mercedes, BMW, and Volkswagen also operate major plants in Alabama, South Carolina, and Tennessee which employ thousands of American workers and produce hundreds of thousands of cars. That production makes up a significant percentage of the total number of cars those companies sell in the U.S., and many cars are exported Asia and Europe as well. (Mercedes is also Trump's favorite automaker — he once bought Melania one that cost $600,000.)
As with much of what Trump tweets, it's not clear if he was making a real threat or policy proposal on Saturday, or just mouthing off after watching some television. But the president has long called for higher tariffs on foreign-made cars, just as he has for foreign-made steel and aluminum. That Trump would actually pursue such protectionist policies seemed improbable until this week. Now, amid the rudderless chaos in the White House, a Trump rant on Saturday could easily become Monday's policy announcement.