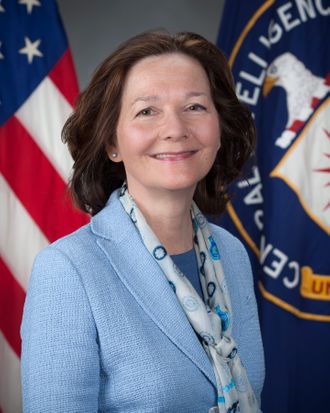 Career CIA employee Gina Haspel, Trump's choice to succeed Mike Pompeo as CIA director, is linked to the agency's "black site" torture practices.
Photo: CIA
In the series of high-level personnel changes the White House announced this morning, the most controversial could wind up being the elevation of CIA Deputy Director Gina Haspel to succeed Secretary of State-designee Mike Pompeo as America's spy chief. A career CIA employee (mostly undercover), Haspel is best known publicly for her role in directing one of the agency's "black site" interrogation centers in the years after 9/11. Her questionable background came under scrutiny when she was appointed as Pompeo's deputy last year. Numerous news outlets reported that she had been in charge of a "black site" in Thailand during two especially notorious interrogations, as reflected in this widely circulated comment from The New Yorker's Dexter Filkins:
From 2003 to 2005, Gina Haspel was a senior official overseeing a top-secret C.I.A. program that subjected dozens of suspected terrorists to savage interrogations, which included depriving them of sleep, squeezing them into coffins, and forcing water down their throats. In 2002, Haspel was among the C.I.A. officers present at the interrogation of Abu Zubaydah, an Al Qaeda suspect who was tortured so brutally that at one point he appeared to be dead. ….




Haspel, a career C.I.A. employee, took part in another of the agency's darkest moments: the destruction, in 2005, of video tapes of the interrogation of Zubaydah and a second suspect, Abd al-Rahim al-Nashiri, at whose torture she was present, three years before.
With Haspel back in the news this week, her role in these interrogations is being reconsidered in light of fresh testimony from her allies at the Agency who have protested that she took charge of the Thailand site after the Zubaydah interrogation, though she was there for al-Nashiri's much less severe treatment. The New York Times reported this distinction after the announcement of the Haspel nomination. And now ProPublica has formally corrected its report from last year that Haspel was involved in or supervised the Zubaydah incident.
Still, questions remain about the al-Nashiri interrogation and the destruction of interrogation tapes. President Obama closed the black sites in 2009. In 2013, when then-CIA Director John Brennan sought to promote Haspel into the position of directing all of the agency's covert operations, Senator Diane Feinstein objected and blocked the move, citing her involvement in the illegal torture program. There were more protests from Senate Democrats when Haspel was made Pompeo's deputy, but that position does not require Senate confirmation or any hearings, so they soon subsided.
Since the director gig does require confirmation, inquiring minds in the Senate will most definitely want to know if Haspel's apotheosis is in any way connected with the president's frequently expressed interest in bringing back torture as an interrogation technique. Haspel herself will probably stick to the line that she was just following orders and that the agency is now operating within the law. But Senator Ron Wyden, Democrat of Oregon, is already saying that her background makes her "unsuitable to serve as CIA director." And civil liberties groups are even more determined to oppose her:
"Gina Haspel was a central figure in one of the most illegal and shameful chapters in modern American history. She was up to her eyeballs in torture: both in running a secret torture prison in Thailand, and carrying out an order to cover up torture crimes by destroying videotapes," said Christopher Andrews, the deputy director of the ACLU's Washington office.
The effect of this appointment on the CIA's relationship with the rest of the Trump administration will be another interesting question. You could argue that the White House is trying to reassure the nation's spies that the president has confidence in them after an extended period of presidential criticism of their intelligence capabilities. But the other way to look at it is that Haspel's rise to power is a vindication of the worst practices of the CIA in the Bush years, as Filkins explained:
A former government official, who spoke to me on condition of anonymity, said that the promotion of Haspel amounted to the C.I.A.'s revenge. "The agency is giving the finger to anyone who was ever critical of the program," the former official said.
Haspel's hearings will be interesting. Administration critics will have to keep in mind a possible Plan B if she's blocked. Last fall when rumors of a Tillerson-to-Pompeo shift at State were widespread, it was reported that Senator Tom Cotton might want and get the job. If that were to happen, Cotton could follow in George H.W. Bush's footsteps by becoming the second CIA director to take his secrets with him right to the White House. While Haspel would become the first woman to head the CIA, she's probably not looking to break that higher, stronger glass ceiling.
This post was updated after the Times and ProPublica said that contrary to previous reporting, Haspel was not involved in the Zubaydah incident.