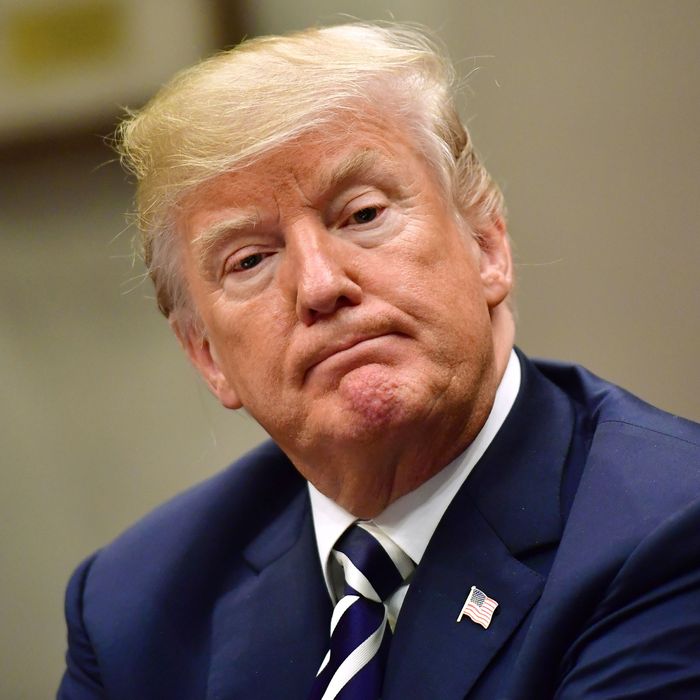 They're lining up to represent me, I tell ya!
Photo: Kevin Dietsch-Pool/Getty Images
Presidential lawyer Jay Sekulow announced Sunday morning that Joseph diGenova and his wife Victoria Toensing, who had been announced as additions to the president's legal team last week, weren't coming on board after all.
"The president is disappointed that conflicts prevent Joe diGenova and Victoria Toensing from joining his special counsel legal team," Sekulow said in a statement.
The purported problem with their hiring was that Toensing, an experienced Washington hand, also represents Mark Corallo, who was the spokesman for Trump's legal team last year. Corallo, who spoke to Special Counsel Robert Mueller for hours in February, has alleged that former presidential aide Hope Hicks may have obstructed justice when she said that emails between Donald Trump Jr. and a Russian lawyer during the campaign would "never get out."
Beyond that conflict, though, the New York Times reports that "the president did not believe he had personal chemistry with Mr. diGenova and Ms. Toensing."
DiGenova is known as a fierce defender of Trump who has used frequent guest appearances on Fox News to advance far-out conspiracy theories that the FBI is trying to frame the president.
The announcement of he and Toensing's dismissal came soon after a Sunday morning tweetstorm in which the president insisted that, despite several reports to the contrary, he is in demand as a client as he tries to fend off Mueller's aggressive investigation into Russian electoral interference.
In the past, high-profile attorneys have often jumped at the chance to defend presidents, viewing the work as a unique opportunity to lift their public profiles.
But President Trump's inability to follow anyone's advice, tendency to unnecessarily implicate himself in wrongdoing, and general capriciousness has led many a white-shoe attorney to take one look and slowly back away. The latest example was Theodore Olson, a prominent litigator who declined last week to join the president's team.
Trump has also spoken to Emmet Flood, who defended President Clinton during his impeachment hearings. (The president denied that a conversation took place.) Flood, the Times reports, is interested only if Trump doesn't follow through with his idea of bringing back former personal lawyer Marc Kasowitz, who was last seen telling a stranger to "watch your back, bitch" over email.
Multiple other lawyers have turned the president down altogether.
John Dowd, the president's latest personal lawyer, quit out of frustration last week as Trump butted heads with him over a possible interview with Mueller. The president wants to sit down with the special counsel, but Dowd has counseled that such an encounter is too risky. (Trump has a history of actually telling the truth under depositions, a prospect that likely terrifies his lawyers.)
And White House Counsel Don McGahn, who has done a less than impressive job in his role, wants out by the end of the year.
As Mueller's investigation seems only to be gaining force — despite repeated assurances from his legal team that it would be wrapping up soon — the president finds himself increasingly isolated and cornered, with a thinning legal team and few credible prospects to come up with a fresh approach. Trump has begun attacking the special counsel by name, presumably against his lawyers' wishes, and has seemed increasingly itchy to provoke a confrontation.
Whatever comes next will probably not constitute any lawyer's recommended approach.