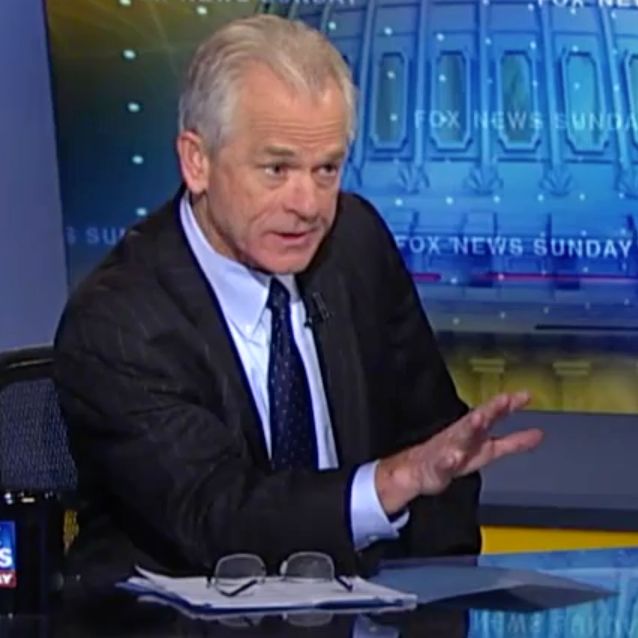 Navarro amid a contentious debate on
Fox News Sunday
.
Photo: Screencap/Fox News Sunday
President Trump's trade adviser, Peter Navarro, said on Sunday that U.S. allies like Canada and the European Union will not be exempted from the 25 percent tariff on steel imports and 10 percent tariff on aluminum imports that Trump announced on Thursday. The new policy, which alarmed markets, Republicans, and White House officials, has suddenly made the prospect of a trade war very real. The protectionist Navarro — who along with trade negotiator Robert Lighthizer seems to have taken advantage of the dysfunctional White House to win influence over Trump — appeared on the Sunday morning political shows to defend the plan he helped architect.
During a heated debate on Fox News Sunday with host Chris Wallace, Navarro argued that allowing exemptions to allies would be too complicated, and even made it sound as though such matters would not be up to the president. "That's not his decision. … As soon as [Trump] starts exempting countries, he has to raise the tariff on everybody else," Navarro explained. "As soon as he exempts one country, his phone starts ringing from heads of state of other countries."
Regarding the standing threat from the E.U. to retaliate with their own 25 percent tariffs on many American goods, Navarro reiterated that he thought such threats were bluffs, and further suggested that the media was to blame for the rhetoric about trade wars, despite the fact that President Trump himself tweeted on Friday that "trade wars are good, and easy to win." (They aren't.)
On CNN's State of the Union, Navarro made it sound as though exemptions from the tariffs might be considered "for particular cases where we need to have exemptions so that business can move forward," but maintained that "at this point in time, there will be no country exclusions." The trade hard-liner also refused to say whether or not Trump would exit the U.S. from the World Trade Organization if they levied a fine over the tariffs, though that is certainly what he implied, saying that the WTO "needs to change with the times," and that Trump's message for them was that "on this issue of trade that we're not going to take it anymore."
Both Navarro and Commerce Secretary Wilbur Ross said on Sunday that they expected the tariffs to be put in place within a week, though Ross acknowledged that the president could still change his mind. Then again, keep in mind that as is often the case with Trump advisers' appearances on television, Navarro may have been using his Sunday interviews to demonstrate his confidence to the president and feed him talking points for the clamor to come.