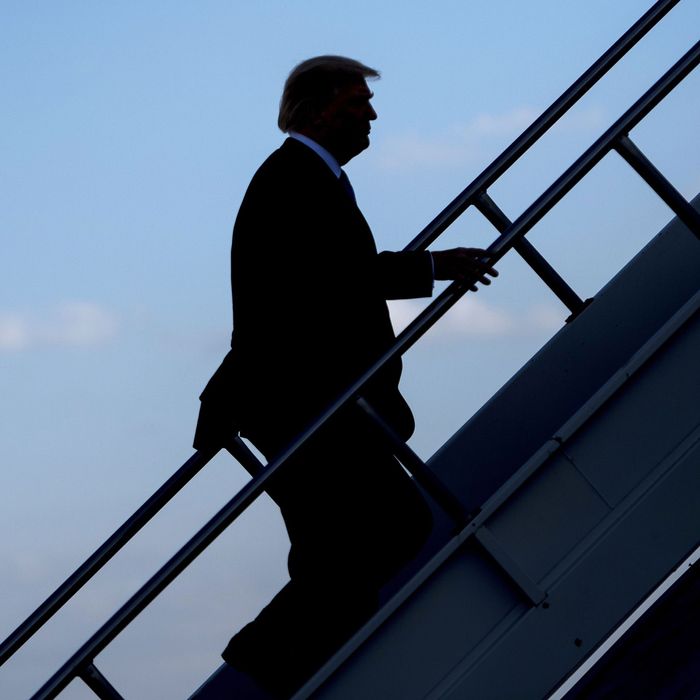 Trump's finally headed to the Golden State, with bad intent.
Photo: Brendan Smialowski/AFP/Getty Images
For a president who managed to spend $13.5 million on travel in one year, Donald Trump actually doesn't get out that much. As the reigning expert on the subject explains, his travel is mostly limited and predictable. He mostly travels to his other homes:
"He seems to be traveling a lot, but so much of it seems to be traveling to second homes," said Brendan Doherty, a political science professor at the U.S. Naval Academy who tracks presidential travel.
If you expand the definition of "second homes" to hotels he owns, then that covers an awful lot of his travel:
Except for foreign trips, Trump has spent only one night of his presidency at a hotel he didn't own. Last August, he slept in Phoenix after a rally before leaving for Reno the next morning. 
While Trump has certainly had the means throughout his life to develop and indulge sophisticated travel tastes, his habits as president are more in keeping with the persona he's developed as a salt-of-the-earth dude whose interests beyond work are limited to golf, rasslin' matches, beauty pageants and the occasional white nationalist rally. As the expert Doherty put it: "He seems to like to go places where he's already very popular or is likely to get a raucous welcome."
These precedents are freshly relevant as Trump prepares for his first trip to California next week. It's notable for a couple of reasons. First of all, this is the latest in a presidency that a POTUS has ventured into California since FDR. Back then, of course, presidential trips to the West Coast involved long train trips, not quick flights. And California was not what it is now: a demographic, economic, and political behemoth. From a political perspective alone, the state has 55 electoral votes, a big batch of competitive House districts, and a vast number of campaign donors that give it a reputation as a "political ATM."
The state also has a reputation, however, as a bastion of the Resistance, and a place where Trump is profoundly unpopular. His trip does not seem well designed to change that perception:
Sources familiar with Trump's plans say he is expected to visit California to the US-Mexico border to look at border wall prototypes in the San Diego area.
Trump critics in California are referring to the trip sardonically as a "border wall hallucination tour." And hallucination or not, a border wall is not an idea Californians like: a survey last fall showed them disapproving of it by a 73/24 margin. So why is Trump rubbing their noses in it?
This seems to be part of an administration-wide effort to treat the nation's largest state not as an object of loving persuasion but as a target, and as a demon-figure for the edification and excitement of people in Trump Country. Here's how CNN sums it up:
President Donald Trump and his administration have very much tied his political efforts to California by essentially declaring a policy war on the Golden State. On immigration, legalized marijuana, climate change and more, California is the chief policy foil of the White House.
That strategy was underlined earlier this week when the attorney general of the United States chose to travel to Sacramento to shriek at state officials and the mayor of Oakland about California's "sanctuary" policies that let local law-enforcement officials choose to limit cooperation with ICE.
Now the idea of California being the source of all evil is hardly novel in the annals of conservative agitprop, at least since the GOP lost its grip on the state in the 21st century. With the state's economy booming and the state's budget in balance, it's not as easy as it used to be to claim the place is one big dystopia. But on the cultural front, there's always an audience for those who claim California is a hellscape of hippies and sodomites and snooty Hollywood and Silicon Valley elites and illegal aliens, all plotting to destroy the American Dream.
It's not entirely clear how California Republicans feel about their state becoming a comprehensive punching bag for their administration in Washington. Some represent constituencies that don't like hippies or immigrants much more than Trump does. But all in all, it can't be helpful for them that POTUS and his representatives only come to California to attack it.
Trump's exact itinerary during this trip hasn't been released, but after viewing the border wall prototypes he will apparently find time to do a fundraiser. You have to figure he'll spend the night at the Trump Golf Resort in the area. When you are Donald Trump, a home away from home is always part of the plan.