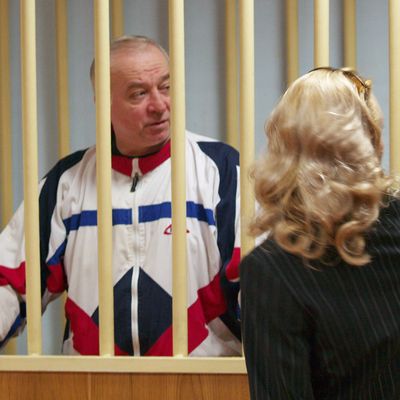 Sergei Skripal.
Photo: TASS/Getty Images
A former Russian spy and his daughter were in critical condition in a British hospital on Tuesday, two days after they were found unconscious on a bench, having ingested a powerful, unknown substance.
Sergei Skripal, 66, and a 33-year-old woman who has now been identified as Yulia Skripal, were spotted by passers-by on Sunday afternoon outside a mall in the town of Salisbury, about 90 miles southwest of London.
An investigation is ongoing. The bench where the Skripals were found, as well as a nearby restaurant they patronized before falling unconscious, have been cordoned off. The mysterious substance is being studied by scientists at a U.K. weapons research facility.
Skripal is a former Russian army officer who was convicted of spying for the U.K. in 2006. Sentenced to 13 years in prison in Russia, he was pardoned and released to the U.S., and then the U.K., as part of a high-profile spy swap involving the briefly famous Russian spy Anna Chapman.
Skripal was reportedly fearful that Russian agents would harm him, even in England.
The BBC reports that Skripal's wife, older brother, and son have all died in the last two years, "some in mysterious circumstances, the family believe."
Russia has denied any involvement in the incident, but on Tuesday, U.K. Foreign Secretary Boris Johnson made it clear that he was highly skeptical of that claim. In remarks to members of Parliament, he called the country "a malign and disruptive force," and threatened to retaliate — perhaps in part with a partial boycott of this summer's Russia-hosted World Cup — if it was determined to be responsible. Johnson also said the case had "echoes" of Alexander Litvinenko's death in 2006.
Litvinenko, a prominent critic of Vladimir Putin, was fatally poisoned with polonium in 2006 in London. Investigations have found that the killing was a plot approved by the highest ranks of Russian leadership.
Before then and since, there have been several other cases of Russians dying on British soil in suspicious circumstances. According to a comprehensive BuzzFeed investigation published last year, U.S. intelligence services believe that 14 people in England had been killed by Russian security services or mafia groups, but that the British people had closed every case without properly investigating the possibility of foul play.