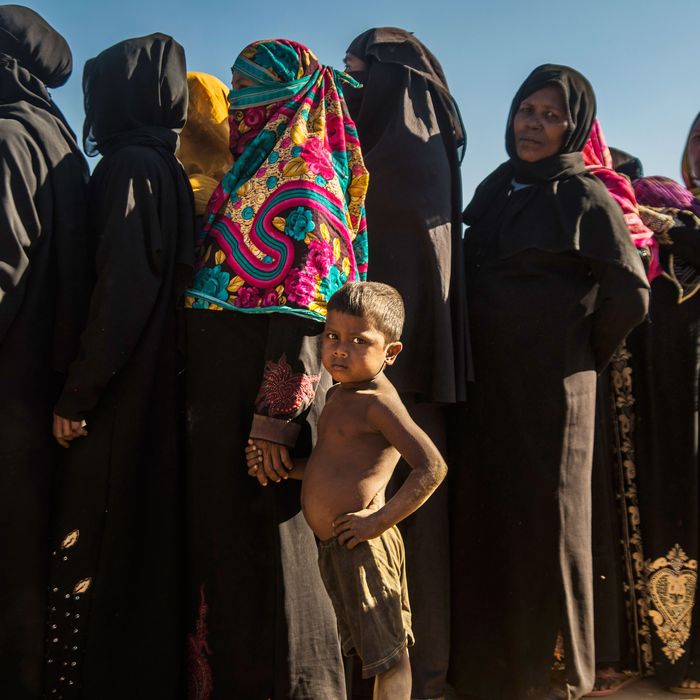 Rohingya people queue for relief supplies at the Nayapara refugee camp in Cox's Bazar on December 3, 2017.
Photo: Maruf Hossain Rafi/NurPhoto via Getty Images
Investigators from the United Nations are currently looking into a potential — the investigators recently said they are "becoming more convinced" that a genocide occurred — genocide in Myanmar that happened between October 2016 and August 2017. Since then, hundreds of thousands of Rohingya Muslims have fled Myanmar, a Buddhist-majority nation, in an attempt to escape the violence, murder, and rape reportedly being perpetrated by the country's military. Investigators also found that a certain social-media platform — it rhymes with lace hook — had a hand in helping spread hate speech in Myanmar and fuel unrest.
"It has … substantively contributed to the level of acrimony and dissension and conflict, if you will, within the public. Hate speech is certainly of course a part of that. As far as the Myanmar situation is concerned, social media is Facebook, and Facebook is social media," Marzuki Darusman, chairman of the U.N. Independent International Fact-Finding Mission on Myanmar said, Reuters reports. At the end of February, Facebook removed the page of Myanmar monk Wirathu. Known as the "Burmese bin Laden," Wirathu frequently used his Facebook page to preach hatred toward and spread rumors about Muslims. Yanghee Lee, another one of the investigators, said she fears that Facebook, despite all the good it has done for connecting people in Myanmar, has become "a beast." "Everything is done through Facebook in Myanmar," she said.