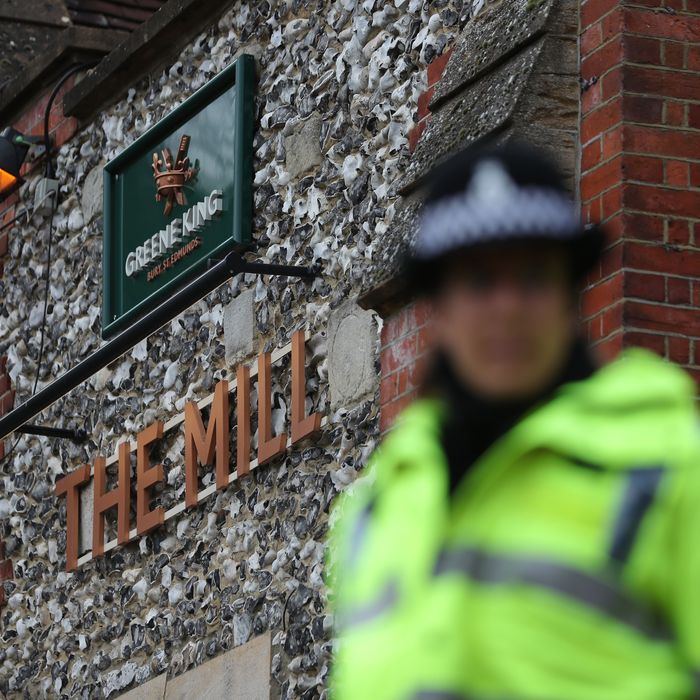 A police officer stands in front of The Mill pub in Salisbury, southern England, on March 11, 2018.
Photo: Daniel Leal-Olivas/AFP/Getty Images
U.K. authorities have asked anyone who visited a pair of establishments in Salisbury last Sunday or Monday to wash their possessions after trace elements of a nerve agent used to poison a former Russian spy were found at a restaurant and pub. The warning applies to the as many as 500 people who visited Salisbury's Zizzi restaurant or The Mill pub after 1:30 p.m. on Sunday, but authorities have stressed that there was no immediate danger of exposure.
Ex-Russian spy Sergei Skripal, 66, and his 33-year-old daughter, Yulia, remain critically ill and hospitalized following the attack. A police detective also remains hospitalized in serious condition after being exposed to the nerve agent when he tried to help the Skripals, who were found unconscious on a city bench on March 4. It is not yet clear where the Russians originally came into contact with the poison.
Per the BBC, patrons of the restaurant and pub who may have been exposed have been asked to wash their clothes and either wash or wipe down their cell phones and other possessions. The measures are just a precaution, however, as England's chief medical officer explained on Sunday that "the risk to the general public remains low and I am confident none of these customers or staff will have suffered harm."
The main concern is that there may be a longer term health risk to the patrons if they were to repeatedly come into contact with trace amounts of the nerve agent. Both The Mill and Zizzi have been closed since Monday.
A Salisbury resident who spoke with the New York Times added that, "It sounds like they're being told to wash a week after the event. Most of them have already washed, hopefully." She also reported that the owner of The Mill had been assured that workers in hazmat suits had been feeding two pet rabbits kept at the pub. (He had started a "Save the Rabbits" campaign after The Mill was cordoned off.)
Skripal, a former colonel in Russian military intelligence, was convicted of spying for MI6 in 2006, but was then pardoned and released by Russia as part of a 2010 spy swap. He has been living in the UK ever since.
Home Secretary Amber Rudd said on Saturday that it was still too early to assign blame for the likely assassination attempt. Some 250 counterterrorism officers have been investigating the attack, assisted by British military personnel. The Kremlin has denied any involvement.