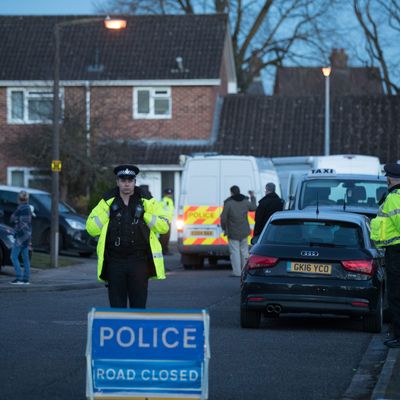 Police officers outside the home of Sergei Skripal.
Photo: Matt Cardy/Getty Images
Former Russian spy Sergei Skripal and his 33-year-old daughter Yulia were poisoned by a nerve agent in the U.K. this week, British police said Wednesday.
Though Metropolitan Police counterterrorism chief Mark Rowley would not reveal the type of poison used in the attack, he did say that it was deliberately administered and the case is now being treated as an attempted murder.
The Skripals were found Sunday slumped over on a bench in Salisbury, where Sergei lives, and are now hospitalized in critical condition. Rowley said several first responders have also fallen ill, with the police officer who was first on the scene now "in a serious condition in hospital."
Skripal, a 66-year-old ex-spy, was convicted of selling secrets to the U.K. in 2006, but was pardoned in 2010 as a part of a U.S.-Russia prisoner swap and moved back to the U.K.
While it's still unclear who is behind Skirpal's poisoning, the Russian government is the top suspect. Boris Johnson, the U.K. foreign secretary, has said the U.K. will "respond appropriately and robustly" if the Kremlin is found to be behind the attacks. In remarks Tuesday, Johnson drew parallels to the 2006 death of Alexander Litvinenko, a Vladimir Putin critic who was killed in a poisoning ordered by the Kremlin.
The Russian embassy in London responded to Johnson's comment with sarcasm, saying in a statement that it was "impressed" with him.
It "looks like the script of yet another anti-Russian campaign has already been written," the statement said, adding that Johnson spoke "in such a manner as if the investigation was already over and Russia was found responsible for what had happened in Salisbury."