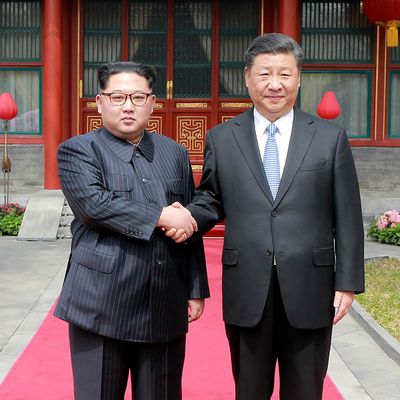 China's President Xi Jinping shakes hands with North Korean leader Kim Jong-un in Beijing on March 28, 2018.
Photo: -/AFP/Getty Images
At the start of 2018, the prospects for a breakthrough in the North Korea crisis seemed slim. While Kim Jong-un extended a rare olive branch to South Korea, expressing hopes for "peaceful resolution" in his New Year's Day address, he also warned that North Korea's missiles could reach any point in the U.S., and "a nuclear button is always on the desk of my office." President Trump responded with his own bellicose rhetoric, declaring in a tweet that his "nuclear button" is bigger and better than Kim's.
Then, shortly after a North Korean charm offensive during the Winter Olympics in Pyeongchang, South Korea, Trump shocked the world on March 9 by announcing that he'd agreed to meet with Kim — seemingly on a whim, and without the understanding that Pyongyang has always wanted a face-to-face meeting with the U.S. president.
The summit is tentatively scheduled for May, though recent actions by the U.S. and North Korea have stirred doubts about the potential for a solution, and it's unclear if the summit will actually take place. Here's what the two sides have been up to since the announcement.
Firing Secretary of State Rex Tillerson
Both of Trump's major staff shakeups in the last month seemed to increase the likelihood of war with North Korea. First he dismissed Secretary of State Rex Tillerson, who was one of the administration's biggest proponents of a diplomatic approach to North Korea. He replaced him with CIA Director Mike Pompeo, who has publicly hinted at the need for regime change in North Korea, and suggested that the U.S. should act as if nuclear aggression by Kim is imminent. Pompeo is also the only Trump official who has openly encouraged Trump to decertify the Iran nuclear deal, which would signal to Kim that the U.S. won't necessarily honor any denuclearization agreement.
Making Ultrahawk John Bolton National Security Adviser
Last week Trump replaced National Security Adviser H.R. McMaster with John Bolton, the former ambassador to the United Nations and unrepentant architect of President George W. Bush's war in Iraq. There are many, many reasons why Bolton's appointment is deeply troubling; somewhere near the top is his advocacy for a preemptive strike against North Korea.
As The Atlantic notes, Bolton has been dismissive of all prongs of Trump's North Korea strategy: international economic sanctions, exerting diplomatic pressure against Kim, and the summit. Last month Bolton told Newsweek that Trump's latest sanctions are pointless, since "we've tried for 25 years, through pressure and diplomacy, and it's failed." Several days later he penned a Wall Street Journal op-ed arguing in favor of a preemptive strike against North Korea:
Pre-emption opponents argue that action is not justified because Pyongyang does not constitute an "imminent threat." They are wrong. The threat is imminent, and the case against pre-emption rests on the misinterpretation of a standard that derives from prenuclear, pre-ballistic-missile times. Given the gaps in U.S. intelligence about North Korea, we should not wait until the very last minute. That would risk striking after the North has deliverable nuclear weapons, a much more dangerous situation.
In a Journal piece published last summer, Bolton argued that while the "U.S. should obviously seek South Korea's agreement (and Japan's) before using force," we should not be hindered by their opposition to a military action that could kill hundreds of thousands of their people, as "no foreign government, even a close ally, can veto an action to protect Americans from Kim Jong-un's nuclear weapons."
Rushing Through Summit Preparations
Under normal circumstances, lower-level diplomatic staffers from the U.S. and North Korea would spend months negotiating the terms of a potential agreement, and a meeting between the nations' respective leaders would come at the end. Instead, it appears Trump's plan is to get in a room with Kim and show off his famous negotiation skills (though so far, he's demonstrated little dealmaking ability as president).
Some argue that in this case, that isn't the worst strategy. Frank Aum, a former senior adviser on North Korea at the Department of Defense, told NPR that North Korea has preferred top-down negotiations in the past:
I think that the one positive of going big like this is that North Korea has a tendency and a preference to prefer big agreements, working through summits. They're a top-down regime. Their lower-level officials don't have the authority to negotiate.




Remember; in 1994, it took a meeting between Jimmy Carter and Kim Il Sung to lay the foundation for the agreed framework, and then later on lower-level officials hammered out all the details. So I think if we're going to hope for something big, it's better to do it at the highest levels.
It still seems far from ideal that Trump is working with a decimated State Department, new hires at the top of various agencies, and no South Korean ambassador. While the May timeframe isn't set in stone, in his first interview since being named national security advisor, Bolton argued that the talks must occur sooner rather than later.
"Although it's certainly true that the normal route is months and months and months of preparation, that would simply play into the North Korean playbook, what they've done many times before," he said.
Starting a Trade War With China, While Cutting a Trade Deal With South Korea
Since China is North Korea's most important ally, some might think it prudent to avoid antagonizing them right before the start of talks between Washington and Pyongyang. Instead, Trump has continued making moves expected to set off a trade war, hitting China with $50 billion in tariffs last week. While this doesn't fundamentally change China's interest in seeing a peaceful solution to the nuclear crisis on its border, it may make Beijing less eager to help secure an outcome that's advantageous to the U.S.
Trump did remove a potentially divisive trade issue with South Korea ahead of the Pyongyang summit. The White House confirmed on Tuesday that it has reached an agreement to overhaul the existing South Korea-U.S. trade deal. In exchange for an exemption from Trump's new 25 percent tariff on imported steel, South Korea has agreed to limit its steel exports to the U.S. and open its auto market to American manufacturers.
How North Korea Is Preparing
Holding Meetings Between North and South Korean Leaders and Diplomats
During the Olympic games Kim's younger sister, Kim Yo-jong, became the first member of the North's ruling dynasty to set foot in the South since the end of the Korean War in 1953. While visiting South Korean President Moon Jae-in, she invited him to meet with her brother in Pyongyang later in the year.
In early March, days before Trump agreed to a North Korea summit, Kim met with South Korean officials for the first time since he took office six years ago, holding talks in Pyongyang with a delegation from Seoul. During the visit the two nations agreed to hold a summit meeting between Kim and Moon in late April. The two leaders plan to meet in the Peace House, a South Korean building in the border village of Panmunjom.
"The North Korean side clearly stated its willingness to denuclearize," Moon's office said in a statement. "It made it clear that it would have no reason to keep nuclear weapons if the military threat to the North was eliminated and its security guaranteed."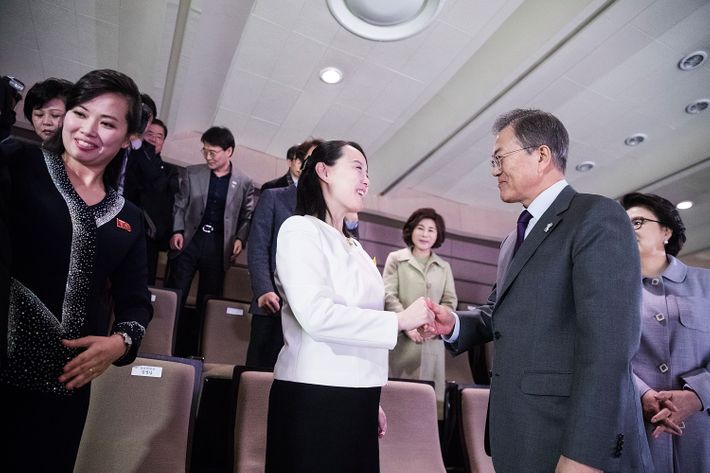 Negotiating the Potential Release of Three Americans Held Captive in North Korea
While he was in Stockholm earlier this month, North Korean Foreign Minister Ri Yong-ho reportedly held talks with his Swedish counterpart about the potential release of the three Americans imprisoned in North Korea. Kim Hak-song, Kim Sang-duk, and Kim Dong-chul are all being held for allegedly committing vague "hostile acts" against the regime. Sweden serves as "protecting power" for the U.S. in talks with North Korea, as the two nations do not have diplomatic ties.
The prisoner release has reportedly been at the center of negotiations between Sweden and North Korea for several months, but last week Heather Nauert, the State Department spokesperson, suggested a deal was not imminent.
"We would love to have our American citizens brought home — a huge priority for this administration — but as far as we're concerned there's nothing underway," she said.
Kim Jong-un Meeting With Xi Jinping
Chinese and North Korean state media confirmed on Wednesday that Kim Jong-un met with Chinese President Xi Jinping in Beijing this week, marking his first trip outside North Korea since taking power, and his first meeting with a foreign leader.
Rumors of the meeting kicked off on Monday, when a mysterious armored train, like the one Kim's father and grandfather used for foreign trips, arrived in the Chinese capital.
China's state-run news agency Xinhua said Kim told Xi that he is committed to denuclearizing the Korean Peninsula, and open to a summit with Trump. (North Korea has yet to publicly confirm that Kim invited Trump to a summit meeting.)
"If South Korea and the United States respond with good will to our efforts and create an atmosphere of peace and stability, and take phased, synchronized measures to achieve peace, the issue of the denuclearization of the peninsula can reach resolution," Kim said, according to Xinhua.
Kim's relations with Xi had cooled in recent years, but it appears he was successful in strengthening their alliance. While China described the trip as an unofficial visit, they welcomed Kim and his wife with a banquet and a tour of the Chinese Academy of Sciences. After Kim headed back to Pyongyang, Xi praised his recent diplomatic overtures.
"This year there have been promising changes in the situation on the Korean Peninsula, and we express our appreciation for the major efforts that North Korea has made in this regard," Xi said.
Starting Up a New Reactor
Though Kim has repeatedly claimed that he's interested in denuclearization, satellite images taken in recent weeks show a North Korean reactor coming online, according to the New York Times. The new reactor in the Yongbyon nuclear complex, which has been under construction for years, produces bomb fuel, and could be a significant issue in the upcoming negotiations. Even if Kim agrees to freeze nuclear and missile testing while talks are underway, he could continue making the fuel needed to expand his nuclear arsenal.