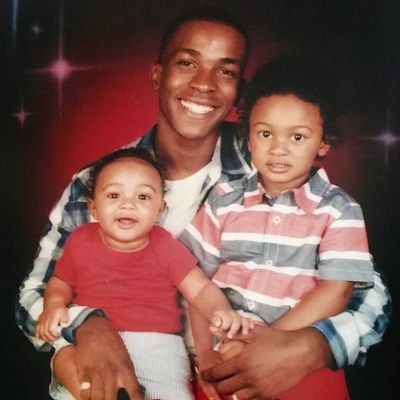 Police in Sacramento shot and killed a 22-year-old black man Sunday night after mistaking an iPhone he was holding for a gun. Body-camera footage of the shooting, which is sparking protests in the California capital, was released Wednesday and it shows that mere seconds passed between police encountering Stephon Clark and shooting him dead.
"Hey, show me your hands. Stop. Stop," one of the officers is heard yelling on the video seconds after spotting Clark in a driveway. Two officers then chase him into a yard where one can heard saying, "Gun. Gun. Gun."
Then both officers opened fire.
In a statement, Sacramento police say Clark "advanced towards the officers while holding an object which was extended in front of him." The officers believed this to be a gun and "fearing for their safety," fired on him. What the SPD statement does not say is that Clark was not holding a gun. He was holding a white iPhone.
The incident began just after 9 p.m. Sunday when police received a report of a man breaking car windows. A police helicopter spotted Clark and followed him as officers on the ground tried to locate him. They found him in the driveway of his grandmother's house and he was soon dead.
The SPD has said that Clark is the same man who was reported breaking car windows but his grandmother told the Sacramento Bee that they are mistaken. "You guys are murderers, murderers, murderers," Sequita Thompson recalls telling the officers. "You guys killed that baby for nothing. You took him away from his kids, for nothing."
Activists in Sacramento and beyond have questioned the police's actions. "We need answers. The family needs answers," Black Lives Sacramento organizer Tanya Faison said at a City Council meeting Tuesday night. "We need those officers to be fired because this was obviously a very huge injustice."
Reverend Al Sharpton said he's traveling to the city, and the local NAACP condemned the killing in a statement:
"While we respect the role of (SPD) in our community … these shooting(s) have angered, frustrated and frighten(ed) people in our community," the statement said. "We are also frustrated with the justice system which fails to indict such killings. We are a community experiencing post-traumatic stress and as such the community and police relations(hip) remains one of mistrust."
Sacramento's Democratic mayor was not so quick to criticize though. "Based on the videos alone, I cannot second guess the split-second decisions of our officers, and I'm not going to do that," Mayor Darrell Steinberg said in a statement.