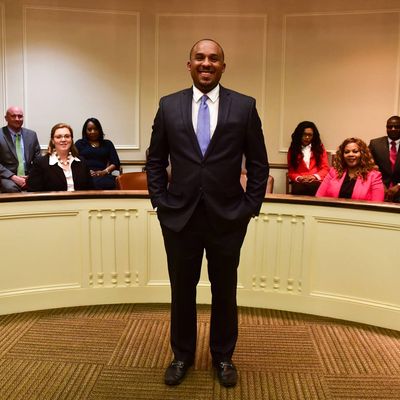 Scott Colom.
Photo: Mississippi District Attorney's Office
Several times a day, Scott Colom, a 35-year-old district attorney in northeast Mississippi, walks past a Confederate monument in front of the courthouse. He rarely glances at it, but he knows that from one side it looks startlingly like a hooded Klansman (from the front, it's a Rebel soldier carrying a flag, which is perhaps bad enough). His twin brother pointed out the resemblance several years ago. Yes, Colom says, it's at the least irritating to be constantly confronted with a symbol of white supremacy. But then, "Look how far we've come. Whoever put that statue up, back in the day, this" — he looks himself up and down, a black man dressed for court in a trim charcoal suit, a black man who's the area's top law-enforcement official — "this is their worst nightmare."
The day I meet Colom, we've just passed the statue, on our way to lunch, when a truck stops in front of us. A burly white man leans out the car window.
"Hey Scott! Austin just got out!"
"Today?" Colom yells back. "Congratulations."
"Yeah, this morning. I really appreciate it, man!" The driver spins off.
"I swear, I did not plan that," Colom says. Austin, Colom explains, was a 19-year-old who'd been convicted of statutory rape for having sex with his 15-year-old girlfriend. He'd initially been put on probation, but when he failed a drug test, the judge sent him to prison for five years for violating his parole. Austin's lawyer had petitioned for an earlier release, and by the time it made it to the court almost two years later, the notoriously harsh former DA, Forrest Allgood was out, replaced by Colom. When Colom didn't object, the young man was freed.
Colom's 2015 campaign against Allgood, who'd been voted into office six times over 25 years, was daring: He promised to lock fewer people up, stop treating drug addiction as a crime, and expand rehab services. This was far from standard fare in a state that has legalized firing squads when lethal injections aren't available. But Colom remembered what one of his law professors at the University of Wisconsin had told him: To minimize the Willie Horton risk, DAs tend to be overly punitive, though there are certain circumstances where the opposite strategy might carry the day. "If the campaign is about 'My son or daughter might get in trouble for drugs, and I hope there's a guy who understands this isn't the whole picture of the person,'" Colom recalls him saying, "then you might be able to run a successful campaign."
So the young lawyer — whose interest in politics was sparked by reading the Nixon-Kennedy campaign classic, The Making of the President, right after college — bet that Allgood had gone too far. The Mississippi Supreme Court, hardly known for its leniency, had accused Allgood of "egregious" prosecutorial misconduct in 2008. Allgood was known both for the ruthlessness of the sentences he sought — 12 to 15 years for first-time crack offenses, even in plea bargains, before the state imposed tighter limits in 2014 — and for his reliance on dubious experts. At least seven of his office's murder convictions have been overturned. One of his favored witnesses, for instance, testified in a 1995 case that the bite marks on a half-eaten bologna sandwich matched those on a murder victim's body. He then threw out the sandwich, reasoning that it would have changed shape as it spoiled — which the State Supreme Court called "unnecessary and inexcusable."
Colom spent half a year knocking on doors, across the 2,000 square miles of Mississippi's 16th court district, which includes his hometown of Columbus. His slogan was "Tough, Smart, Fair," meant as an assurance that he didn't plan to let violent criminals roam free. (His Mississippi accent is never more audible than when he draws out his i's, as in, "The district attorney needs to prioritize violent crime.") The challenge was both to galvanize voters in the urban areas and to win over suburbanites — or as his father, Wilbur Colom, a veteran civil-rights lawyer, tells me, "He had to get enough of the white vote. That was clear."
By mid-October, with the election a few weeks away, Colom knew he was gaining traction. Then a colleague sent him a text message complimenting his new TV commercial. "I was like, What are you talking about?" Television hadn't fit into his budget. Later in the week, his aunt managed to record the ad on her DVR, and he watched it at her house. A voice at the end said it was paid for by a group called Mississippi Safety & Justice.
He looked it up online and discovered it was a PAC funded by liberal hedge-fund billionaire George Soros, who lives in Westchester County, New York. Bemused, Colom sought advice from consultants in Washington, D.C., who'd been helping him with marketing. They advised Colom to post photos and videos on his website for the PAC to borrow for future ads but warned him not to reach out to the group. Campaign-finance laws forbid direct contact between candidates and independent funders. Colom followed the advice, then went back to knocking on doors.
For election night, he was too nervous to have a party, but his wife, Nadia, the CEO of the local Boys & Girls Club and the mother of their 1-year-old daughter, insisted. It was only fair to his volunteers and supporters. They booked the clubhouse at a local golf course. By 11:30 that night, the results were in: He'd beaten Allgood, 54 to 46 percent (the counties do not collect voting data by race).
In the end, Mississippi Safety & Justice had spent $716,000 on the election, dwarfing both the $49,000 Allgood had raised and the $150,000 Colom collected himself. Allgood groused that the money had created an uneven playing field, and Colom himself is defensive about it, even now. But whatever the donation's impact on the race, it put Colom at the center of a national experiment to remake the criminal-justice system.
For almost three decades, Soros has been quietly funding efforts to end the drug war and reduce the inmate population. Throughout the '90s and 2000s, he was behind almost every state ballot initiative to legalize marijuana and has given millions in grants for liberal legal scholarship. It was Colom's luck that in 2015 he'd adopted a new strategy: backing progressives in local elections, specifically DAs, who every day make decisions about whom to charge, with how serious of a crime; whether to engage in plea negotiations; how much prison time, if any, to recommend. In other words, unlike legislators, government lawyers have the power to push down incarceration rates with the stroke of a pen, or a word to a judge. Colom was one of his first test cases.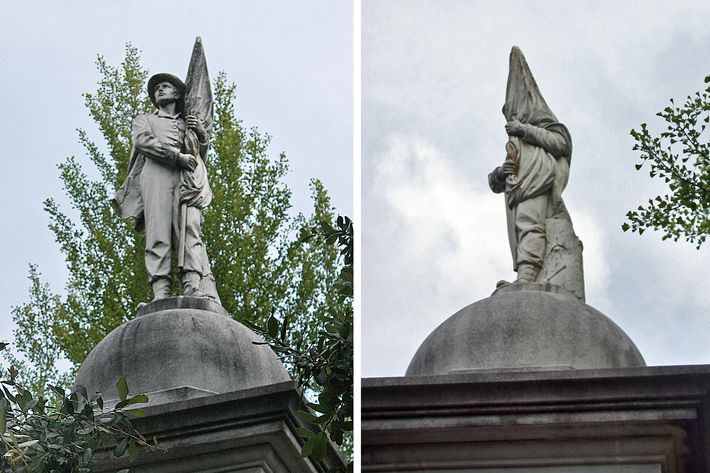 "The future of the United States of America may well be determined here, in Mississippi," Martin Luther King Jr. said in 1964, "for it is here that democracy faces its most serious challenge." The state's record on race relations, it's true, has always been the worst in the union — even worse than Louisiana's, Alabama's, or Georgia's. It led the country in lynchings, with 577 documented between 1882 and 1947; and since Reconstruction, the state has executed 798 people, 658 of them African-Americans. In 1964, when three young civil-rights workers who had been registering black voters disappeared, investigators searching fields, woods, and swamps for their bodies found the remains of eight other men, all of them black. Even now, some of the state's high schools have separate elections for black and white homecoming court, a practice Columbus High School ended the year after Colom graduated.
The four counties in Colom's district are part of the so-called Black Belt, a vast stretch of prairieland originally named for the dark soil that made it prime cotton-growing country. The district's average household income is under $35,000, and more than a quarter of the population lives in poverty. Colom and his brother, Andrew, were raised in the oldest and wealthiest part of the district, however, in an enormous Greek Revival mansion in Columbus. "I started on second base," Colom likes to say, though he hastens to point out that his house bordered the railroad tracks that separate the rich side of town from the poor, which gave him broad exposure as a kid.
Colom exudes confidence, yet he's also cerebral, eager to talk about his formative intellectual influences: how he went from a boy who wanted to be a basketball coach to studying the competing philosophies of Booker T. Washington and DuBois as a freshman at Millsaps College, a small liberal-arts school in Jackson, Mississippi; how after he switched his major to history and English his sophomore year, he discovered the novels of Faulkner and Toni Morrison, whom he calls his "second mother."
What animates him most about his job is brainstorming ways to reform the judicial system that has built up to accommodate the (largely futile) drug war. Recently, he says, some policy wonks came down from New York to help him reduce the jail population.  Scouring the historical data, "They saw a spike and said, 'I'll bet that y'all built a new jail during this period.' And we did! We built a new jail, and we increased our jail population."
Colom's immediate task upon taking office was to undo some of the damage Allgood had done. The Lowndes County Jail had at least three inmates psychiatrists had deemed unfit for trial, but rather than dismiss their charges, Allgood had left them behind bars indefinitely — one of them for 11 years. Colom cleared all of their charges and sent them to mental hospitals. (Allgood declined my interview request. He'd been burned by the national media before, he said, before threatening a lawsuit and hanging up.)
By the end of his first year in office, Colom had doubled, to 218, the number of defendants in the alternative sentencing program, where if you stay clean and get a job or go to school your charges will eventually be cleared. The scope of the program's services has expanded too; the administrator, a former social worker, helps participants get into rehab, GED programs, and vocational training, and even arranges rides when necessary, since the area has no bus system.
While alternative sentencing isn't revolutionary — there are similar programs across the country — it's a scale model of what Colom has in mind when he dreams of a system built on different incentives. "What we've got to do is deal with the addiction that causes people to use drugs," he says, musing that maybe prisons should be scored on how effectively they rehabilitate people, the way public schools are scored on student achievement. More immediately, Colom is strategizing with Tucker Carrington, a law professor who runs the University of Mississippi's innocence project, to establish a conviction-review unit, as DAs in Brooklyn, Chicago, Dallas, and other metropolises have done. There are still dozens of murder convictions from Allgood's tenure that have never been scrutinized, including a number that turned on perhaps the most discredited expert testimony Allgood relied on, the bite-mark conclusions of a dentist named Michael West, who'd been drummed out of the forensic dentistry association (Allgood acknowledged this fact in court but compared West to Copernicus, a scientist misunderstood in his time). If Colom and Carrington manage to pull it off, it will be the first conviction-review unit in the Deep South or any rural part of the country. "We're just trying to figure out how the mechanics would work," Colom says.
Still, Colom never forgets he lives in a deeply red state. "Some people express frustration that I'm not able to just ignore armed robbery, or murder or aggravated assault," he tells me. Similarly, while he says he's disturbed by the "inconsistency of outcomes" with regard to capital punishment — black people are executed at a much higher rate than whites — rejecting it altogether would defy the law that he's sworn to uphold. Orlando District Attorney Aramis Ayala, another progressive who benefited from Soros funding and with whom Colom is friendly, made that mistake in early 2017. The Florida governor responded by seizing two dozen murder cases from her office, and the State Legislature slashed her budget. Ayala ultimately found a compromise: She created a panel of staff attorneys who'd vote on whether the death penalty should be sought in any given case. Colom is using a similar strategy, except that his panel will be composed of people from different professions and backgrounds, the first of its kind in the country, according to Steve Bright, a law professor at Yale and an expert on capital punishment. The plan, Colom says, is that one of his assistant DAs will argue in favor of the death penalty, another against it, and then the civilian panel will make the final call.
Unlike major metropolitan DAs who can devote themselves almost entirely to big-picture policy because they've got dozens of attorneys beneath them to try cases, Colom has a staff of only five lawyers and goes to court himself all the time. Which makes his relationship with a prosecutor's main witnesses, police officers, particularly tricky. In the most difficult situation he's faced so far, a 26-year-old black man named Ricky Ball was shot in the back running away from a white patrolman who'd stopped him because his license plate wasn't illuminated. The cop swore Ball had flashed a gun, and 12 days after the shooting, the police department announced that a pistol had been found next to his body. The only problem: The gun was registered to another cop in the same department. It had been stolen before Ball's death, the police chief insisted, in a burglary that hadn't been reported to the public.
The killing happened right before Colom was elected, and soon after he took office, he was presented with a petition signed by more than 1,100 of his supporters demanding that he seek an indictment. Instead he asked the state attorney general's office to take over the case. The move was perceived a "sellout," he acknowledges, but he believes that DAs should always hand police-misconduct cases off to special prosecutors. "Especially in rural communities," Colom says. "You have to work too closely for there to be independence."
Colom was no doubt relieved when the grand jury called by the attorney general voted to indict the officer in September 2016. His trial has not yet been scheduled.
Soros got interested in the power of district attorneys in the aftermath of the deaths of Tamir Rice, Michael Brown, Eric Garner, and Freddie Gray. In Ferguson, for instance, the DA allowed a witness to testify at length to the grand jury on behalf of the officer who killed Brown, even though he believed the witness was lying, as he later told a radio station. The grand jury voted not to indict. Several months later in Baltimore, all six cops involved in Gray's death were charged with offenses ranging from murder to reckless endangerment under the watch of progressive DA Marilyn Mosby (though none of them were ultimately convicted). "I heard your call for 'No justice, no peace,'" Mosby told the city's protesters at a press conference.
In 2015, a study inspired by these homicides revealed that only 2.6 percent of the nation's DAs were black and that 79 percent were white men. To lead his effort to elect more diverse and progressive government lawyers, Soros recruited Whitney Tymas, who'd collaborated with certain DAs to remedy racial disparities in sentencing while working at the Vera Institute for Justice. "I got the call [from Soros], and that was that," Tymas told me. "It was amazing to me that nobody had ever tried it before."
To choose which races to target, Tymas started with states that had outsize prison populations, and then zeroed in on the most draconian DAs in those states. She also tried to identify lawyers who used their clout to block reforms in state legislatures and scouted out underdogs, candidates who'd probably lose if not for Soros's aid. In 2015, the first year, she put money into two races, Colom's and another in Louisiana. Both her candidates won.
In the next election, in November 2016, Tymas funneled money to campaigns in eight cities: Houston, Chicago, Phoenix, St. Louis, Orlando, Denver, Albuquerque, and a suburb of Atlanta. Seven of her candidates won, as did several reformers who didn't receive Soros funds, in cities that included Birmingham and Corpus Christi. In 2017, Tymas allotted $1.7 million to back Larry Krasner, a career civil-rights attorney who won the race in Philadelphia with the most unconventional résumé of any DA so far — one that included dozens of lawsuits against the police and pro-bono defenses of Black Lives Matter activists. He promised to end cash bail and the death penalty.
While opponents of the Soros spending, which has reached roughly $10 million, say it interferes with the local democratic process, it's getting the kind of results he and Tymas hoped for. Apart from Colom, there is the shining example of Kim Ogg, elected DA in Houston in 2016. She started by dismissing 37 prosecutors from her staff — almost the entire leadership team from the previous administration — and for her chief of staff, she chose Vivian King, a progressive defense attorney who hosts a public-access show. Under her leadership, people caught with marijuana or trivial amounts of harder drugs can avoid arrest if they agree to take a four-hour class on cognitive decision-making. She's also encouraging police to issue non-criminal citations for violations such as graffiti or minor vandalism — and she's scrapped a rule that automatically increased bail for undocumented immigrants by $35,000, while supporting a lawsuit seeking to end cash bail altogether. Outside of Houston, Soros-supported candidate James Stewart, in Louisiana, has created a program to give aid to victims of sex-trafficking instead of prosecuting them, and Kim Foxx, in Chicago, has been releasing nonviolent defendants too poor to pay bail.
"These folks really are shaking up what we understand is possible," said Nancy Fishman, an attorney with the Vera Institute and an expert on jail and sentencing policy. As an example, she cited Foxx's recent decision to post six years' worth of data on felony cases on its website, so Chicago residents and nonprofits can run their own analyses. "It's kind of unheard of," Fishman said. "The traditional story about prosecution is, Oh, it's a black box.'"
The day I watch Colom in the courtroom, a 40-year-old former nurse, Jeanna Conti, is set to be sentenced in a meth case. A cop pulled her over in 2016 for a broken tail light and found 31 grams of the drug strewn around her van, enough for several hundred doses; she'd been charged with trafficking. She had asked for a lie-detector test, but then missed the appointment, so Colom prepared to try the case. Shortly before her court date, though, she decided to plead guilty, but because her decision came so late, Colom informed her that her sentence would be up to the court.
In hopes of persuading the judge to give her house arrest or probation, Conti's lawyer calls her to the stand to tell her story. Her life was particularly rough around the time she was arrested, she testifies. Her mother and younger brother had recently died, and she herself had learned her colon cancer was no longer in remission. "Everything came at one time," she says.
"Now," the defense lawyer asks, "what have you changed about your behavior that led to that arrest?"
"I'm clean, I've been clean for many months," she replies, her voice full of emotion but steady. "I've tried to do everything in different ways. I've developed more of a personal relationship with God than what I had before, rather than blaming him."
She also has a daughter who had "limitations," Conti says, and she's the girl's main caretaker. This is also her first felony, so she seems like a prime candidate for the kind of alternative sentencing Colom champions.
When it's Colom's turn to cross-examine her, he runs through the details of her crime and her initial refusal to take a plea bargain. Then he asks if she understands that if the judge doesn't incarcerate her, he'll be cutting her a break — prison is the norm.
"The court would be taking a big risk on you, you understand that?" Colom asks. "If you were to violate your probation or house arrest, some other defendant in the future might not get that chance because of your conduct."
"Yes."
"You're taking a big responsibility," Colom presses, adding that he was skeptical that she could stay away from drugs because she hadn't been through rehab.
Then the judge asks Colom for his bottom line. "Your honor, typically in this situation, someone would get prison time because of the amount." He pauses, staring down at a paper on his table. "The court might find reason to deviate from that standard …" He trails off.
"I'm thinking that prison time has got to be in there because of the large amount," the judge suddenly announces. The sentence: five years, with a chance for parole after 15 months. As Conti is led out of the courtroom, she looks back at the clutch of family who came to support her and lets out a sob.
Back in his office, Colom explains why he didn't come right out and recommend that Conti be kept out of prison. "The judge could have looked at me and said, 'Scott, what do you think about house arrest?' I would have said, 'Judge, that's fine with me. I do not care.' But my thing is, if you take responsibility first, I'll give you the best deal I'm going to give you — because that's the only way I can convince other people to take the deals."
This is the most he's sounded like a conventional DA all week. While it was hard to imagine how putting this (former, hopefully) drug addict, who was recovering from cancer, behind bars would protect society, never mind keep her on the right path, Colom argues that if the majority of defendants declined plea offers, he and his staff would be overwhelmed with trial preparation, so that once again cases would drag on forever.
This is what reform looks like up close: Prosecutors have to balance their ambitions to alter fundamentally the terms of crime and punishment with the realistic constraints of the office. If Colom were a purist, he might be a successful law professor, but Forrest Allgood would still occupy the DA's office in Columbus. "I know where I'm trying to go," Colom says, "but I also know what's the best way to get there."
Colom tells me he coaches a team of high-schoolers in a mock-trial program, some of whom fulminate against him for not being radical enough. "They'll say, 'I'm all about Black Lives Matter and the protests against police brutality.' What I remind them is, I'm in the battle. I'm actually participating." Get off the sidelines, he tells them, and he'll take their criticisms more seriously. In one of our earlier conversations, Colom mentioned that he used to favor Malcom X's militant approach over Martin Luther King's more conciliatory approach. "My twin brother talked me out of it. He said Malcom X was making these arguments in New York City. Martin Luther King was in Birmingham. This man was playing the game."