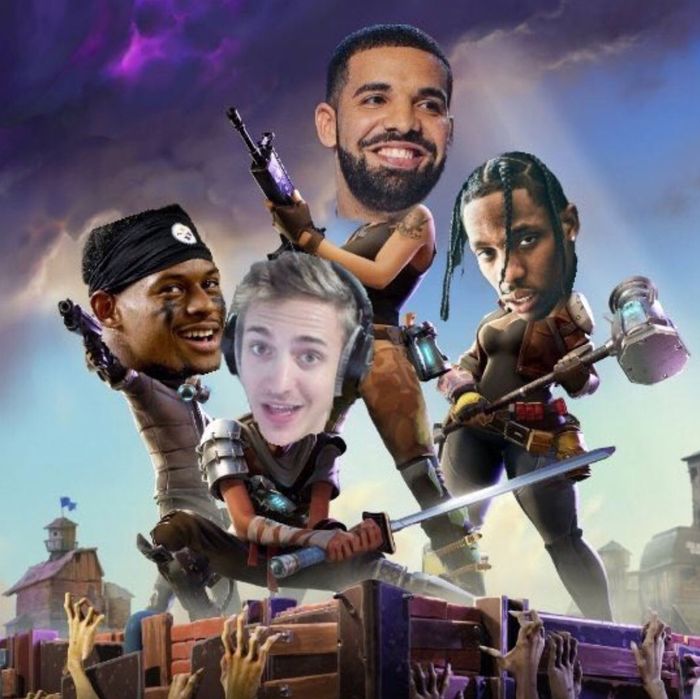 Photo: Twitter/JuJu Smith-Schuster
Last night, Ninja, a megapopular star on the live video-game streaming site Twitch, had a special guest on his broadcast — a gamer who went by the screen name TheBoyDuddus. In real life, you might know TheBoyDuddus as Canadian musician and actor Aubrey Graham, or as the global megastar rapper Drake.
Well past midnight on the East Coast, more than half a million people were watching Ninja and Drake play a game called Fortnite, which has become something of a phenomenon over the past couple of months. Later on in the stream, rapper Travis Scott also joined in, making for one of the oddest mash-ups of internet culture and mainstream pop culture in recent memory. Let's break it down.
Who is Ninja?
Ninja — known IRL as Tyler Blevins — is a professional gamer. He makes his money (and builds his fan base) on Twitch, a site owned by Amazon where you can broadcast yourself playing video games live to an audience of thousands. Ninja was a pro competitive Halo player before he turned to streaming games as his main profession; he mainly plays (and is known to be very good at) the shooter sensation Fortnite.
Who is Drake?
Aubrey Drake Graham is a popular rapper and former child star from Canada.
What is Fortnite?
Fortnite is a video game made by Epic Games. Long in development, Fortnite was originally presented as a third-person shooter in which players could also use prefab parts — wall, floors, and ramps that snap together — to create a base of operations (a "fort," if you will). Think of it like if Minecraft were a shooting game.
Fortnite was languishing in development until last year, when it introduced a mode called "Battle Royale." In Battles Royales, 100 players duke it out to be the last living character on an island. Games of this kind have skyrocketed in popularity last year thanks to another immensely popular game, PlayerUnknown's Battlegrounds. Fortnite's Battle Royale mode wouldn't exist without PUBG, but its advantage over the earlier PUBG is that it's completely free to play, and is available on all platforms, including PlayStation. (It is also made by a top-tier developer, and has a nice sense of style compared to PUBG.)
So how did Drake even link up with Ninja?
How do celebrities do anything nowadays? Instagram. On the stream last night, Drake told Ninja that he first saw highlights on Instagram, including a PUBG tournament that Ninja won last year. "I've been watching your shit, man," Drake said.
And it broke a record?
Yes. At one point, more than 600,000 people were watching them run around and shoot people at the same time. This is a Twitch record, though it fell a bit short of Ninja's prediction that if Drake tweeted out a link to the stream they'd break a million concurrents. Oh well!
What else did Drake reveal on the stream?
He's mostly making his album in Miami, and he no longer eats meat. He also likes pineapple pizza.
So … is Drake any good at Fornite?
He's okay. He said he's been playing for a month or two, and the pair won at least a couple of matches, but it's difficult to know how much of that was Drake and how much of that was the fact that Drake was playing with one of the best Fortnite players in the world.
Who else joined in?
Rapper Travis Scott was there.
Pittsburgh Steelers wide receiver JuJu Smith-Schuster also squadded up for a bit.
Travis Scott's request for bandages, the game's healing item, became an in-joke.
File-piracy magnate Kim Dotcom also popped on for a second.
Are there funny posts about all of this?
Yes!