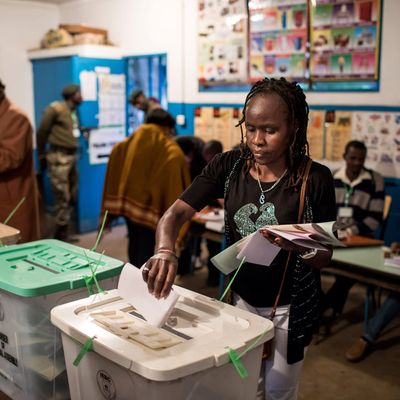 A voter casts her ballot in Kenya's elections last year.
Photo: Luis Tato/AFP/Getty Images
After two years' worth of stories about the shady acquisition and subsequent mishandling of Facebook profile data by the political consultants Cambridge Analytica and its contractors, the general public and the politicians that represent them finally seem ready to take on the company — and, more importantly, take on Facebook for enabling it. The U.K.'s Information Commissioner is seeking a warrant to seize Cambridge Analytica's servers. Senator Ron Wyden, the Oregon Democrat, has written an open letter to Facebook CEO Mark Zuckerberg demanding answers about how often user data was illegitimately passed on to third parties.
The truth is, though, as invasive and troubling as this data-harvesting might have been in the U.S. and U.K., it was likely much worse in the developing countries in which Cambridge Analytica claimed to have been experimenting.
In an undercover sting for Channel 4 in the U.K., executives at Cambridge Analytica, including CEO Alexander Nix, were caught on tape bragging about how the company tries to compromise politicians. They also spoke about how the firm essentially ran political campaigns. In Kenya, for example, "We have rebranded the entire party twice, written their manifesto, done two rounds of 50,000 surveys," Mark Turnbull, the managing director of Cambridge Analytica's political division states. "Then we'd write all the speeches and we'd stage the whole thing. So just about every element of his campaign."
It's possible that Turnbull and Nix were overstating their influence in their capacities as salesmen. But they're not the only people claiming that Cambridge Analytica and its parent company, the SCL Group, has been operating with little restraint in countries that have fewer (or no) regulations or laws governing the collection and use of data about citizens. As the Times reported this past weekend on the SCL Group:
SCL Elections has clients around the world, and it has experimented with data-driven microtargeting techniques in the Caribbean and Africa, where privacy rules are lax or nonexistent and politicians employing SCL have been happy to provide government-held data, according to former employees.
Whatever you might say about Cambridge Analytica's effects on U.S. elections (and the jury is still out about the company's actual power), the danger for data-harvesting companies to disrupt politics — not to mention the threat to user privacy — is much more profound in countries like Kenya, which have abundant internet access (Quartz writes,"Mobile penetration among Kenya's 44 million people is almost at 90%, and the country has one of the fastest mobile internet speeds in the world"), but lack strong or comprehensive regulations on digital privacy.
One of the most striking examples of the global power of the new generation of internet companies is their ability (and willingness) to use smaller and developing countries as testing grounds for their new products — in particular, for initiatives they couldn't get away with in the U.S. For years, Facebook has tried to violate the principle of net neutrality by striking deals to make Facebook not count against mobile data caps (in India, Facebook's Free Basics program was met with heavy criticism). In Myanmar, Facebook basically is the internet, and it has been accused by the U.N. of fueling the genocide there through misinformation and fake news, also prevalent during Kenya's volatile elections last year. A few months ago, Facebook devastated publishers in six smaller countries by moving their posts into a separate, less-viewed feed called Explore. The test wasn't so funny to the news sites that watched their traffic get slashed in half during an experiment that they hadn't agreed to take part of.
Data-centric companies like Cambridge Analytica and Facebook love places that lack basic privacy regulations for obvious reasons. For companies like them, the question of whether or not something is right is the same as asking whether it's legal. This attitude also explains why so many large tech companies shun regulation: It would unambiguously confirm that they were in the wrong.