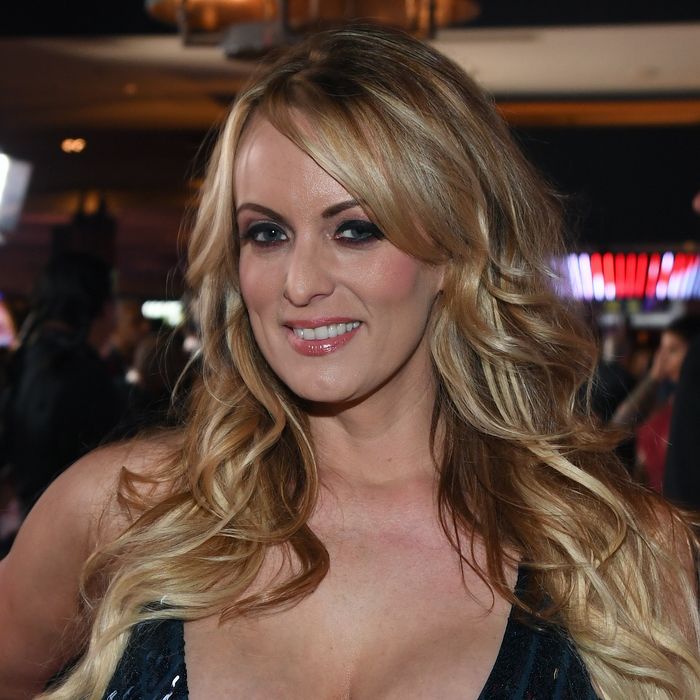 The hero America deserves right now.
Photo: Ethan Miller/Getty Images
If Stormy Daniels's 5,000-word In Touch interview about her alleged affair with Donald Trump left you wanting more, you're in luck. If, on the other hand, you happen to be Trump's longtime attorney Michael Cohen, you might be wondering if you're cursed.
The adult film star filed a civil suit against the president in Los Angeles Superior Court on Tuesday, alleging that since Trump never signed the nondisclosure agreement their lawyers set up weeks before the 2016 election, their "hush agreement" is null and void.
Daniels, whose real name is Stephanie Clifford, also alleges that when the story went public in January, Cohen used "intimidation and coercive tactics" to force her to sign a false statement denying that she had an affair with Trump.
Following reports that Cohen arranged a payment of $130,000 to Clifford just days before the 2016 election, the lawyer said he paid her out of his own pocket, and wasn't reimbursed by the Trump Organization or the Trump campaign. Cohen refused to say why he paid Clifford, or whether Trump paid him back through his personal funds. Yesterday The Wall Street Journal reported that Cohen put up the money because he couldn't get in touch with Trump during the final days of the campaign, and he complained to others that he hadn't been reimbursed. It's not clear if Clifford would give back the $130,000 if the contract is voided.
On Tuesday Clifford's attorney, Michael Avenatti, tweeted out the full complaint, which includes the "hush agreement" she signed in October 2016. Here's what we learned:
• Clifford stands by the story she told journalists prior to signing the nondisclosure agreement: She began an "intimate relationship" with Trump in the summer of 2006 in Lake Tahoe, and the affair continued into 2007. It included at least one "meeting" with Trump in a bungalow at the Beverly Hills Hotel.
• Clifford started shopping her story to media outlets after the release of the Access Hollywood tape. The suit says that after learning this, Trump and Cohen "aggressively sought to silence Ms. Clifford as part of an effort to avoid her telling the truth, thus helping to ensure he won the presidential election." Later it notes that Trump had to be aware of what Cohen was doing — if not, the attorney "flagrantly violated his ethical obligations and most basic rules governing his license to practice law."
This framing is relevant to complaints a government watchdog group filed with the Federal Election Commission and Justice Department over the $130,000 payment. If Cohen intended to silence Clifford to aid Trump politically (rather than, say, keeping the affair from Melania Trump), that could violate campaign finance laws. Even if the payment came from Trump, he might have failed to properly disclose it.
• As previously reported, Cohen set up Essential Consultants LLC on October 17, 2016, for the sole purpose of paying Clifford. In the hush agreement she was referred to as "Peggy Peterson" and Trump was called "David Dennison."
• Clifford and Cohen signed the contract, but Trump never did. The suit alleges that he "purposely did not sign the agreement so he could later, if need be, publicly disavow any knowledge" of the agreement or Clifford.
It may not matter that Trump didn't sign the contract, but the court could decide the agreement is unenforceable for other reasons, like being wildly unfair.
• Clifford alleges that in addition to bullying her into signing a false statement denying the affair in January 2018, a month later Cohen issued a public statement denying the existence of the hush agreement, without her consent. The suit argues that even if the hush agreement was valid without Trump's signature, Cohen voided it when he made multiple statements to the media.
• The suit says Cohen continued pressuring Clifford in recent days by initiating a "bogus arbitration proceeding" against her in L.A., without providing her "with notice of the proceeding and basic due process."
• The hush agreement says Clifford has "confidential information" related to Trump, which includes "information, certain still images and/or text messages."
• The agreement says Clifford alleges that she's been "damaged" by Trump, including "proximately causing injury to her person and other related claims." Clifford has said the affair was consensual, and it's not clear what this refers to.
Trump alleges that Clifford harmed him with her threat of "selling, transferring, licensing, publicly disseminating and/or exploiting the Images and/or Property and/or other Confidential Information." Clifford is supposed to turn over any of Trump's "tangible property" and "permanently delete any electronic copies that can not be transferred."
• The agreement says that if Clifford violates the agreement, she must pay Trump $1 million for each breach.