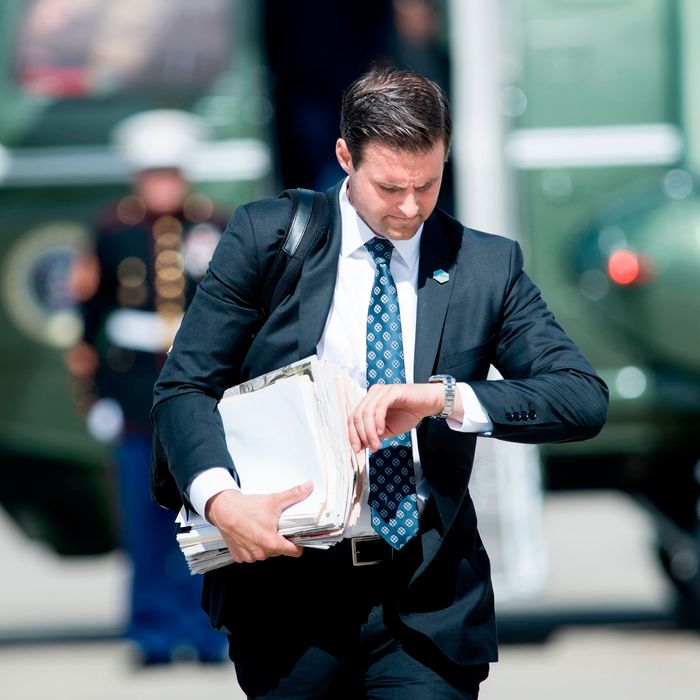 "That was quick."
Photo: Brendan Smialowski/AFP/Getty Images
On Monday, the Trump administration fired John McEntee, after a federal investigation uncovered evidence that he had committed "serious financial crimes." The White House aide was escorted from 1600 Pennsylvania Avenue by security officials, who felt it so urgent to remove the suspected criminal from the presidential abode, they refused to allow McEntee to grab his jacket and belongings before tossing him to the curb.
Less than the 24 hours later, the Trump 2020 campaign announced that it had hired McEntee as its "senior adviser for campaign operations."
Under a different administration, this development might rank as a baffling, scandalous, front-page story. Under our current one, McEntee's job change has barely made more of an impression than your average LinkedIn notification — what with the president firing his secretary of State via a tweet, preparing a trade war against China, and steering America ever closer to a military confrontation with a nuclear weapons state.
Nevertheless, here's a quick rundown of the McEntee saga: The 27-year-old aide was one of the original Trump campaign's first staff members. According to The Wall Street Journal, McEntee "had been a constant presence at Mr. Trump's side for the past three years," one who "made sure Mr. Trump had markers to sign autographs, delivered messages to him in the White House residence and, over the weekend, ensured that the clocks in the White House residence were adjusted for daylight-saving time."
But, like dozens of other White House staffers, McEntee had been operating without a permanent security clearance, due to his inability to pass an FBI background check.  The Journal reports McEntee had "problems related to online gambling and mishandling of his taxes." CNN, meanwhile, says McEntee that is "currently under investigation by the Department of Homeland Security for serious financial crimes."
A background in financial crime might disqualify McEntee from working on most presidential campaigns — but judging from precedent, such experience is practically a prerequisite for working on Trump's.