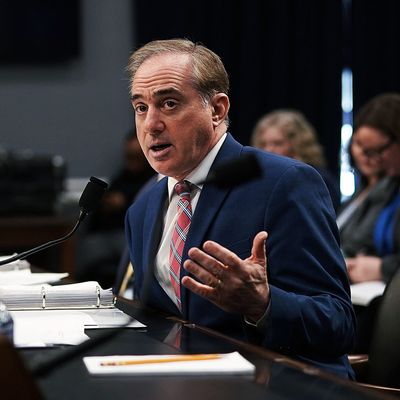 Handpicked by Trump to provide some continuity in veterans services, VA Secretary David Shulkin is under siege from Trump advisers in and beyond his own staff.
Photo: Alex Wong/Getty Images
It's no secret that some White House staff, along with Department of Veterans Affairs staff sent over as political appointees by the White House, really don't like VA Secretary David Shulkin, a rare holdover from the Obama administration (in which he headed up the VA health system). And the feeling is mutual, as Axios reported earlier this month:
[Shulkin] has cut off communication with about a half dozen key people at the VA. They include Press Secretary Curt Cashour, Assistant Secretary for Public and Intergovernmental Affairs John Ullyot, Assistant Secretary for Congressional and Legislative Affairs Brooks Tucker, senior adviser Jake Leinenkugel, and a senior adviser at the Veterans Health Administration Camilo Sandoval. And now, his relationship with the White House is more frayed than ever.
It's gotten so bad, according to the Washington Post (which describes the internal opposition to the secretary from political appointees as a "mutiny") that Shulkin has posted an armed guard outside his office door.
What's it all about? Well, obviously, the personalities in the top tier of VA have some issues with each other, and Shulkin's holdover status doesn't help. Shulkin has also been hit with some ethics allegations of the type to which this administration seems generally prone: alleged irregularities in travel expenses and use of staff for personal business.
White House chief of staff John Kelly is reportedly steamed that Shulkin has twice publicly exaggerated the power he's been given by the White House to fire underlings.
And underneath it all, it appears, is a more ideological problem: Trump's own Veterans Affairs advisers want to implement "reforms" that move the agency toward privatization of health-care benefits. And Shulkin, with the backing of powerful veterans organizations, is resisting that pressure. As Matt Yglesias notes, this goes back to 2016, when Shulkin was first selected:
[W]hile the president-elect personally selected Shulkin to carry out a mandate of continuity, the transition team generally staffed the VA with hardcore right-wingers who were committed to the conservative vision of VA privatization.
Whether the problems besetting Shulkin are personal, organizational, or ideological, the "turmoil" at VA keeps placing him on what I called the list of the "pre-fired" Cabinet members: People who still have their jobs, but who should have a "go bag" and backup employment ready. Questions about his status are tossed at the White House regularly. And today, Shulkin received the half-hearted vote of confidence that unsuccessful sports coaches dread:
President Donald Trump has confidence in David Shulkin "at this point in time" despite reports that the Veterans Affairs secretary may be fired as early as this week, White House deputy press secretary Hogan Gidley said on Monday.
This non-sequitur equivocation from Gidley is an especially nice touch:
He is a secretary and he has done some great things at the VA. As you know, the president wants to put the right people in the right place at the right time and that could change.
It's not clear whether it's Shulkin's performance that "could change" or Trump's feelings about him. Either way, for Shulkin it's like waking up in the middle of the night and hearing the hound of the Baskervilles baying and snarling as he lopes down your street. He may be coming for your neighbor instead of for you, but sooner or later, he'll be back.