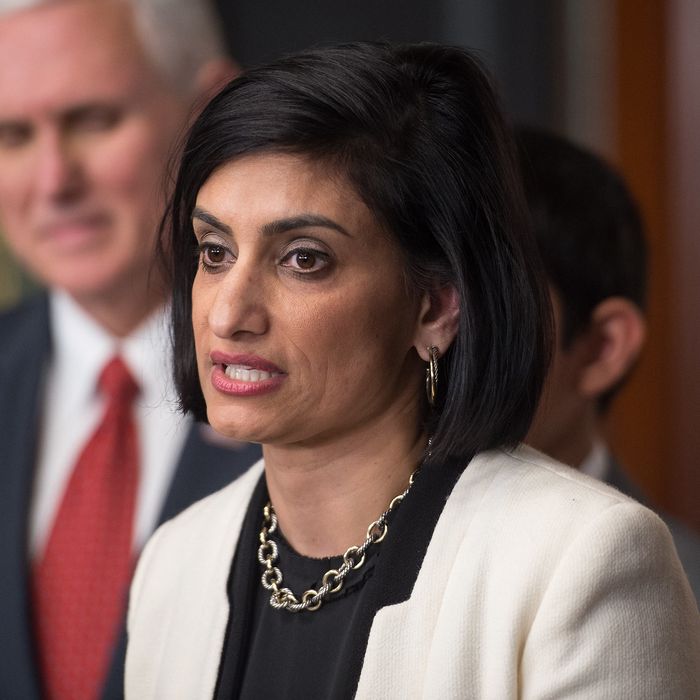 Seema Verma.
Photo: Nicholas Kamm/AFP/Getty Images
In January, Republicans in Idaho decided that if Congress wasn't going to repeal the Affordable Care Act, they would just have to repeal it themselves. Governor C.L. "Butch" Otter signed an executive order that nullified a whole host of ACA regulations: Insurers in the Gem State would now be able to sell health-care plans that didn't cover maternity care, mental illness, or other "essential health benefits"; to charge higher premiums to people with preexisting conditions, and deny them coverage outright if they had failed to maintain "continuous coverage"; and set a dollar limit on the amount of benefits that consumers could draw on (which is to say, sneak in a provision that renders the insurance plan useless if an enrollee happens to develop an exorbitantly expensive medical condition).
The one catch was that insurers who sold such skimpy plans would be required to also sell at least one Obamacare-compliant option over the exchanges. This arrangement would allow (temporarily) healthy people to get (junky) insurance at a very cheap price — while rendering the risk pool for Obamacare-compliant plans exceptionally sickly, thereby causing premiums to skyrocket for people who required comprehensive coverage.
This all constituted a flagrant violation of federal law. But responsibility for enforcing said law lay with Trump's Health and Human Services Department, which has been flagrantly violating the spirit of Obamacare for more than a year now. For weeks, the White House refused to say whether Idaho would be allowed to pick and choose which federal laws it wished to follow. In the interim, Blue Cross of Idaho announced that it would gladly sell terrible insurance plans to the good people of the Gem State — and other conservative states began seeing the virtues of simply pretending that Obamacare no longer existed.
But on Thursday night, Trump's Health Department (somewhat apologetically) announced that it would not allow Idaho to comport itself as a sovereign nation. In a letter to Governor Otter, Seema Verma, administrator of the Centers for Medicare and Medicaid Services (CMS), wrote, "CMS is committed to working with states to give them as much flexibility as permissible under the law to provide their citizens the best possible access to healthcare. However, the Affordable Care Act remains the law[.]"
Verma encouraged Idaho to try a subtler approach to nullifying Obamacare, noting that its proposal could have passed legal muster "with certain modifications."
And it's true that the Trump administration has already provided conservative states with a blueprint for ending Obamacare in practice, if not law. Specifically, the White House has alerted red states to a loophole in the ACA: The law does not impose essential health benefit requirements on short-term insurance plans.
The reasoning behind this exemption was fairly simple: People who are transitioning between jobs (that provide subsidized health insurance) should have the option of enrolling in a cheap, short-term plan that will give them financial protection from a medical calamity — but almost nothing else. After all, a good number Americans can safely go one or two months without seeing a specialist. So why not let them minimize their premiums during a temporary period of unemployment?
But the Trump administration has encouraged states to expand this limited carve-out into a parallel insurance market: When Obama was president, Americans were only allowed to stay on a short-term insurance plan for three months; Trump has proposed expanding that to 364 days — and to make the plans renewable after that.
In other words: The White House has proposed allowing insurers to sell low-cost plans that flout Obamacare's regulatory protections — and thus, to create a bifurcated insurance market that jacks up premiums for people who require comprehensive coverage — so long as insurers call their junky (year-long, infinitely renewable) plans "short-term."
All things considered, it's a good thing that the Trump administration isn't letting states openly violate federal health-care regulations. But it would be nice if we had a Health department that didn't actively encourage states to covertly violate those regulations, either.