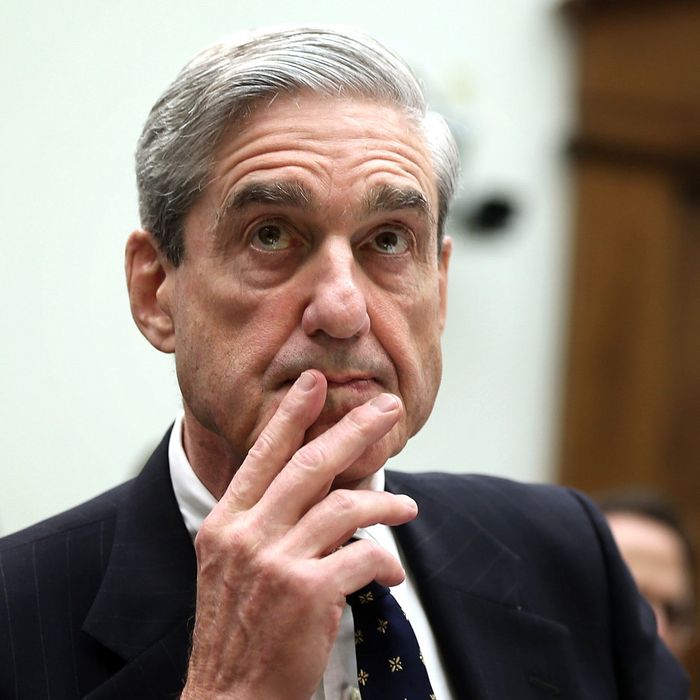 He can be very convincing.
Photo: Alex Wong/Getty Images
The most stunning thing about President Trump allegedly paying a porn star to keep quiet about their affair: Whenever the story surfaces, it's rarely the biggest Trump scandal of the day.
That was true when Stormy Daniels filed a civil suit against Trump on Tuesday — and not just because Gary Cohn, director of the National Economic Council, announced his resignation hours earlier. The New York Times reported that George Nader, an adviser to the United Arab Emirates with ties to various Trump aides, is cooperating with Special Counsel Robert Mueller and testified before a grand jury last week. Nader is an obscure figure in Trump's orbit, but he may be key to Mueller's investigation of possible attempts by foreigners to influence Trump officials.
Nader is a Lebanese-American businessman who advises Emirates' Crown Prince Mohammed Zayed al-Nahyan, who's known as MBZ. He's worked as a contact between Washington and various Middle Eastern leaders for three decades, and he became close with several Trump advisers, visiting the White House frequently last year.
Nader was served with search warrants and a grand jury subpoena on January 17 at Washington Dulles International Airport, while en route to a celebration of Trump's first year in office at Mar-a-Lago. The Times reports that Mueller's investigators have questioned Nader and other witnesses about possible efforts by the Emiratis to buy Trump's support by funneling money to his campaign. They have also asked about Nader's role in White House policy-making.
Nader has also drawn particular attention for his role in two meetings between foreign officials and Trump associates.
The first occurred in December 2016, when MBZ — accompanied by Nader — met with Trump advisers Steve Bannon, Michael Flynn, and Jared Kushner at Trump Tower. The UAE failed to notify the Obama administration of the visit beforehand, and the breach of protocol raised concerns in the U.S. intelligence community. Around the same time, Kushner met with Sergey Kislyak, the Russian ambassador to the U.S., and Sergey Gorkov, a Russian banker close to Putin, and discussed setting up a back channel to communicate directly with Moscow during the transition. Kushner was simultaneously trying to find foreign investors for his family's real estate projects.
The second meeting took place in the Seychelles days before Trump's inauguration. The Times reported that Nader represented MBZ in the meeting with Kirill Dmitriev, a Russian investor close to President Vladimir Putin, and Erik Prince, the Blackwater founder and informal Trump adviser (who is the brother of Education Secretary Betsy DeVos). Sources say Emirati officials were under the impression that Prince was speaking on behalf of the Trump transition, and Dmitriev was representing Putin.
The Seychelles meeting has been the focus of much speculation. Though Prince has testified to Congress that his contact with Dmitriev was merely a hastily arranged conversation over a drink, others say it was part of the effort to establish back-channel communications between Trump and Moscow. The Post reports:
The UAE agreed to broker the meeting in part to explore whether Russia could be persuaded to curtail its relationship with Iran, including in Syria, a Trump administration objective that would be likely to require major concessions to Moscow on U.S. sanctions, those officials said.
Nader has not been accused of any wrongdoing, and perhaps he told Mueller's investigators that Trump officials had perfectly innocent reasons for holding various secretive meetings with Russians tied to Putin. But with reports suggesting the special counsel is digging into improper interactions between Trump officials and several foreign nations, not just Russia, having a key figure willing to talk is bad news.