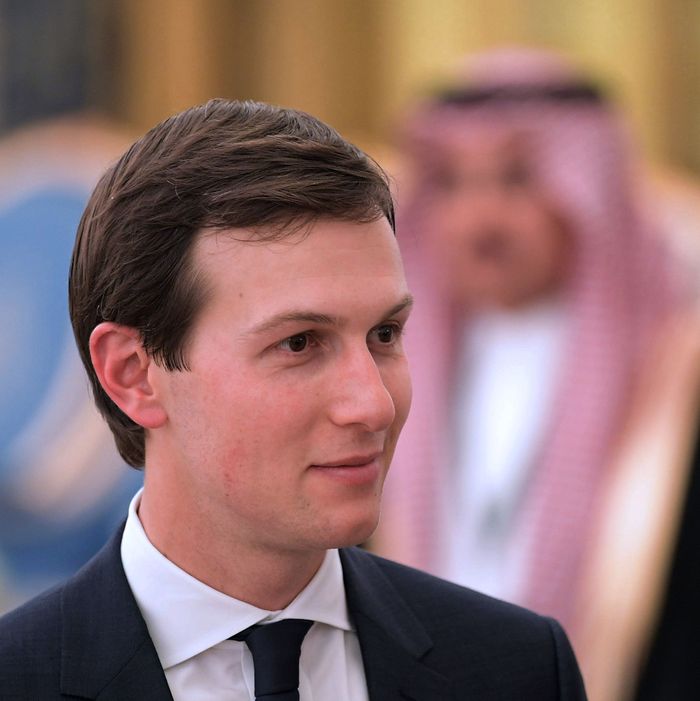 Jared Kushner in the Saudi Royal Court after President Trump received the Order of Abdulaziz al-Saud on May 20, 2017.
Photo: MANDEL NGAN/AFP/Getty Images
Jared Kushner's comically large to-do list has mostly proven to be a bust, but Trump's adviser-in-law has been quite successful in one area: strengthening ties between the U.S. and Saudi Arabia. Kushner accomplished this largely through his personal relationship with Saudi Crown Prince Mohammed Bin Salman, who ousted the heir to the throne last summer and later arrested dozens of business leaders and government officials in what was ostensibly a crackdown on corruption.
The Intercept reported on Wednesday that MBS, as the crown prince is known, bragged about his close relationship to Kushner, claiming he gave him the names of Saudis disloyal to him — information Kushner might have gleaned from the president's daily brief. MBS reportedly remarked that Kushner was "in his pocket."
That claim raises even more questions about Kushner's handling of classified intelligence, but when MBS visited the White House on Tuesday, President Trump seemed pleased with how he's handled the U.S.-Saudi relationship. Here's a closer at how de facto secretary of State Jared Kushner operates.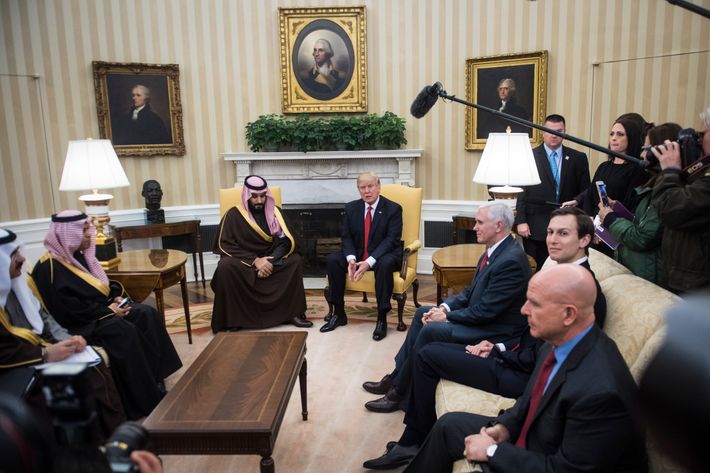 Kushner Befriends MBS
While they'd met previously, the Kushner-MBS friendship started one year ago during a long lunch at the White House. A snowstorm bumped German chancellor Angela Merkel from the White House schedule, giving the president and his advisers more time with the Saudis. The Washington Post reported that the two 30-something princes connected over being tasked with solving the Israeli-Palestinian conflict:
As their countries' chief negotiators on Israeli-Palestinian peace, Kushner and the Saudi prince were both seeking to prove their worth on the international stage. They consulted with one another frequently in private calls over the following months, according to people with knowledge of their communications.
Private Communications
Kushner reportedly riled top national-security officials by arranging private calls with MBS and other foreign leaders. The Intercept reported that Kushner even used WhatsApp to communicate directly with Prince Mohammed, though his attorneys have advised him to stop. While Peter Mirijanian, a spokesperson for Kushner's attorney Abbe Lowell, told the Post that Kushner "is in conformity with the Presidential Records Act and other rules," the paper reported that this was still an issue fairly recently:
Kushner's unique role was ­evident a few weeks ago when White House Chief of Staff John F. Kelly asked a question in an intelligence briefing about a ­sensitive policy matter related to Saudi Arabia in preparation for the crown prince's visit.




In response, intelligence briefers told him that virtually all of the conversations that U.S. officials had with the Saudis on the matter had been between Kushner and Mohammed, according to several people familiar with the episode.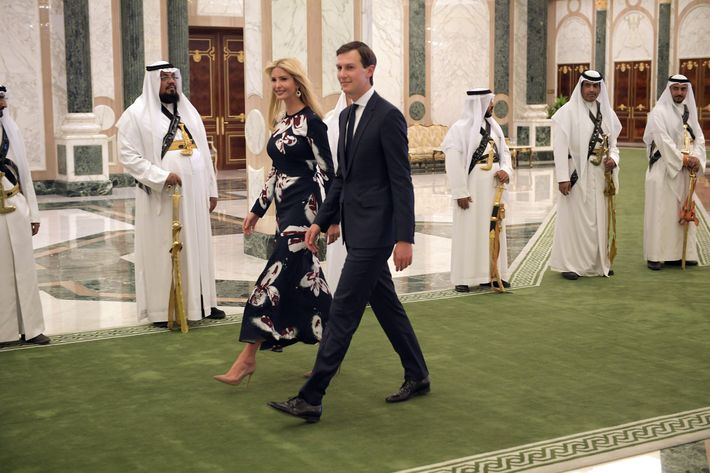 Trump's Visit to Saudi Arabia
Kushner persuaded Trump to make Saudi Arabia the destination of his first foreign state trip in May 2017, though Secretary of State Rex Tillerson and Defense Secretary Jim Mattis were said to be opposed. According to the Post, Trump told his son-in-law that he would go to Riyadh if he could get the Saudis to purchase U.S. weapons and increase their counterterrorism efforts.
Trump considered the trip a great success, and touted the sale of $110 billion of weapons to the Saudis as his signature achievement — though the "deal" was comprised of letters of intent, not actual contracts, and they began under Obama.
Trump and Kushner Back Blockade of Qatar
Claiming that they were moved by Trump's call to crack down on terrorism, in June 2017 Saudi Arabia and the United Arab Emirates organized a blockade of Qatar, setting off an ongoing crisis. In reality, the move was sparked by a deep regional rivalry.
An hour after Tillerson called on Arab nations to ease the blockade, Trump voiced his strong support for the Saudi-led action, first on Twitter:
Then in the White House Rose Garden:
Kushner was reportedly one of the only advisers who agreed with Trump's stance. His reasoning is unknown, but we learned recently that just weeks earlier, Kushner's father met with Qatar's minister of finance in an effort to secure funding for the family's troubled 666 Fifth Avenue property — and was shot down.
Mirijanian, the spokesperson for Kushner's attorney, said the idea that he considered his family's business interests in any foreign interaction is "fantasy and part of a misinformation campaign."
However, Special Counsel Robert Mueller is looking into Kushner's pursuit of foreign financing, and NBC News reported that Qatari officials considered turning over evidence that he plotted against them with their neighbors:
Separately, Qatari government officials visiting the U.S. in late January and early February considered turning over to Mueller what they believe is evidence of efforts by their country's Persian Gulf neighbors in coordination with Kushner to hurt their country, four people familiar with the matter said. The Qatari officials decided against cooperating with Mueller for now out of fear it would further strain the country's relations with the White House, these people said.
Kushner Takes Secret Trip to Saudi Arabia
Kushner took an unannounced trip to Riyadh in late October, and according to David Ignatius, he and Prince Mohammed "are said to have stayed up until nearly 4 a.m. several nights, swapping stories and planning strategy.
Later the White House said the purpose of the trip was to discuss a Middle East peace plan, but declined to say who Kushner met with. Afterward, MBS reportedly bragged about Kushner tipping him off about disloyal Saudis. (Mirijanian denied this, saying: "Some questions by the media are so obviously false and ridiculous that they merit no response. This is one.")
Kushner was said to be keenly interested in the president's daily brief, which he lost access to when his security clearance was downgraded last month. Trump might have authorized him to share information with the Saudis, but passing on classified information without presidential authorization is a federal crime. As the Intercept notes, the crown prince probably didn't need Kushner to identify his critics, and it's possible he made the story up to inflate his status.
Trump Backs Crown Prince's Crackdown
Days after Kushner left Riyadh, MBS instituted his anti-corruption crackdown, arresting his rivals and many influential Saudis. Trump quickly tweeted out his support.
Earlier this month the New York Times reported that detainees were forced to hand over massive sums of money, real estate, and shares of their companies, and also suffered physical abuse:
During months of captivity, many were subject to coercion and physical abuse, witnesses said. In the early days of the crackdown, at least 17 detainees were hospitalized for physical abuse and one later died in custody with a neck that appeared twisted, a badly swollen body and other signs of abuse, according to a person who saw the body.
The Saudi government called these claims "absolutely untrue."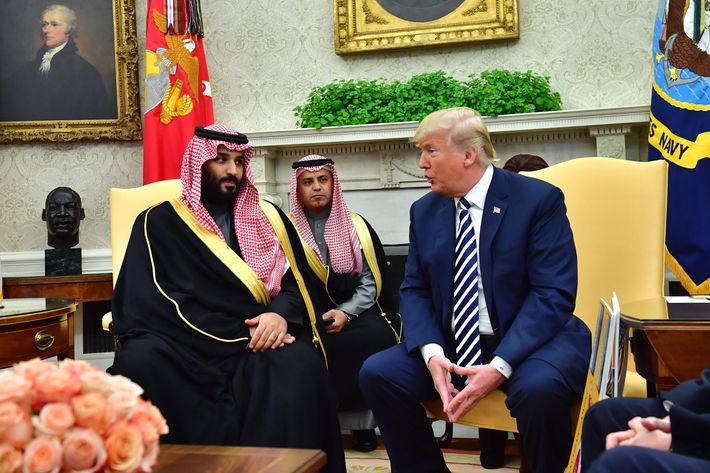 MBS Gets Warm Reception in D.C.
The crown prince will spend the next two weeks traveling throughout the U.S. in an attempt to secure new business deals. Trump's meeting with Prince Mohammed at the White House on Tuesday featured plenty of mutual praise, but there were no major announcements.
While the prince was in D.C. the Senate rejected a resolution calling on the U.S. military to stop aiding its war in Yemen. While a senior official said the issue came up in private, Trump did not allude to it in his public remarks.
This is certainly not the first administration to put its relationship with a key partner in the Middle East ahead of condemning Saudi human-rights abuses. Some argue that Kushner cozying up to MBS was part of a cunning plan to cut a Middle East peace deal by getting the Saudis to bring the Palestinians to the table. If that was the strategy Trump seems to have derailed it by recognizing Jerusalem as the capital of Israel.
For whatever reason, Trump has made it clear that he intends to keep following Kushner's lead, going much easier on the Saudis than his predecessors.
"I would really have to say the relationship was, to put it mildly, very, very strained during the Obama administration," Trump said at his meeting with MBS. "And the relationship now is probably as good as it's really ever been and I think will probably only get better."