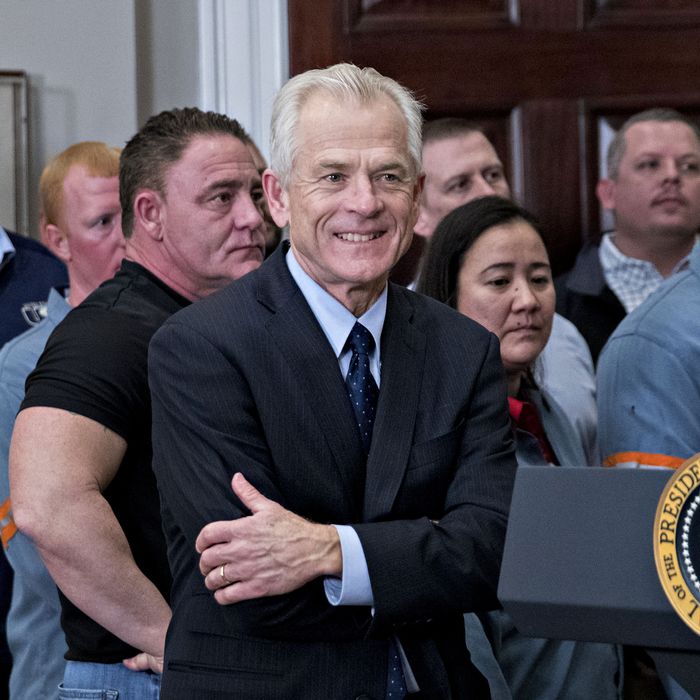 Peter Navarro is a vociferous trade hawk and former environmentalist who could become Trump's top economic adviser.
Photo: Andrew Harrer/Bloomberg via Getty Images
In the wake of the dual setback to conventional Wall Street-oriented conservatives represented by the president's decision to impose steel and aluminum tariffs, and the resignation of his chief economic adviser Gary Cohn, there's a new fear in regular Republican circles. It's that the Trump adviser who triumphed over Cohn in the tariffs battle might soon claim his old job.
Yes, there's some buzz that Peter Navarro, head of the White House Office of Trade and Manufacturing Policy, wants a promotion to the top economic gig. And as Jonathan Swan of Axios suggests, that's freaking out people at both ends of Pennsylvania Avenue who don't share Navarro's economic nationalist bent.
Choosing Navarro would be the path of least resistance for Trump's trade agenda, but it would cause something approaching a riot on Capitol Hill and within the White House. Senior officials tell me they expect the entire National Economic Council staff would quit their posts immediately if Trump appoints Navarro; and Republicans on the Hill would go crazy. Republican leaders view Navarro as a menace and a danger to both the U.S. and world economies.
Other than that, they think he's a prince (actually, they don't; even Navarro's allies allow as how his "aggressive" personality is a problem). But seriously, taking into account how much non-Trumpite Republicans have already swallowed from this White House, they seem genuinely frightened by Navarro.
Perhaps some of them know a little about the man's background in California politics. He was a serious environmentalist who ran for mayor of San Diego as an independent in 1992 (losing narrowly to Republican Susan Golding) and for Congress in 1996 as the Democratic nominee (losing a bit less narrowly to Republican Brian Bilbray). In the former race, he was endorsed by the Sierra Club, and in the latter contest, Hillary Clinton campaigned for him. Hard to think of any other high-level Trump adviser with that much heresy on the résumé.
And even into the 21st century, when he was an economics professor who found his way into the political chattering classes, he expressed deep concerns about global climate change, and endorsed a carbon tax.
To be clear, once in Washington Navarro went out of his way to back Trump's move away from Obama's climate-change policies, according to a Climatewire story about his background:
Despite his past warnings about climate change, he was a supporter of Trump's decision to withdraw from the Paris climate accord. He wrote in a July 2017 USA Today op-ed that withdrawal "will save the U.S. economy an estimated 6.5 million industrial-sector jobs, and his regulatory rollbacks have already saved more than $60 billion in unnecessary costs for American companies."
And his pollster from his 1992 mayoral race didn't have much respect for his environmentalist convictions:
"He's an environmental opportunist," said Scott Flexo, who worked as a pollster for Navarro during his 1992 campaign for San Diego mayor. "I think he would focus on the environment if it would sell books or if it would get him jobs or get him elected. 
In any event, Navarro's record as a former tree-hugging Democrat, or even his heretical positions on trade, may not be what's bugging Establishment Republicans about his possible promotion to what is in essence an Economics Czar position. It's that they really, really want someone in that position who will push back against, not support, Trump's own policy predilections. That's what the Washington Post's James Hohmann thinks:
Navarro is now playing the role on trade that Stephen Miller did on immigration: the hard-liner who is seen by outsiders as enabling and egging on Trump's most nativist and nationalistic instincts.
Totally aside from Navarro and his views, it's not a good sign when a president's supporters in the White House, Congress and the business community rely on key staff to talk him out of his campaign promises and what he apparently believes. At some point, he's going to do what he wants to do. And you can't blame the people around him for agreeing with him.